Using PDF forms online can be a breeze with this PDF editor. Anyone can fill out seq here with no trouble. To have our editor on the forefront of convenience, we aim to adopt user-driven features and improvements regularly. We are at all times glad to receive feedback - join us in reshaping PDF editing. All it requires is a couple of basic steps:
Step 1: Just hit the "Get Form Button" above on this page to launch our form editor. This way, you'll find everything that is necessary to fill out your file.
Step 2: With the help of our online PDF tool, you are able to accomplish more than just fill out blank form fields. Express yourself and make your forms look great with customized text incorporated, or optimize the file's original input to perfection - all comes with an ability to insert your personal photos and sign the PDF off.
In order to fill out this form, be certain to type in the required details in each blank:
1. Begin completing your seq with a group of essential blank fields. Collect all the necessary information and be sure there's nothing omitted!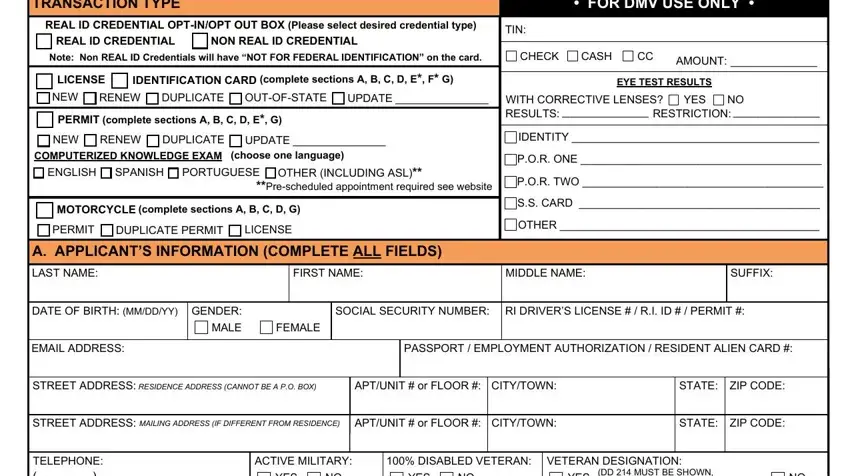 2. The third step is usually to complete all of the following fields: B PLACE OF BIRTH COMPLETE ALL, COUNTRY, STATEPROVINCE, CITY, C PHYSICAL INFORMATION COMPLETE, HEIGHT FTIN, WEIGHT LBS, EYE COLOR, check one, HAIR COLOR, check one, BROWN, GREEN, GRAY, and DICHROMATIC.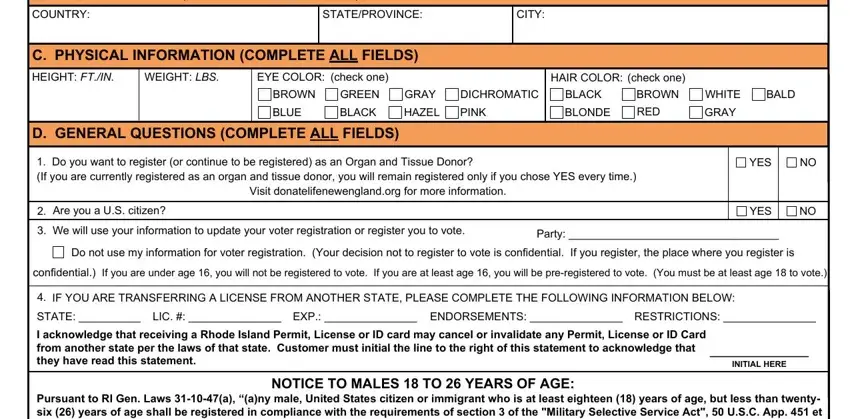 3. This next part is normally hassle-free - fill out all of the empty fields in I THE UNDERSIGNED DECLARE UNDER, APPLICANTS SIGNATURE, DATE MMDDYY, F VOLUNTARY TERMINATION OF A, PLEASE ACCEPT THIS ATTACHED, MY REASON FOR REQUESTING, I AM MAKING THIS REQUEST ON BEHALF, OPERATORS LICENSE MONTHS, c PRIOR TO ANOTHER LICENSE BEING, ANOTHER LICENSE, NOTE TERMINATION WILL NOT BE, LICENSE, EXPIRATION DATE, LICENSE PHYSICALLY SURRENDERED, and APPLICANTS SIGNATURE to conclude this segment.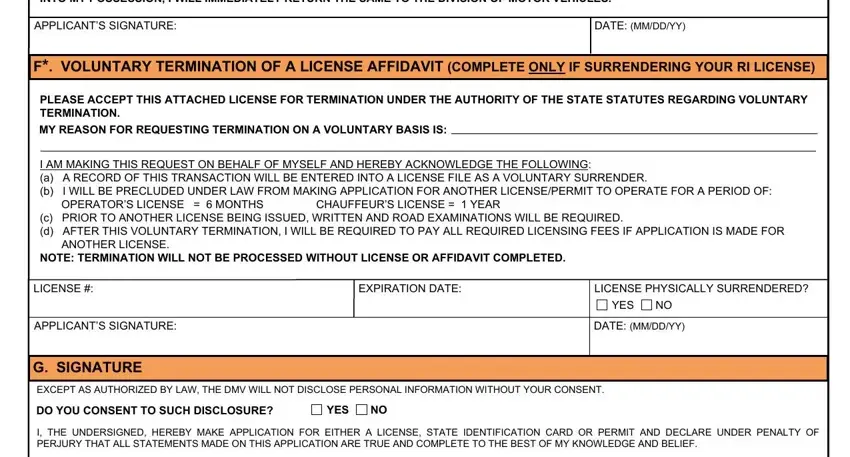 People often make errors while filling in LICENSE PHYSICALLY SURRENDERED in this part. You should definitely go over whatever you enter right here.
4. This next section requires some additional information. Ensure you complete all the necessary fields - THE UNDERSIGNED HEREINAFTER, APPLICANTS SIGNATURE, DATE MMDDYY, MINOR LAW CHAPTER OF THE GENERAL, IF A MINOR IS APPLYING FOR A, MOTHERSFATHERSGUARDIANS SIGNATURE, NOTARY PUBLIC SIGNATURE, NOTARY PRINTED NAME, DATE, MMDDYY, COMMISSION EXPIRATION DATE, COMMISSION STATE MANDATORY, FOR ENFORCEMENT OFFICE ONLY, IDENTITY, and POR ONE - to proceed further in your process!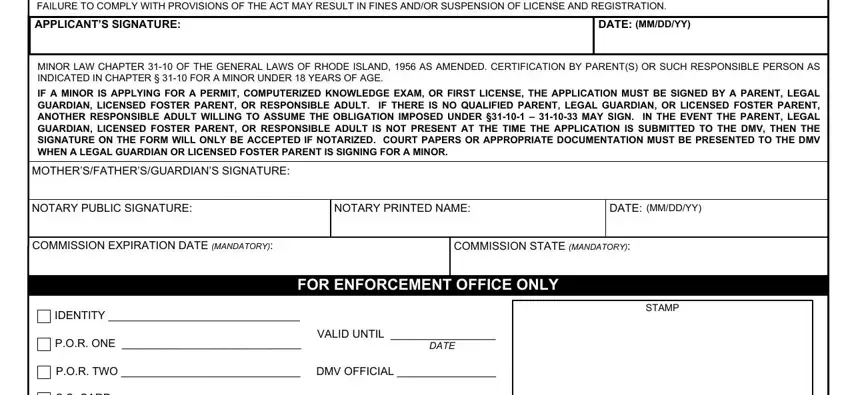 5. Because you reach the finalization of your document, you'll notice a couple more things to complete. Particularly, SS CARD, OTHER, and LI rev must all be filled in.

Step 3: Be certain that the information is right and press "Done" to proceed further. Right after starting afree trial account with us, you'll be able to download seq or send it via email without delay. The PDF document will also be at your disposal via your personal account page with your each and every modification. FormsPal is focused on the personal privacy of all our users; we always make sure that all information handled by our editor remains confidential.