Filling out the goodwill itemized donation form form is easy with our PDF editor. Try out the following actions to obtain the document without delay.
Step 1: Click the button "Get form here" to access it.
Step 2: So, you may change the goodwill itemized donation form. The multifunctional toolbar makes it possible to add, erase, modify, highlight, as well as do other commands to the content and areas within the document.
For every single part, create the data demanded by the platform.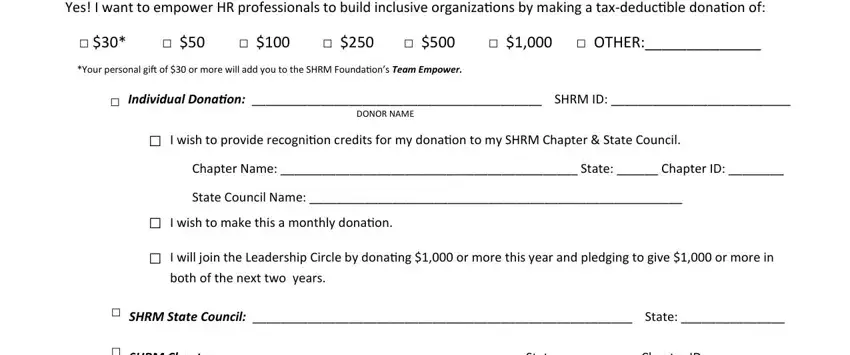 Within the section SHRM Chapter State Chapter ID, CompanyOrganization, Dedication Information, Would you like to dedicate this, Gift in honor, Gift in memory, Gift in lieu of speakers fee, Honored Memorialized Individual, Address to send notification of, Donor Information Donor Name, SHRM ID Todays Date, Email address, Zip, and State provide the details the program asks you to do.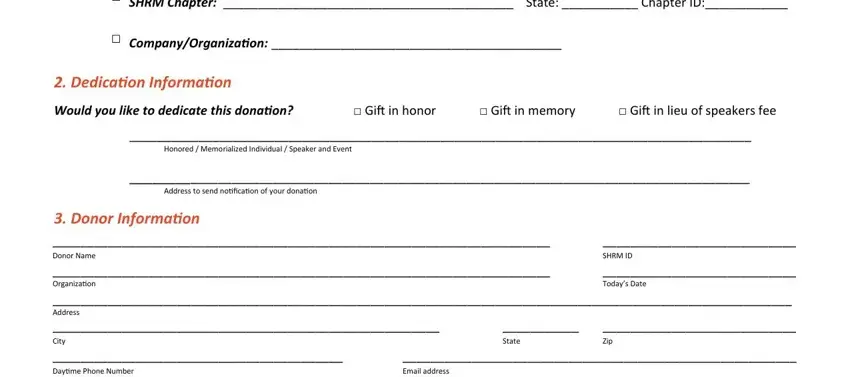 Determine the important details in the Payment Information Check, Name on Card Credit Card Number, CVV Code Date, Expiration Date, Make your secure online donation, Please mail this form with your, and The SHRM Foundation is a c area.

Step 3: Press the "Done" button. Now it's possible to export the PDF file to your electronic device. In addition, you'll be able to send it by means of email.
Step 4: To avoid probable forthcoming complications, be certain to obtain minimally a couple of duplicates of each form.