emergency orders court get can be filled in online with ease. Just open FormsPal PDF tool to get the job done right away. To make our editor better and more convenient to work with, we continuously design new features, bearing in mind suggestions coming from our users. With a few simple steps, you'll be able to begin your PDF journey:
Step 1: Just hit the "Get Form Button" at the top of this page to launch our pdf editor. This way, you will find all that is required to fill out your file.
Step 2: The tool provides the opportunity to modify PDF forms in many different ways. Modify it by adding any text, adjust existing content, and add a signature - all at your fingertips!
This PDF will need particular details to be typed in, so be sure to take some time to enter exactly what is requested:
1. You will want to fill out the emergency orders court get properly, hence pay close attention while filling out the parts including these blanks: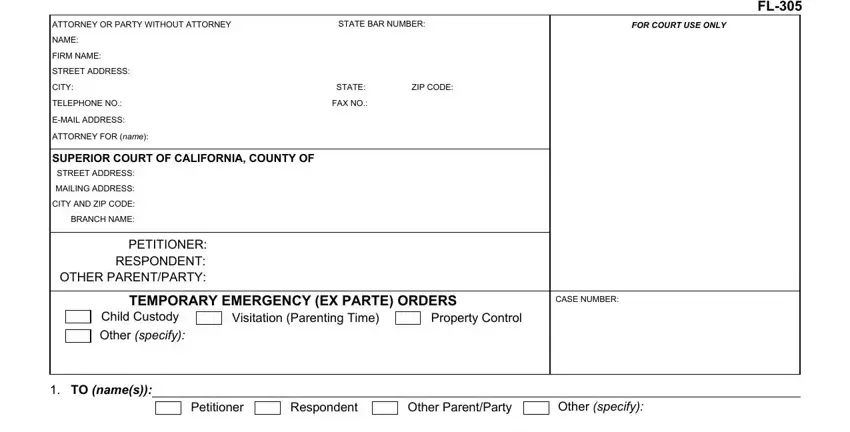 2. After this section is completed, proceed to enter the relevant information in these - A court hearing will be held on, Date, Time, Dept, Room, Address of court, same as noted above, other, specify, Findings Temporary emergency ex, COURT ORDERS The following, CHILD CUSTODY, Childs name, Date of Birth, and Temporary physical custody care.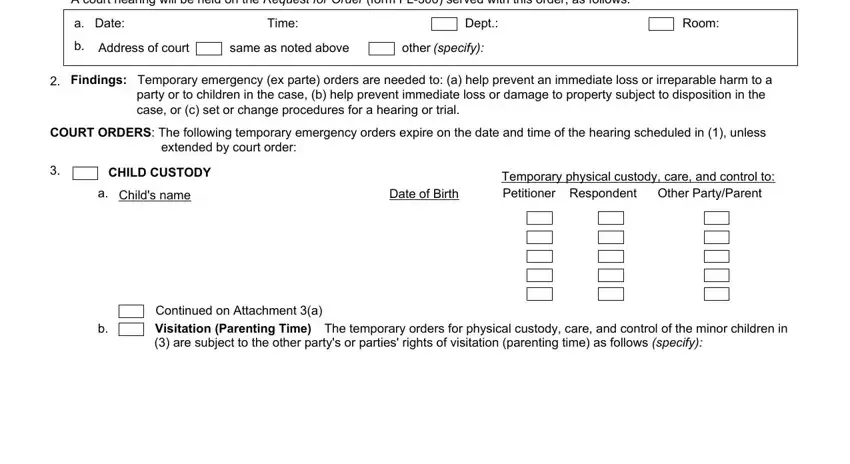 3. Completing Form Adopted for Mandatory Use, THIS IS A COURT ORDER, TEMPORARY EMERGENCY EX PARTE ORDERS, See Attachment b, Page of, and Family Code Cal Rules of Court is essential for the next step, make sure to fill them out in their entirety. Don't miss any details!

4. To go forward, the following section requires filling out a handful of fields. Examples of these are PETITIONER RESPONDENT OTHER, CHILD CUSTODY continued, CASE NUMBER, Travel restrictions, The party or parties with, Petitioner a b c, Respondent, Other ParentParty must not remove, from the state of California from, Child abduction prevention orders, Jurisdiction This court has, Jurisdiction and Enforcement Act, Notice and opportunity to be heard, Country of habitual residence The, and The United States of America, which you'll find crucial to going forward with this particular document.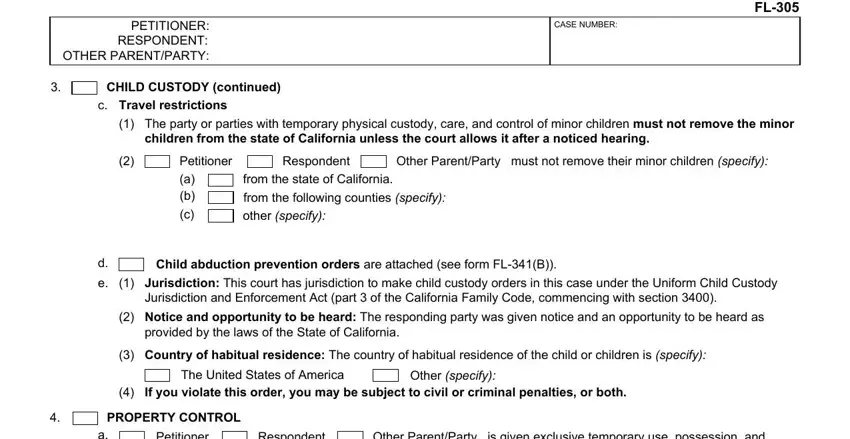 5. While you draw near to the end of the file, you'll find a few extra requirements that need to be met. Particularly, Petitioner, Respondent, Other ParentParty is given, control of the following property, own or are buying, lease or rent, Petitioner, Respondent, Other ParentParty is ordered to, and encumbrances coming due while, Pay to, Pay to, Pay to, Pay to, and For should be filled in.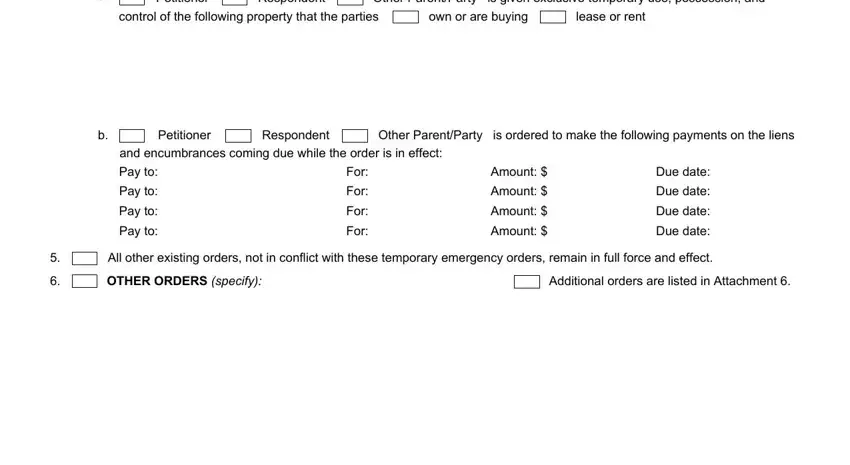 People often make some errors while filling out For in this area. You should definitely review whatever you type in here.
Step 3: Once you've reread the information provided, simply click "Done" to finalize your form. Go for a free trial plan at FormsPal and acquire direct access to emergency orders court get - download or edit inside your personal cabinet. FormsPal ensures your data confidentiality with a secure system that in no way saves or shares any sort of personal data used. Feel safe knowing your docs are kept protected whenever you work with our service!