The entire process of filling in the liheap application miami dade pdf is actually comparatively quick. Our team made sure our editor is not difficult to use and can help prepare almost any document within minutes. Read about several steps you'll have to follow:
Step 1: To begin with, click on the orange "Get form now" button.
Step 2: You can now edit your liheap application miami dade pdf. This multifunctional toolbar will allow you to include, remove, transform, and highlight content material as well as carry out other sorts of commands.
Prepare the liheap application miami dade pdf PDF by typing in the text meant for each section.

Write the requested data in the ___________, ___________, LIHEAP ASSISTANCE APPLICATION 2, The address where you are living:, Your mailing address, Day time telephone number where, and If your monthly household income field.

Note the required information when you are on the Complete the following for your, If you share your living or, If you or anyone in your home are, Name:, and Are you or any member of your segment.

The area LIHEAP ASSISTANCE APPLICATION 10, _____________________ Date, Do any of the following situations, [ ] My electricity has been, [ ] I have a shut-off notice from, [ ] I have little or no propone, If your cost of home energy is, and Landlord's Telephone Number ( ) is going to be for you to add all sides' rights and responsibilities.

Finalize by looking at the following fields and completing the required details: Name of place where you live:, ________________, Zip Code, and Country.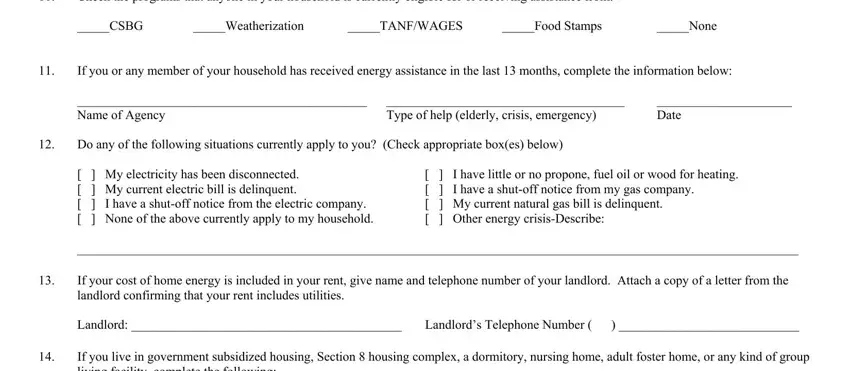 Step 3: As soon as you press the Done button, your finished file can be easily transferred to all of your devices or to electronic mail stated by you.
Step 4: Prepare copies of your document. This should save you from possible problems. We don't read or share your details, for that reason be sure it will be secure.