Writing the forever 21 application form form is easy using our PDF editor. Keep up with these particular actions to obtain the document straight away.
Step 1: Select the orange "Get Form Now" button on this page.
Step 2: So, you can begin editing the forever 21 application form. The multifunctional toolbar is readily available - insert, delete, adjust, highlight, and undertake similar commands with the content material in the form.
The PDF document you decide to fill out will cover the following sections: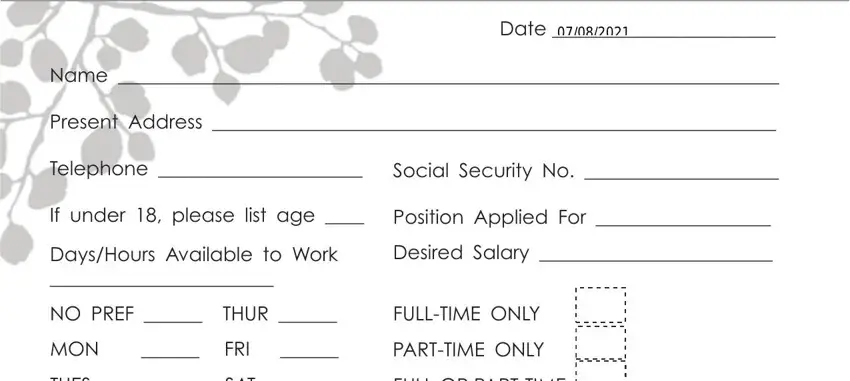 Fill out the TUES SAT, FULLOR PARTTIME, WED SUN, How many hours can you work weekly, Can you work nights, Are you a US Citizen Yes No, Have you ever been convicted of a, TYPE OF SCHOOL NAME OF SCHOOL, LOCATION, Complete mailing address, of Years Completed, Major Degree, High School, College, and Bus or Trade School section with the particulars required by the program.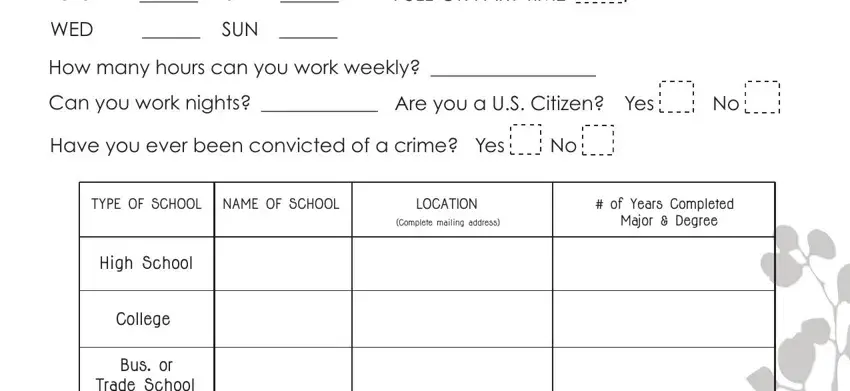 You could be required some essential details in order to fill in the Bus or Trade School, Professional School, and Signature part.

Step 3: Click "Done". It's now possible to upload the PDF document.
Step 4: To prevent any risks in the foreseeable future, you will need to get no less than two or three duplicates of the form.