When using the online editor for PDFs by FormsPal, it is easy to complete or modify wa esd business change form here. Our professional team is always working to expand the editor and make it even faster for users with its cutting-edge functions. Make the most of the current modern prospects, and discover a myriad of unique experiences! To get the process started, consider these simple steps:
Step 1: Click the "Get Form" button at the top of this webpage to access our PDF editor.
Step 2: With this advanced PDF editing tool, you can actually accomplish more than simply complete forms. Express yourself and make your docs seem professional with custom textual content incorporated, or fine-tune the original content to excellence - all that comes with the capability to incorporate any kind of images and sign it off.
It will be an easy task to fill out the pdf using this detailed guide! Here's what you have to do:
1. Complete your wa esd business change form with a selection of essential blank fields. Note all of the important information and be sure absolutely nothing is omitted!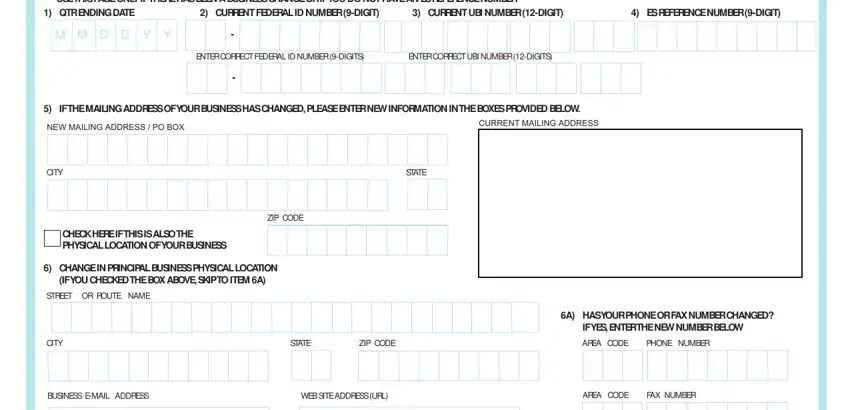 2. Your next step is usually to fill in all of the following blank fields: CEASED BUSINESS NO SUCCESSOR, LAST DATE WAGES PAID, CLOSE ACCOUNT AS OF WHAT DATE, M M D D Y Y, M M D D Y Y, CHANGE IN BUSINESS ACTIVITY, COMPLETE NEW BUSINESS NAME AND UBI, SOLD LEASED OR OTHERWISE, DATE OF SALE, LAST DATE WAGES WERE PAID, FULL SALE, PARTIAL SALE OF BUSINESS SOLD, M M D D Y Y, M M D D Y Y, and NEW BUSINESS NAME.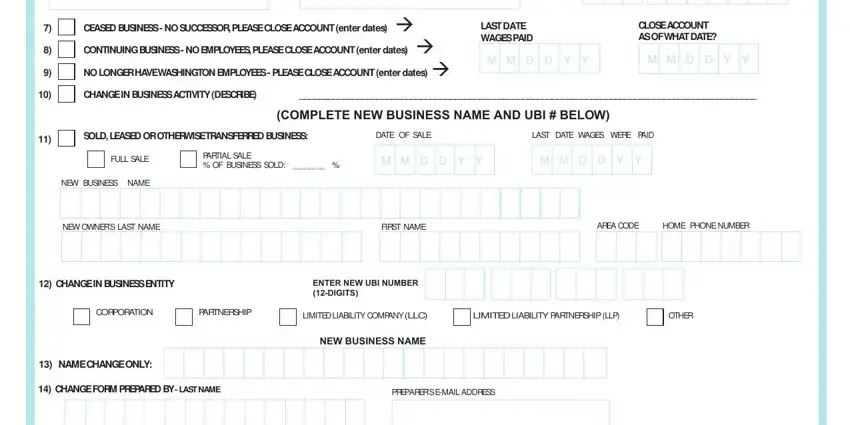 3. This third part is generally simple - complete every one of the fields in FIRST NAME, AREA CODE, PHONE NUMBER, OFFICE USE ONLY, OFFICE NO, STAFF ID, DATE, DTO, EMS C Rev CC, FAX THIS FORM TO, and MAIL THIS COMPLETED CHANGE FORM TO in order to finish this segment.

Concerning MAIL THIS COMPLETED CHANGE FORM TO and STAFF ID, make sure that you double-check them in this section. The two of these could be the most significant fields in this document.
Step 3: Always make sure that the details are accurate and then just click "Done" to conclude the project. Obtain your wa esd business change form after you subscribe to a free trial. Quickly access the pdf file within your FormsPal account, along with any edits and changes conveniently synced! Whenever you work with FormsPal, you can certainly complete forms without the need to worry about personal information breaches or data entries being distributed. Our secure platform makes sure that your personal details are kept safely.