Whenever you want to fill out Form 6 Summary, there's no need to install any applications - just try our online PDF editor. The editor is continually improved by our staff, getting new awesome features and turning out to be even more convenient. Here's what you would want to do to start:
Step 1: Hit the "Get Form" button above. It will open our editor so that you can begin filling in your form.
Step 2: As soon as you open the tool, you will see the document made ready to be completed. In addition to filling out various fields, you can also perform other sorts of things with the form, that is putting on custom words, modifying the original textual content, inserting graphics, putting your signature on the PDF, and much more.
With regards to the fields of this precise form, here's what you need to know:
1. Whenever submitting the Form 6 Summary, be certain to incorporate all of the needed blanks within the relevant part. This will help expedite the work, which allows your information to be handled without delay and properly.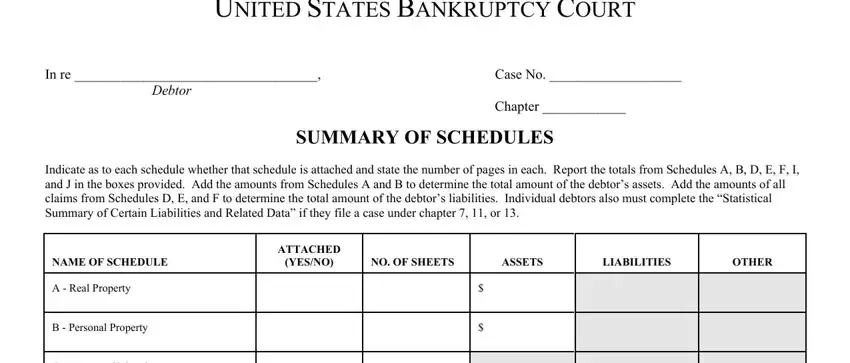 2. After the previous array of fields is done, proceed to type in the suitable details in all these - C Property Claimed as Exempt, D Creditors Holding Secured Claims, E Creditors Holding Unsecured, F Creditors Holding Unsecured, G Executory Contracts and, H Codebtors, I Current Income of Individual, J Current Expenditures of, and TOTAL.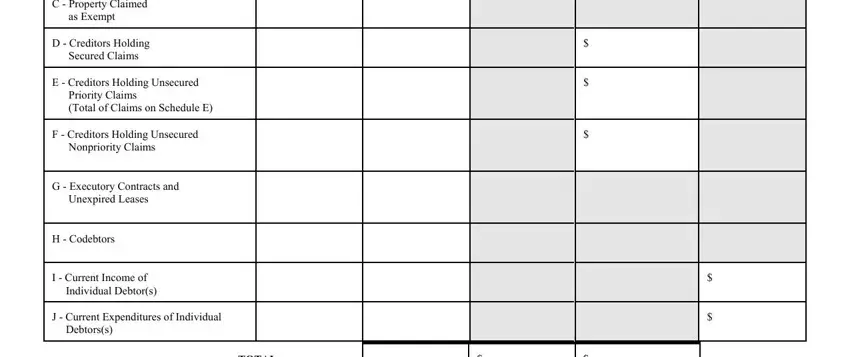 3. The following step should also be relatively simple, UNITED STATES BANKRUPTCY COURT, District of, In re, Debtor, Case No, Chapter, STATISTICAL SUMMARY OF CERTAIN, If you are an individual debtor, Check this box if you are an, filing a case under chapter or, Type of Liability, Amount, Domestic Support Obligations from, Taxes and Certain Other Debts Owed, and Claims for Death or Personal - each one of these fields must be filled out here.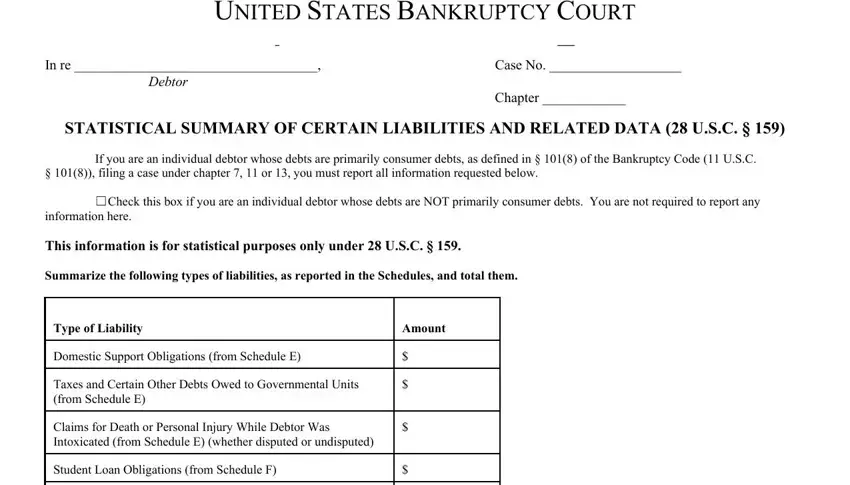 4. This next section requires some additional information. Ensure you complete all the necessary fields - Domestic Support Separation, Obligations to Pension or, TOTAL, State the following, Average Income from Schedule I, Average Expenses from Schedule J, Current Monthly Income from Form A, State the following, Total from Schedule D UNSECURED, and Total from Schedule E AMOUNT - to proceed further in your process!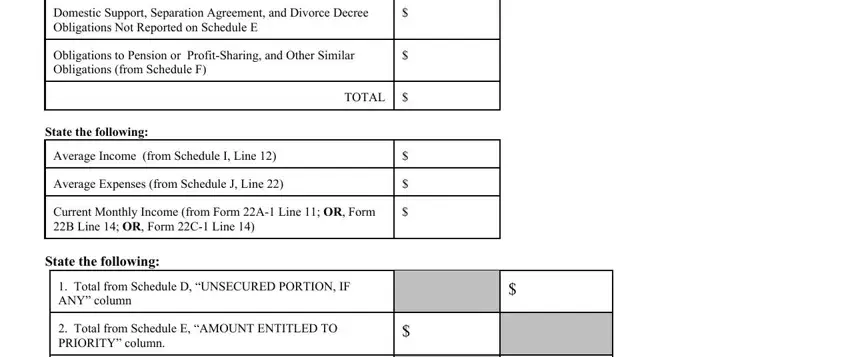 It's very easy to get it wrong when completing your Total from Schedule E AMOUNT, so you'll want to reread it prior to when you send it in.
5. The pdf must be completed by filling in this segment. Below there's a comprehensive listing of blanks that must be filled out with specific details to allow your form submission to be faultless: Total from Schedule E AMOUNT NOT, Total from Schedule F, and Total of nonpriority unsecured.

Step 3: When you've reviewed the information you filled in, click "Done" to finalize your document generation. Sign up with FormsPal today and immediately use Form 6 Summary, prepared for downloading. Every modification made is handily preserved , making it possible to edit the document at a later stage as needed. Here at FormsPal, we aim to ensure that your information is stored protected.