Handling PDF forms online can be surprisingly easy with our PDF editor. Anyone can fill out owcp 915 printable form here effortlessly. In order to make our tool better and more convenient to use, we constantly develop new features, taking into consideration suggestions from our users. Here's what you'll have to do to begin:
Step 1: Just click on the "Get Form Button" at the top of this site to launch our pdf form editor. This way, you will find everything that is necessary to fill out your file.
Step 2: Using our state-of-the-art PDF file editor, you're able to accomplish more than simply fill in forms. Express yourself and make your docs appear sublime with custom textual content put in, or modify the file's original input to excellence - all supported by an ability to add just about any graphics and sign the document off.
When it comes to fields of this specific form, here is what you should know:
1. To begin with, once filling in the owcp 915 printable form, beging with the page that has the following blanks: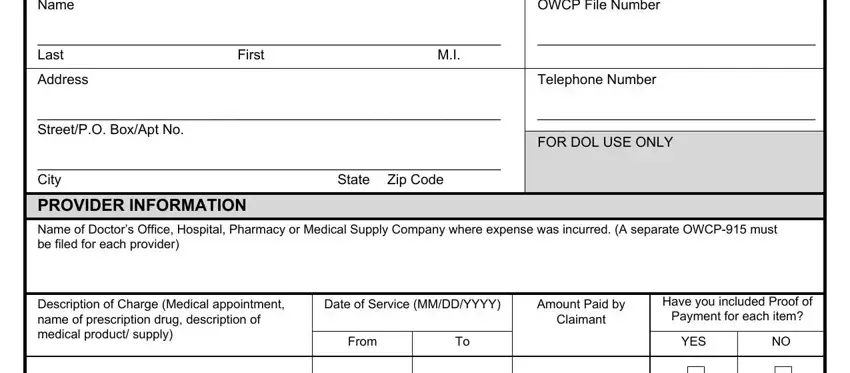 2. Immediately after the prior section is completed, proceed to type in the suitable information in these - I certify that the information, and Total Reimbursement.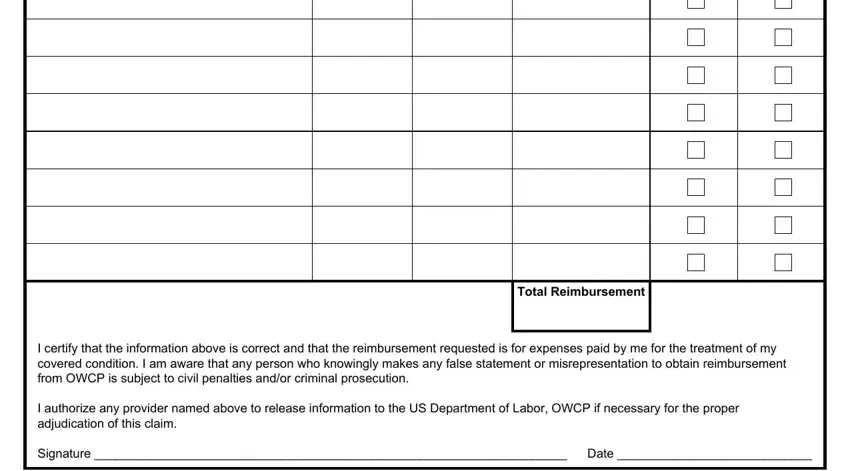 People who work with this PDF generally make mistakes while filling in I certify that the information in this section. Make sure you double-check what you type in right here.
Step 3: Right after looking through the filled in blanks, click "Done" and you're done and dusted! After creating a7-day free trial account with us, you'll be able to download owcp 915 printable form or email it right off. The file will also be easily accessible from your personal cabinet with your every single modification. FormsPal is committed to the privacy of our users; we ensure that all information entered into our system is protected.