You may complete eversource medical form ct easily by using our online tool for PDF editing. In order to make our tool better and less complicated to use, we continuously design new features, with our users' suggestions in mind. For anyone who is seeking to get going, here is what it requires:
Step 1: Click the "Get Form" button above. It will open up our pdf tool so you could begin filling out your form.
Step 2: With this online PDF editing tool, you can accomplish more than merely complete blanks. Express yourself and make your docs look great with custom textual content added, or fine-tune the original content to excellence - all that backed up by the capability to incorporate just about any graphics and sign the PDF off.
As for the blanks of this particular PDF, here is what you need to do:
1. The eversource medical form ct needs certain information to be inserted. Make certain the subsequent blank fields are completed: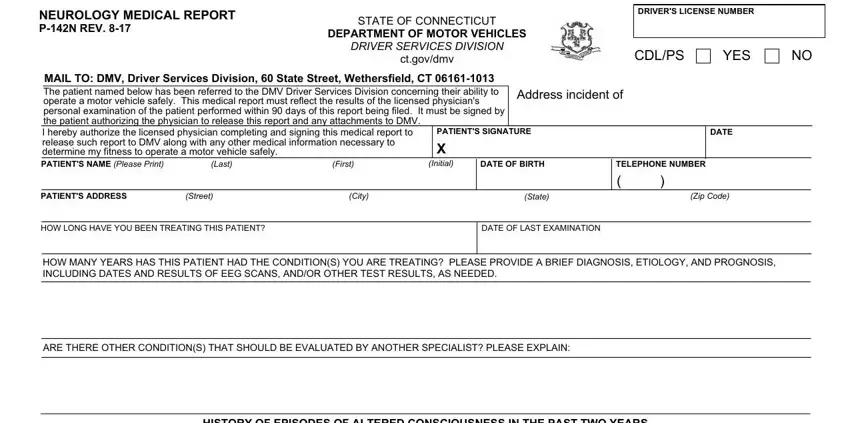 2. Just after finishing the last part, go to the subsequent stage and fill out the necessary particulars in these blank fields - DATE, TYPE, DATE, TYPE, DATE, TYPE, MEDICATIONS RELEVANT TO MOTOR, DATE OF LAB WORK, TYPEDOSE, BLOOD LEVEL, DATE OF LAB WORK, TYPEDOSE, BLOOD LEVEL, DMV MAY ISSUE A LICENSE SUBJECT TO, and YES.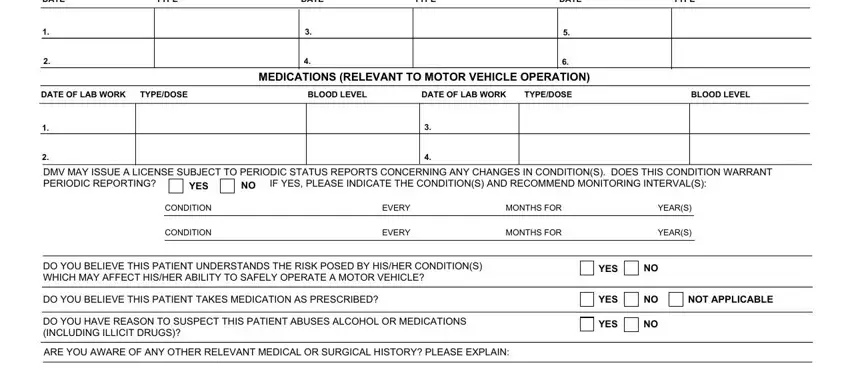 3. The third part is hassle-free - complete all the blanks in CONSIDERING THIS PATIENTS, YES, PHYSICIANS CERTIFICATION I certify, PHYSICIANS NAME Please print or, OFFICE ADDRESS Include Zip Code, TELEPHONE NUMBER, PHYSICIANS SIGNATURE, PHYSICIANS LICENSE NUMBER, PHYSICIANS SPECIALTY, and DATE REPORT COMPLETED to finish the current step.

You can potentially make errors when filling in your PHYSICIANS SPECIALTY, and so make sure you look again prior to deciding to finalize the form.
Step 3: When you have looked once again at the details in the fields, click "Done" to complete your FormsPal process. Make a 7-day free trial option at FormsPal and acquire direct access to eversource medical form ct - which you may then begin to use as you want inside your personal cabinet. At FormsPal, we do everything we can to guarantee that all your information is stored secure.