form 673 can be filled in online effortlessly. Just open FormsPal PDF tool to complete the job fast. To make our tool better and less complicated to utilize, we constantly work on new features, with our users' feedback in mind. Here's what you'll have to do to get going:
Step 1: Just press the "Get Form Button" above on this webpage to open our pdf form editor. Here you will find all that is required to work with your document.
Step 2: This tool offers you the opportunity to change your PDF file in various ways. Improve it with your own text, correct what's already in the PDF, and add a signature - all doable within a few minutes!
It is straightforward to fill out the pdf following this helpful guide! Here is what you need to do:
1. While filling in the form 673, make sure to include all of the important blank fields in their associated form section. It will help facilitate the work, allowing your information to be processed swiftly and properly.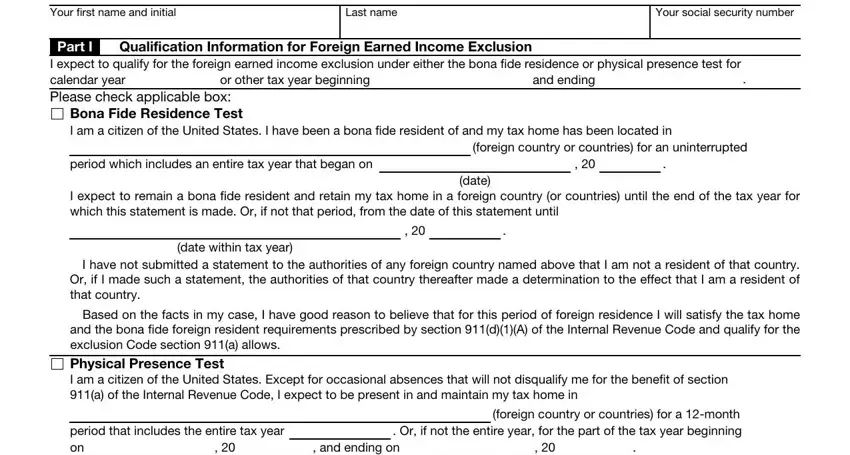 2. Soon after the prior array of blank fields is completed, go to type in the relevant information in these: Part II, Estimated Housing Cost Amount for, Estimated qualified, Rent Utilities other than, Part III Certification, Under penalties of perjury I, belief it is true correct and, The estimated housing cost amount, If I become disqualified for the, I understand that any exemption, Your Signature, Date, For Paperwork Reduction Act Notice, Cat No Y, and Form Rev.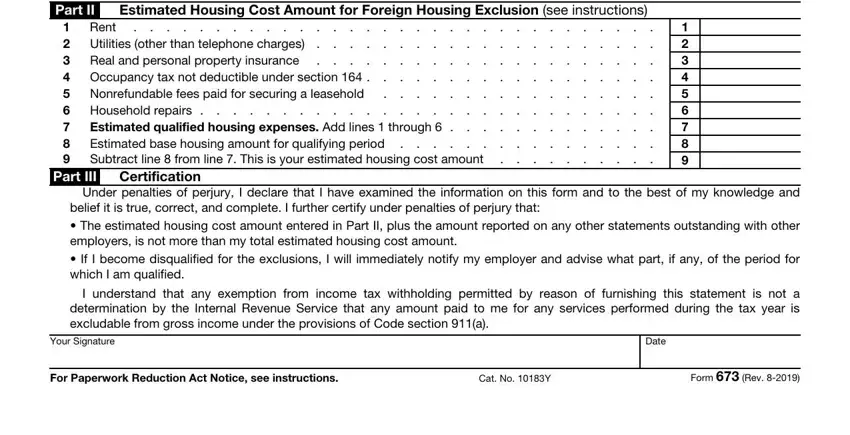 Always be really attentive while filling out Cat No Y and I understand that any exemption, since this is where many people make some mistakes.
Step 3: When you've glanced through the information in the document, just click "Done" to conclude your document generation. Go for a 7-day free trial option at FormsPal and acquire direct access to form 673 - readily available in your FormsPal cabinet. When using FormsPal, you'll be able to complete documents without the need to worry about database breaches or entries being shared. Our secure platform makes sure that your private details are kept safe.