In case you want to fill out Virginia Special Nonresident Claim For Individual Income Tax Withheld, you don't need to download and install any sort of applications - simply try our PDF editor. The tool is consistently updated by us, acquiring awesome functions and becoming even more convenient. To begin your journey, consider these simple steps:
Step 1: Just click the "Get Form Button" in the top section of this page to launch our pdf file editing tool. This way, you'll find all that is needed to work with your file.
Step 2: As you start the editor, you'll notice the form made ready to be filled in. Besides filling in various fields, you might also perform other actions with the form, that is putting on your own textual content, editing the original textual content, inserting illustrations or photos, placing your signature to the PDF, and more.
This form will involve some specific information; to guarantee accuracy, please make sure to consider the following recommendations:
1. The Virginia Special Nonresident Claim For Individual Income Tax Withheld usually requires particular details to be entered. Be sure that the subsequent blanks are completed: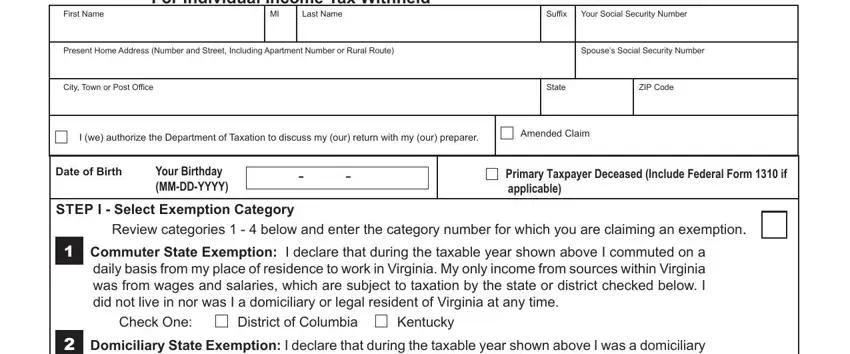 2. Once your current task is complete, take the next step – fill out all of these fields - Domiciliary State Exemption I, Check One, Maryland, Pennsylvania, West Virginia, Military Spouse Exemption, Tax Withheld in Error by Employer, STEP II Enter amount of Virginia, If amended enter the full refund, STEP III Avoid delays If you are, complete copy of your State of, If the Direct Deposit section, Your Bank Routing Transit Number, Account Number, and Checking with their corresponding information. Make sure to double check that everything has been entered correctly before continuing!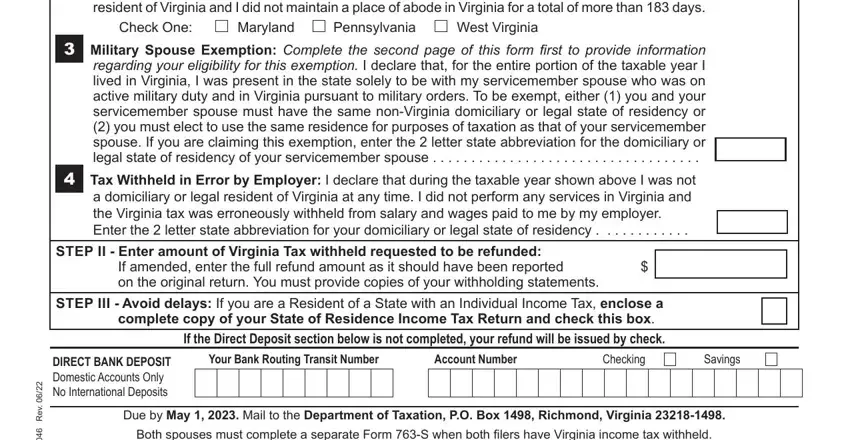 Concerning STEP III Avoid delays If you are and Account Number, ensure that you double-check them here. These two are certainly the key fields in the form.
3. Through this part, take a look at I the undersigned do declare under, Please Sign Here, Your Signature X, Preparers Use Only, Preparers Name X, Date, Date, Your Phone, Office Use, Preparers Phone Number, Firms Name or Yours if, Preparers FEINPTINSSN, Code, F S n o i t a x a T, and p e D. Every one of these will need to be filled in with utmost precision.

4. To move forward, the next part requires completing a handful of form blanks. Included in these are I Your spouse is a member of the, Was your spouse in active, Yes, If your spouse was discharged from, MMDDYYYY, If your spouse was in the military, Location of Duty Station include, Date Assignment Started, Date Assignment Ended, MMDDYYYY, MMDDYYYY, Where and when were you and your, MMDDYYYY, Enclose a copy of your military, and of military personnel If a, which are crucial to going forward with this PDF.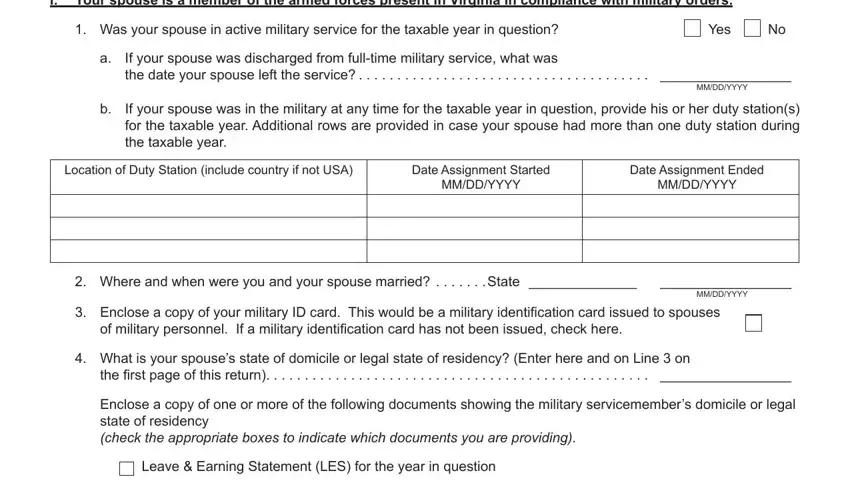 5. Now, this last segment is what you will need to finish prior to closing the PDF. The fields in question are the following: Current drivers license from the, DD Form State of Legal Residence, Other, II You are present in Virginia, Do you own a business or any, Yes, If yes please describe, III You have the same nonVirginia, or you elect to use the same, Did you file a state income tax, under question above, Yes, If you answered yes enclose a copy, If your state of residency for tax, and Note A copy of documents requested.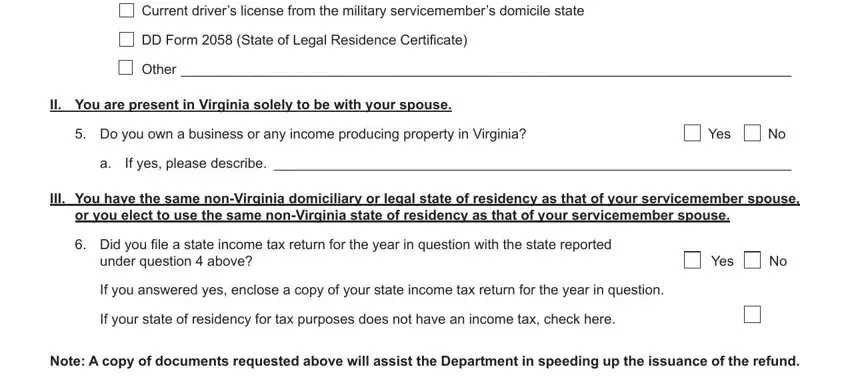 Step 3: Prior to moving forward, it's a good idea to ensure that all blank fields were filled in correctly. When you determine that it's correct, click on "Done." Right after starting afree trial account at FormsPal, you'll be able to download Virginia Special Nonresident Claim For Individual Income Tax Withheld or send it through email without delay. The file will also be readily available in your personal account menu with all your adjustments. FormsPal provides safe form tools with no data recording or any kind of sharing. Rest assured that your information is secure with us!