how to form 933 can be completed online very easily. Simply open FormsPal PDF editing tool to get it done fast. To retain our tool on the forefront of practicality, we work to put into practice user-oriented features and improvements regularly. We're at all times looking for feedback - play a pivotal role in revolutionizing PDF editing. Starting is easy! All that you should do is stick to the next basic steps down below:
Step 1: Click on the "Get Form" button above on this webpage to access our editor.
Step 2: The editor provides you with the opportunity to work with your PDF form in many different ways. Enhance it by adding your own text, correct what is originally in the file, and include a signature - all possible within minutes!
This document will need some specific details; in order to ensure accuracy and reliability, make sure you adhere to the subsequent guidelines:
1. First of all, while completing the how to form 933, start with the part that features the subsequent blanks: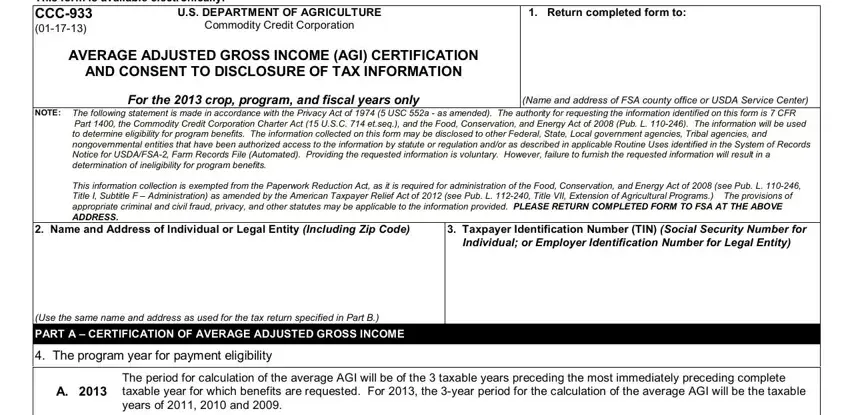 2. Immediately after the prior part is filled out, proceed to type in the relevant details in these - NOTE If at least percent of the, farm and nonfarm income of the, and nonfarm income of the, Less than or equal to, More than, YES B, I certify that the average, Less than or equal to B, More than, I certify that the average, Less than or equal to B, More than but less than or equal, More than, PART B CONSENT TO DISCLOSURE OF, and Form and NR filers farm income or.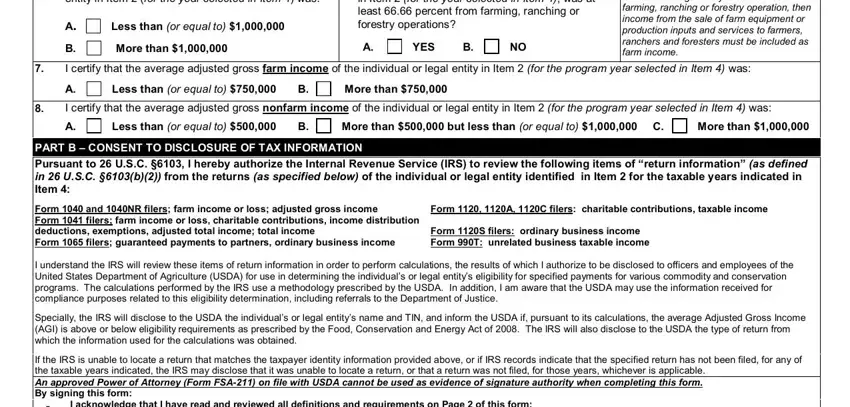 It's easy to make a mistake while filling out your I certify that the average, for that reason be sure you go through it again prior to when you submit it.
3. Completing Signature By, TitleRelationship of the, Date MMDDYYYY, Representative Capacity for a, and The US Department of Agriculture is essential for the next step, make sure to fill them out in their entirety. Don't miss any details!

4. Filling in Adjusted Gross Farm Income is the, Adjusted Gross Nonfarm Income is, Individual Internal Revenue, HOW TO DETERMINE ADJUSTED GROSS, Trust or Estate the adjusted, Corporation the adjusted gross, Limited Partnership LP Limited, Taxexempt Organization the, GENERAL INFORMATION ON CONSENT TO, This consent allows IRSs access to, and This consent authorizes the is crucial in this part - make certain that you take your time and take a close look at every single blank!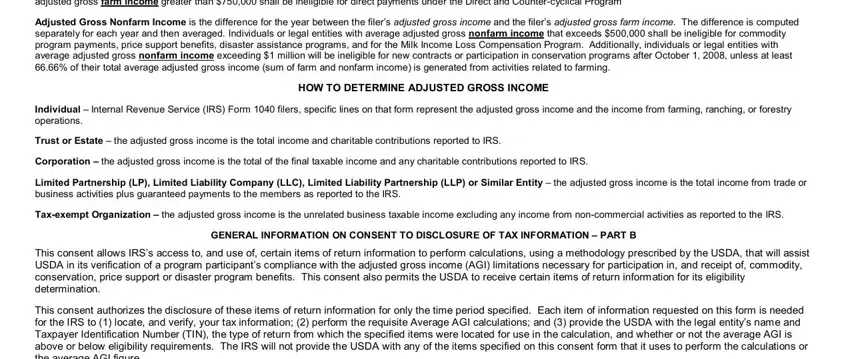 5. The form needs to be concluded with this particular section. Below you will see a detailed set of fields that need to be filled in with accurate details in order for your document usage to be accomplished: Program Year, The year for which program, Average Adjusted Gross, Income, Select the box next to the, Average Adjusted Gross, Income from Farming Ranching or, Average Adjusted Gross, Farm Income, Select the appropriate response to, Average Adjusted Gross, Nonfarm Income, Select the box next to the, Signature, and Read the acknowledgments.

Step 3: Right after you've looked once more at the details you given, press "Done" to finalize your document generation. Find the how to form 933 when you register online for a 7-day free trial. Conveniently gain access to the form within your personal account, with any edits and changes conveniently synced! With FormsPal, you'll be able to complete forms without having to worry about personal data leaks or data entries being shared. Our protected platform ensures that your private information is kept safe.