The PDF editor makes it simple to complete the completing form. It will be easy to generate the document in short order by simply following these easy steps.
Step 1: Click the "Get Form Now" button to start out.
Step 2: The document editing page is presently available. It's possible to add text or edit current content.
Type in the information requested by the software to prepare the form.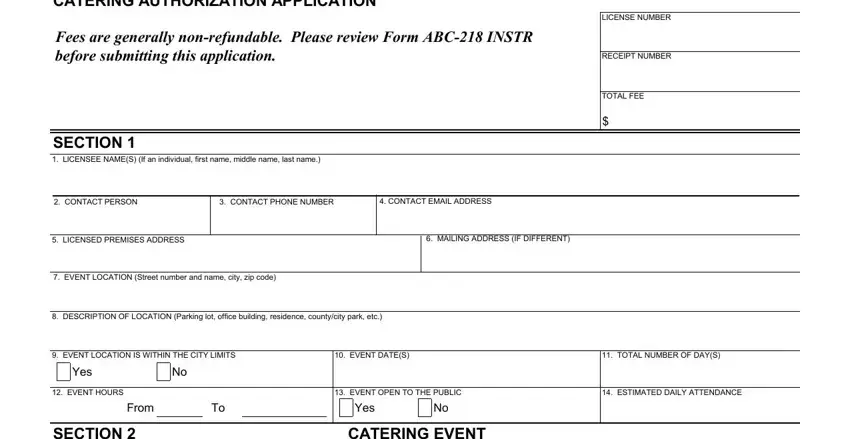 Put the essential data in the SECTION EVENT TYPE, Convention, CATERING EVENT, Trade Exhibit, Social Gathering, Anniversary, NUMBER OF EVENTS CATERED THIS, Sporting Event, Picnic, Wedding, Birthday, Other, ORGANIZATION SPONSORING EVENT, PERSON IN CHARGE OF EVENT, and MAILING ADDRESS box.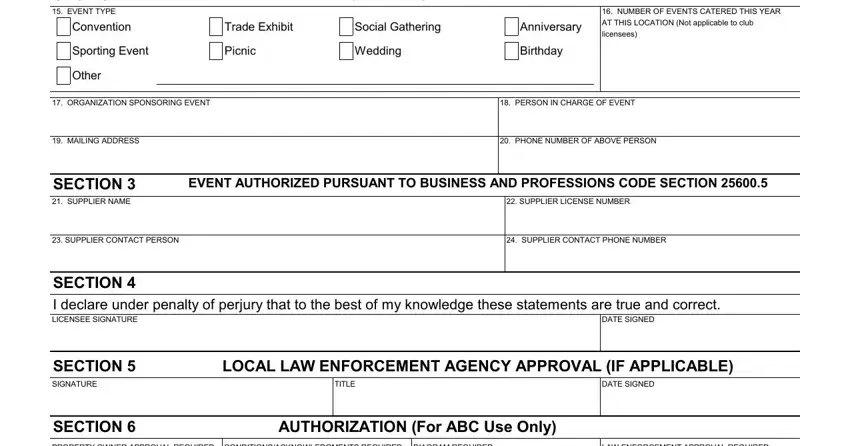 Describe the key information in the SECTION PROPERTY OWNER APPROVAL, CONDITIONSACKNOWLEDGMENTS REQUIRED, DIAGRAM REQUIRED, LAW ENFORCEMENT APPROVAL REQUIRED, Yes, attached, Yes, attached, Yes, attached, Yes, DISTRICT APPROVAL BY Name, ABC EMPLOYEE SIGNATURE, DATE SIGNED, and ABC rev part.

Step 3: When you hit the Done button, the finalized document is conveniently transferable to any kind of of your gadgets. Alternatively, you will be able to send it using mail.
Step 4: To prevent different concerns in the long run, try to prepare a minimum of a couple of duplicates of your file.