The abc 221 instructions filling out process is very simple. Our tool allows you to use any PDF document.
Step 1: Select the orange "Get Form Now" button on this web page.
Step 2: After you have accessed the abc 221 instructions edit page, you will notice all options you can undertake regarding your file within the upper menu.
For each part, fill in the data required by the application.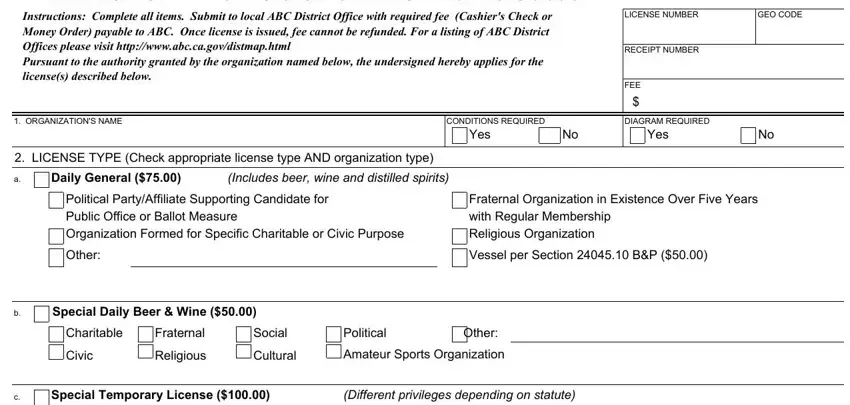 Make sure you fill up the Special, Temporary, License Amount, EVENT, TYPE, Dinner, Sports, Event Dance, Concert Wedding, Birthday Lunch, Mixer Picnic, Carnival BarbequeD, inner, Dance Social, Gathering, Other Festival, TOTAL, OF, DAYS ESTIMATED, ATTENDANCE EVENT, DATES EVENT, IS, OPEN, TO, THE, PUBLIC, No and Yes space with the demanded information.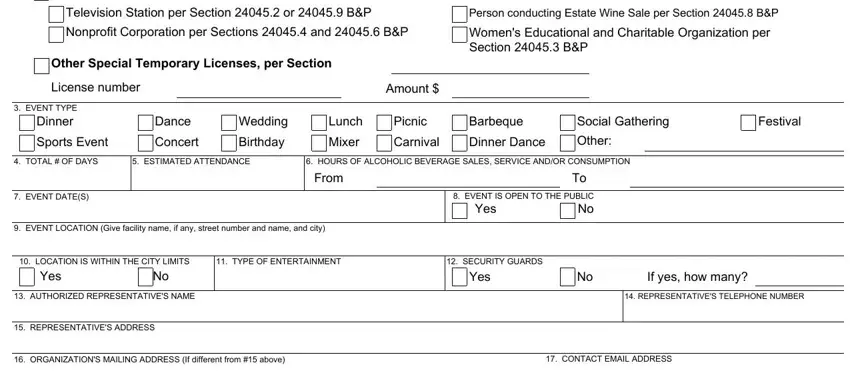 The program will require you to note particular significant information to instantly fill in the area CONTACT, EMAIL, ADDRESS AUTHORIZED, REPRESENTATIVES, SIGNATURE DATE, SIGNED PROPERTY, OWNER, APPROVAL, BY, Name, REQUIRED PHONE, NUMBER PROPERTY, OWNER, SIGNATURE DATE, SIGNED PHONE, NUMBER LAW, ENFORCEMENT, SIGNATURE DATE, SIGNED DISTRICT, OFFICE, APPROVAL, BY, Name ABC, EMPLOYEE, SIGNATURE ISSUANCE, DATE and ABC, rev

Step 3: Once you have hit the Done button, your form is going to be available for transfer to any electronic device or email you identify.
Step 4: In order to avoid any kind of difficulties in the future, try to create at the very least two or three copies of your form.