Using PDF forms online is very simple using our PDF editor. Anyone can fill out boe267 a here effortlessly. We are dedicated to providing you with the perfect experience with our editor by constantly releasing new features and improvements. With these improvements, working with our tool becomes better than ever before! With some simple steps, it is possible to begin your PDF editing:
Step 1: Just press the "Get Form Button" in the top section of this page to open our pdf form editing tool. This way, you will find all that is needed to fill out your file.
Step 2: Using this online PDF editor, it is possible to accomplish more than just fill in blank fields. Express yourself and make your docs seem sublime with custom textual content put in, or tweak the file's original content to excellence - all supported by the capability to insert any graphics and sign the file off.
If you want to complete this form, be sure to provide the information you need in each and every field:
1. It's very important to fill out the boe267 a correctly, therefore take care when filling out the parts including these blank fields: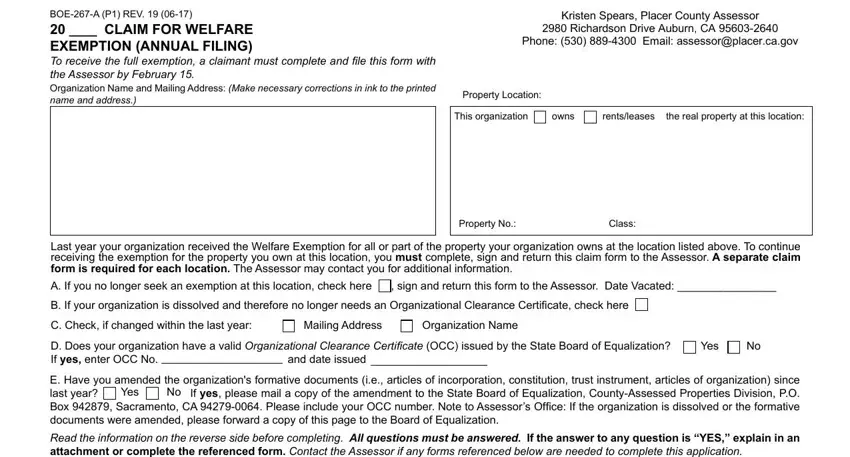 2. The subsequent part is to complete the next few fields: Identify the property that your, Real property, Personal property, Taxable Possessory Interest, YES NO, Since January last year, Has the use on any portion of the, Is any portion of this property, Is any portion of this property, Area sqft, Is any portion of this property, Is this property used as housing, Do other persons or organizations, Did this or any portion of this, and Revenue Code If yes see Unrelated.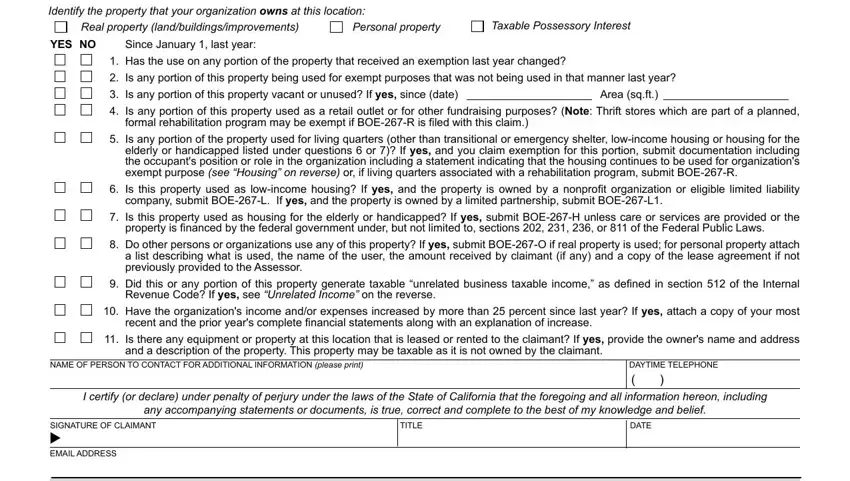 3. Completing LAND IMP ROVEMENTS PERSONAL, ITEM, EXEMPTION ALLOWED, LAND IMP ROVEMENTS PERSONAL, If another exemption such as the, amount of the exemption, type amount, Assessor or designee, and date is essential for the next step, make sure to fill them out in their entirety. Don't miss any details!

Always be extremely careful while filling in type amount and LAND IMP ROVEMENTS PERSONAL, because this is the part in which most people make some mistakes.
Step 3: Check that the details are accurate and then click on "Done" to progress further. Sign up with FormsPal now and easily get access to boe267 a, set for download. Every single modification made is handily preserved , which means you can modify the file later on anytime. FormsPal guarantees your information confidentiality by having a secure system that in no way records or shares any private information typed in. Be assured knowing your paperwork are kept confidential when you use our editor!