Dealing with PDF files online is definitely very easy using our PDF tool. Anyone can fill out OCC here painlessly. Our professional team is continuously working to improve the tool and enable it to be much faster for people with its extensive functions. Take your experience to the next level with continually improving and amazing opportunities we provide! To get the process started, consider these easy steps:
Step 1: Access the PDF doc inside our editor by hitting the "Get Form Button" above on this webpage.
Step 2: With the help of this handy PDF tool, it's possible to accomplish more than just fill out blank fields. Edit away and make your forms look perfect with custom text added, or fine-tune the original input to perfection - all that supported by an ability to incorporate any type of graphics and sign the file off.
Completing this PDF requires attention to detail. Make sure that every field is done correctly.
1. When completing the OCC, be sure to complete all important fields in their associated area. It will help expedite the process, which allows your information to be processed fast and properly.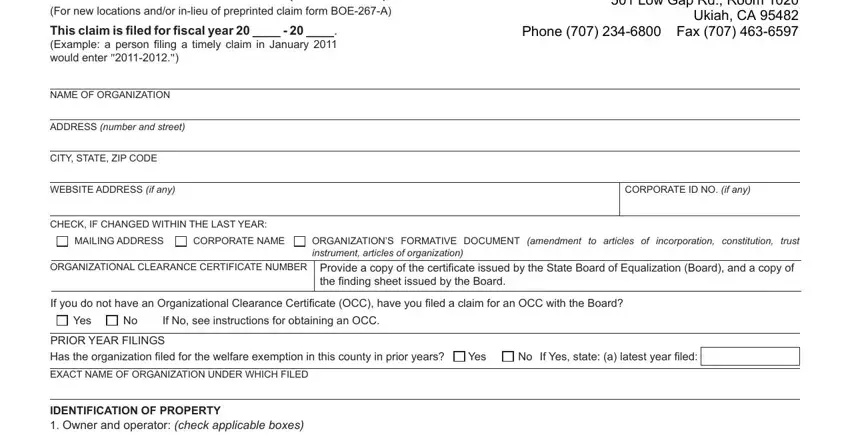 2. Right after completing the previous section, go to the subsequent stage and fill in all required details in all these blanks - Owner and operator, Claimant is and claims exemption, Owner only Buildings and, andor, Personal property, Operator only, Land, ADDRESS OF PROPERTY number and, CITY STATE ZIP CODE, ASSESSORS PARCEL NUMBER, Is this a new location this year, Yes Yes, No No, When was the property put to, and Real property If claiming an.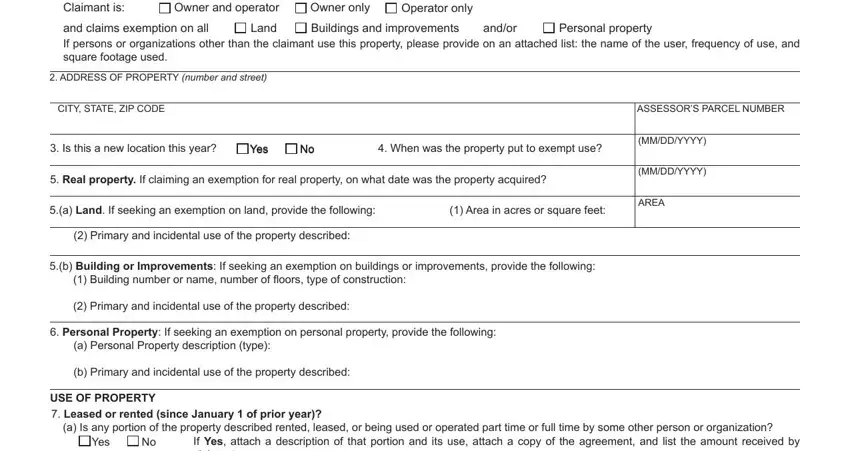 People frequently make errors while filling out Claimant is and claims exemption in this part. You should definitely read twice whatever you type in right here.
3. The following portion focuses on If Yes attach a description of, b Is any equipment or other, Yes, If Yes attach a list of equipment, and THIS DOCUMENT IS SUBJECT TO PUBLIC - fill out each of these fields.

4. All set to fill in the next form section! In this case you will have all of these Living quarters since January of, Is any portion of the property, Yes, If Yes describe that portion, Sale of personal property since, a Is any portion of the property, Yes, If Yes list the hours per week, b Is the property used as a thrift, Yes, If Yes submit BOER, LowIncome Housing, Is this property used as lowincome, Yes, and If Yes and the property is owned fields to do.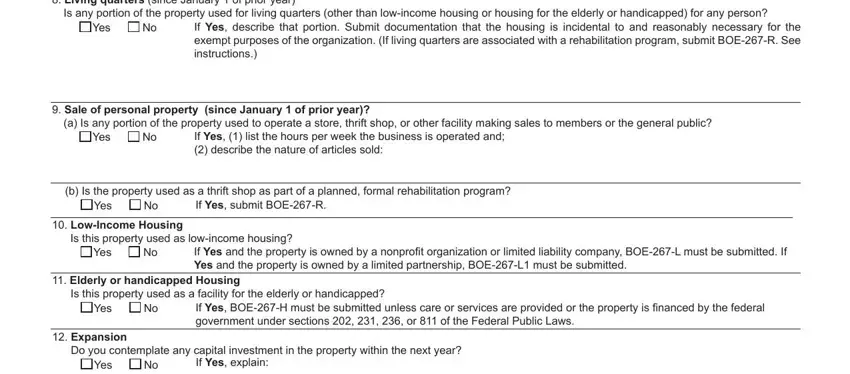 5. This very last point to complete this form is pivotal. Be sure to fill in the mandatory form fields, like Is the property for which this, section of the Internal Revenue, Yes, If Yes you must attach to this, The organizations information and, applicable a description of that, franchise taxation and the amount, Please check the following if, The property is used for the, Financial statements relating, immediately preceding the claim, NAME, DAYTIME TELEPHONE, Whom should we contact during, and TITLE, before using the pdf. If not, it could result in a flawed and possibly invalid paper!
Step 3: After you have looked over the details in the fields, press "Done" to finalize your document generation. Join FormsPal today and easily gain access to OCC, set for download. Every single modification made is handily saved , allowing you to modify the pdf at a later stage as required. FormsPal is committed to the confidentiality of all our users; we make sure that all information put into our system stays secure.