tiene can be filled out online without difficulty. Simply make use of FormsPal PDF tool to complete the task without delay. To make our tool better and less complicated to use, we continuously design new features, bearing in mind suggestions coming from our users. Here is what you'd need to do to get going:
Step 1: Access the PDF in our tool by hitting the "Get Form Button" at the top of this webpage.
Step 2: As soon as you start the PDF editor, you will notice the document made ready to be filled in. Apart from filling in various blank fields, it's also possible to do some other things with the form, such as putting on any words, editing the initial textual content, adding images, placing your signature to the form, and much more.
This PDF doc needs some specific details; to guarantee consistency, please be sure to pay attention to the recommendations down below:
1. Before anything else, once completing the tiene, beging with the form section that includes the following fields: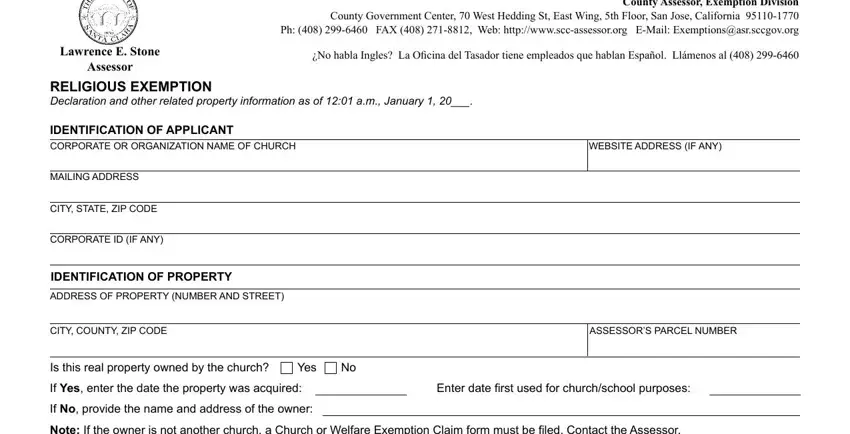 2. Now that this array of fields is completed, it's time to include the required particulars in If No provide the name and address, The property is owned by an entity, The entity is a nonproit, No part of the net earnings inures, USE OF PROPERTY, Are all buildings equipment and, Yes, If No explain, Is the additional land claimed, Yes, If No explain, Is there any building currently, Yes, If Yes is that building intended, and Yes so you can go to the next step.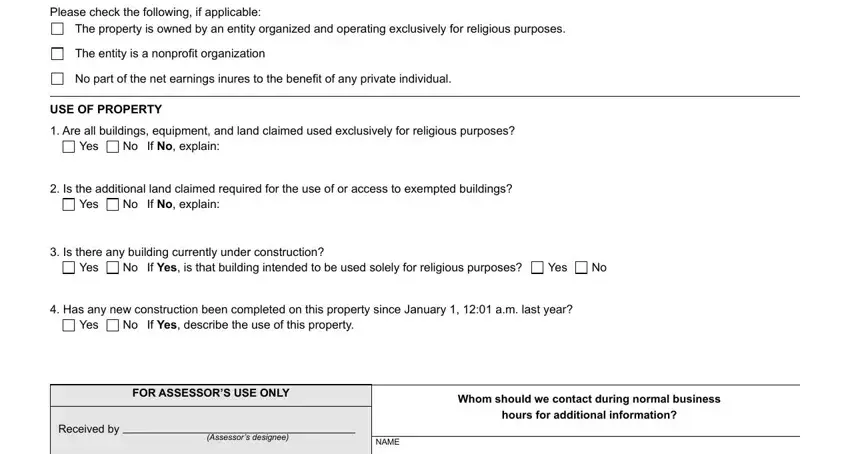 3. This part will be hassle-free - complete all the empty fields in county or city, date, DAYTIME TELEPHONE, EMAIL ADDRESS, and THIS DOCUMENT IS SUBJECT TO PUBLIC in order to finish this part.

A lot of people generally make mistakes when completing DAYTIME TELEPHONE in this part. Make sure you read twice everything you type in right here.
4. The subsequent paragraph requires your information in the following areas: Does the real property include, Yes, If Yes is all real property owned, Yes, Is there a sanctuary church on or, Yes, If No a claim for Welfare, Check as applicable the types of, Preschool, Nursery school, Kindergarten, Elementary school, Secondary school, Both secondary and college, and Are bingo games being operated on. Make sure you enter all required details to go onward.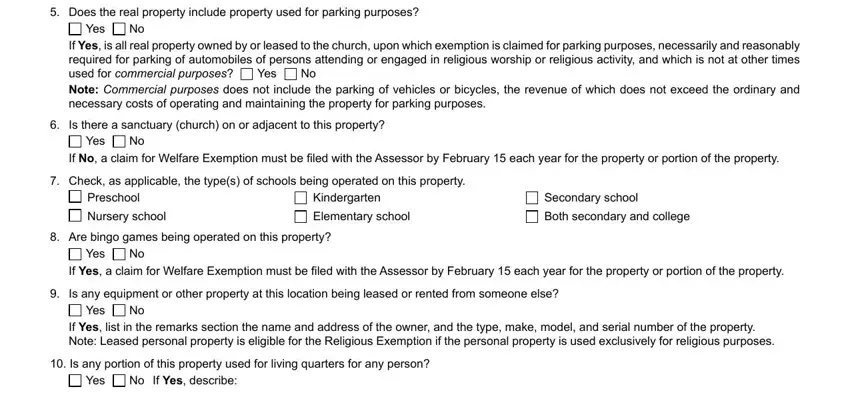 5. The form needs to be finished by dealing with this part. Here you can find a full list of blank fields that require accurate information to allow your form submission to be accomplished: Note Living quarters are not, Is any portion of this property, Yes, If Yes describe, Is any portion of this property, Yes, If Yes describe that portion its, Has there been any change in the, Yes, If Yes describe, and Remarks.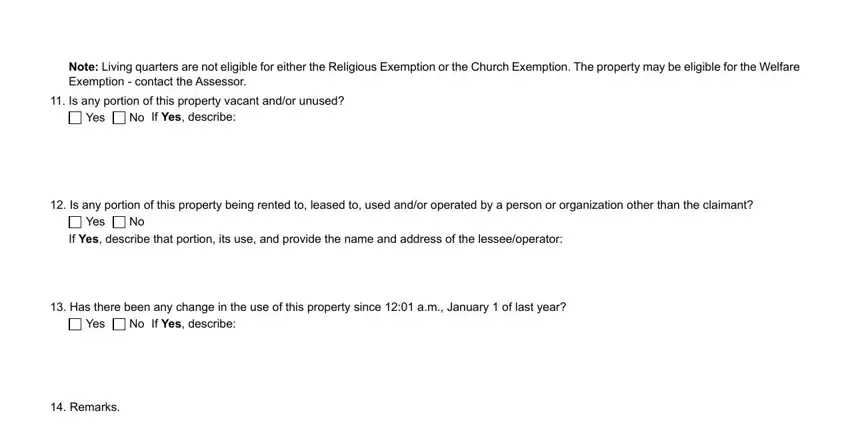 Step 3: Proofread what you have typed into the blank fields and click the "Done" button. Sign up with us today and easily access tiene, prepared for download. Each and every edit made is conveniently saved , helping you to customize the form further as required. FormsPal is dedicated to the privacy of our users; we ensure that all information used in our system remains secure.