Form Bof 119 can be completed online in no time. Simply make use of FormsPal PDF tool to finish the job without delay. To keep our tool on the cutting edge of efficiency, we work to integrate user-driven capabilities and enhancements on a regular basis. We're always looking for feedback - help us with remolding the way you work with PDF docs. To get the process started, take these easy steps:
Step 1: First, open the pdf tool by pressing the "Get Form Button" in the top section of this page.
Step 2: Once you open the file editor, there'll be the document prepared to be filled out. In addition to filling out various blank fields, you might also do various other things with the PDF, that is adding custom words, modifying the original textual content, inserting images, placing your signature to the document, and much more.
This PDF doc will require you to type in some specific information; to guarantee accuracy, please take heed of the tips below:
1. While submitting the Form Bof 119, be sure to include all necessary blank fields within its associated form section. It will help to speed up the work, making it possible for your information to be processed efficiently and properly.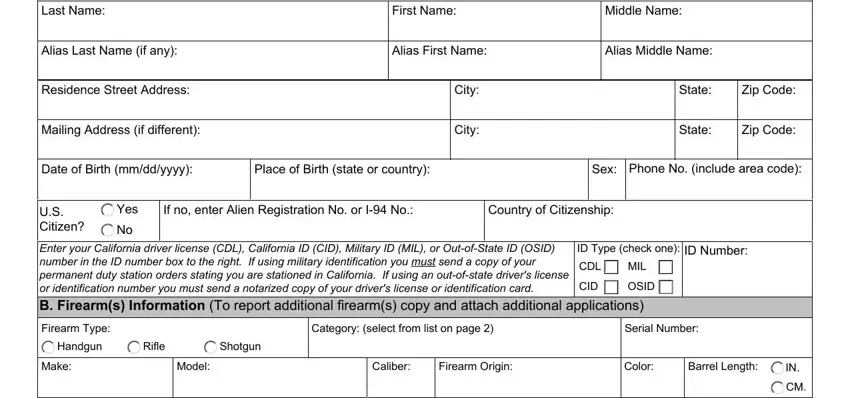 2. The subsequent step is to fill out the next few fields: Firearm Type, Category select from list on page, Serial Number, Handgun, Rifle, Shotgun, Make, Model, Caliber, Firearm Origin, Color, Barrel Length, Firearm Type, Category select from list on page, and Serial Number.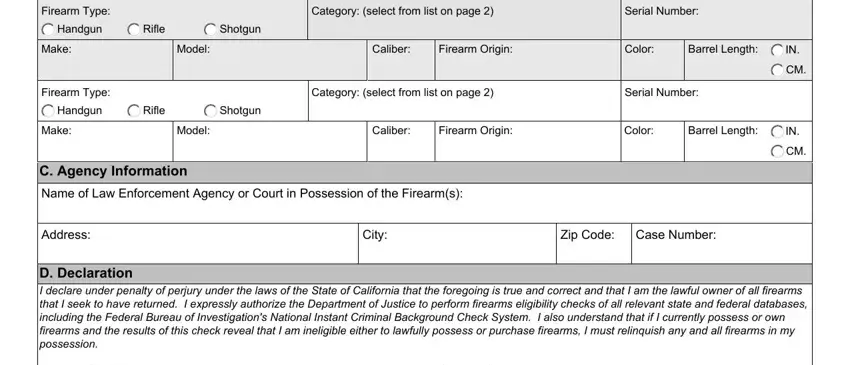 3. Through this step, examine DOJ USE ONLY, AFS REFLECTS APPLICANT AS OWNER, UNABLE TO VERIFY OWNERSHIP OF, Date Received, Date Paid, Date Processed, Processed By, and NTN. These are required to be completed with greatest attention to detail.

When it comes to DOJ USE ONLY and UNABLE TO VERIFY OWNERSHIP OF, be sure you double-check them in this current part. Those two are the key fields in the document.
4. This next section requires some additional information. Ensure you complete all the necessary fields - Part A Owner Information Enter the - to proceed further in your process!

Step 3: Before moving on, make sure that all blank fields are filled in as intended. As soon as you believe it's all good, click on "Done." Create a 7-day free trial plan with us and get direct access to Form Bof 119 - downloadable, emailable, and editable in your personal account page. FormsPal offers risk-free form editing with no personal information recording or distributing. Be assured that your data is secure here!