STATUTES can be completed online in no time. Simply open FormsPal PDF editor to do the job fast. To have our tool on the cutting edge of practicality, we strive to implement user-oriented features and improvements regularly. We're always glad to get suggestions - join us in revampimg PDF editing. Here's what you would need to do to get started:
Step 1: Firstly, access the tool by pressing the "Get Form Button" in the top section of this webpage.
Step 2: With the help of this state-of-the-art PDF editing tool, you may accomplish more than just fill out forms. Edit away and make your docs appear high-quality with custom textual content put in, or optimize the file's original input to perfection - all comes along with the capability to add any type of pictures and sign it off.
It will be straightforward to fill out the pdf using this practical tutorial! This is what you should do:
1. It is very important fill out the STATUTES correctly, hence be careful when filling in the areas comprising all of these blanks: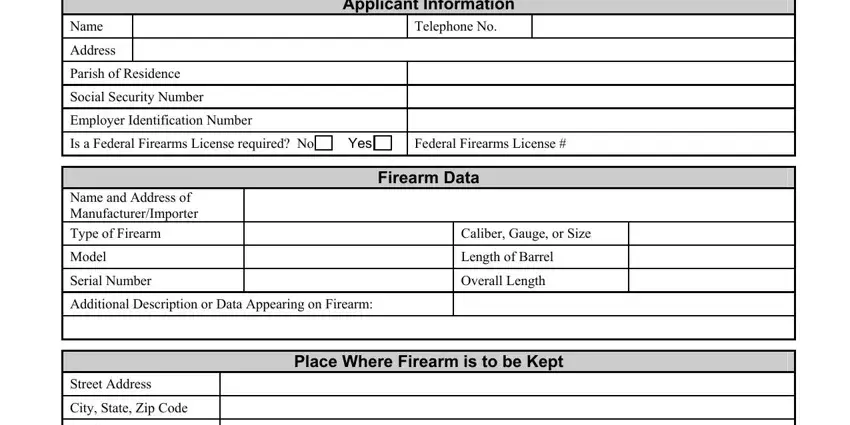 2. When this part is completed, you'll want to add the necessary details in Parish, Home, Business, Are you eligible to possess a, Yes, If NO state details of disposition, UNDER PENALTY OF PERJURY I DECLARE, Signature of Applicant, Department Use Only, Date, By authority of the Secretary this, Disapproved, Approved NOTE FORM MUST BE, Reviewing Official, and Date so you can proceed to the third part.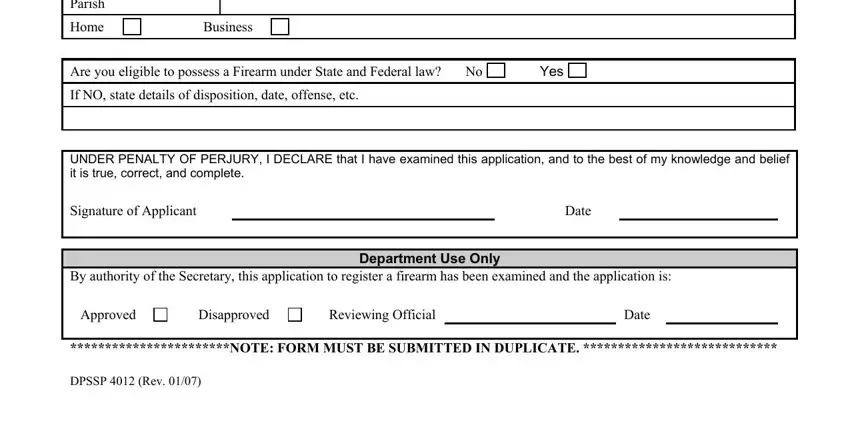 When it comes to Home and UNDER PENALTY OF PERJURY I DECLARE, make certain you get them right in this current part. Both of these are considered the most important ones in this page.
Step 3: Before finishing your form, make sure that all blanks have been filled out properly. Once you verify that it is correct, click on "Done." Right after registering afree trial account with us, it will be possible to download STATUTES or email it immediately. The file will also be readily available through your personal account with your each and every modification. FormsPal is devoted to the personal privacy of all our users; we make sure all personal information coming through our system stays secure.