kansas for articles incorporation can be filled out online without any problem. Simply use FormsPal PDF editor to accomplish the job fast. Our professional team is always working to develop the tool and ensure it is much easier for people with its cutting-edge functions. Enjoy an ever-improving experience now! With just a couple of easy steps, you can begin your PDF journey:
Step 1: Open the PDF in our editor by clicking on the "Get Form Button" in the top part of this page.
Step 2: This editor provides the opportunity to change most PDF files in a variety of ways. Enhance it by adding your own text, correct existing content, and put in a signature - all within a few mouse clicks!
This form will need particular data to be typed in, thus be certain to take your time to provide precisely what is expected:
1. It is crucial to fill out the kansas for articles incorporation correctly, so be attentive while filling in the segments comprising all of these blanks: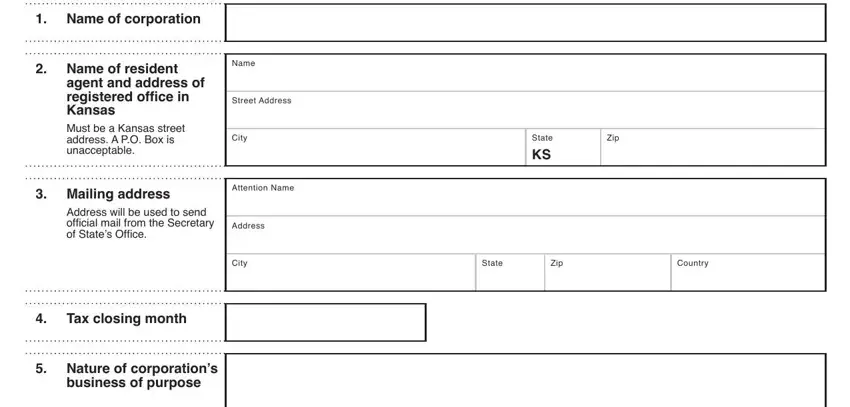 2. The next part is usually to fill in all of the following blanks: Total number of, shares corporation is authorized, Shares, Shares, Shares, Shares, Stock, Stock, Stock, Stock, Class, Class, Class, Class, and Par Value.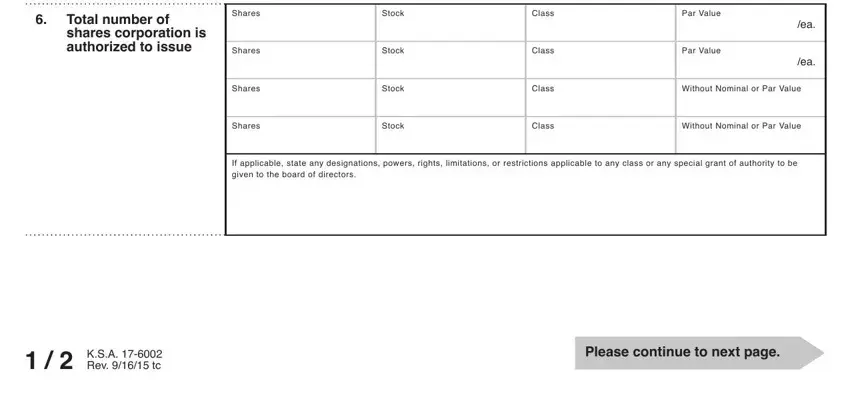 3. Within this part, have a look at Name and mailing, address of each incorporator Do, Name and mailing, address of each member of board of, Name, Address, City, Name, Address, City, Name, Address, City, Name, and State. All of these need to be filled in with greatest precision.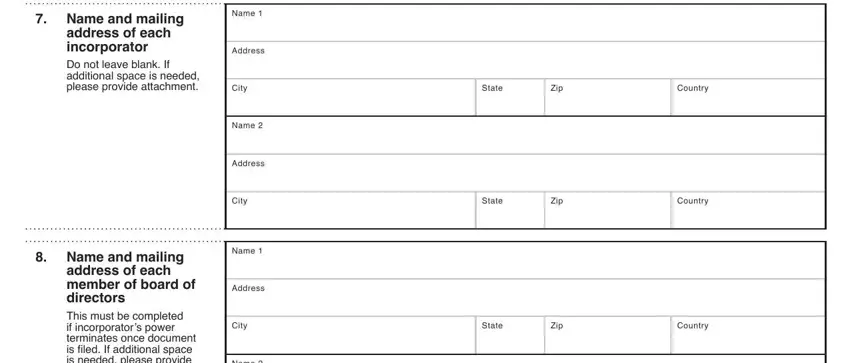 4. This next section requires some additional information. Ensure you complete all the necessary fields - address of each member of board of, Name, Address, City, State, Zip, Country, Duration of corporation o, o Date corporation will cease, Month, Day, Year, Effective date, Must be within days of filing, and o Upon filing - to proceed further in your process!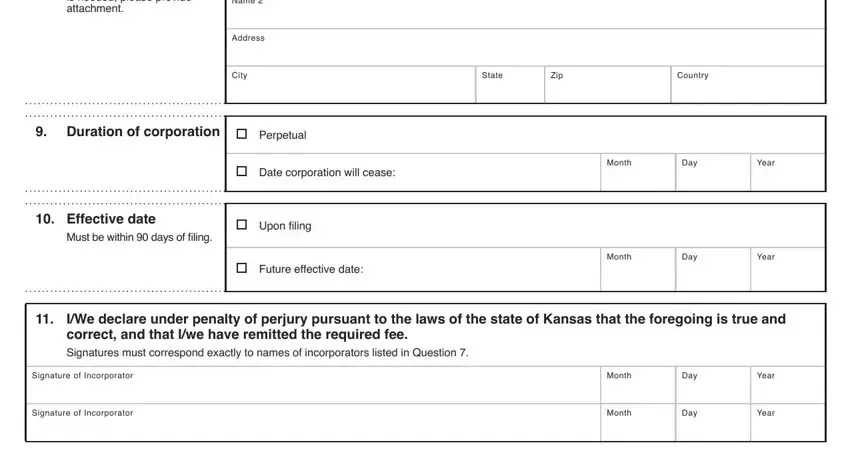 Lots of people generally make some errors while filling in Effective date in this area. Don't forget to re-examine everything you enter here.
Step 3: Make sure the information is accurate and press "Done" to conclude the task. After creating afree trial account here, you will be able to download kansas for articles incorporation or send it through email immediately. The PDF will also be available through your personal account page with your each and every change. We don't share any information you type in when filling out documents at our site.