Any time you would like to fill out atlanta airport badge renewal, it's not necessary to download any software - simply make use of our PDF editor. The tool is constantly improved by our team, getting new awesome functions and becoming more versatile. To get the ball rolling, consider these basic steps:
Step 1: First of all, open the editor by clicking the "Get Form Button" at the top of this page.
Step 2: When you open the tool, you will find the document made ready to be filled in. Besides filling in different blanks, it's also possible to do many other actions with the form, such as writing custom words, editing the initial text, adding images, placing your signature to the PDF, and a lot more.
In order to complete this document, ensure that you type in the right information in each field:
1. The atlanta airport badge renewal usually requires specific information to be inserted. Be sure that the next blanks are complete: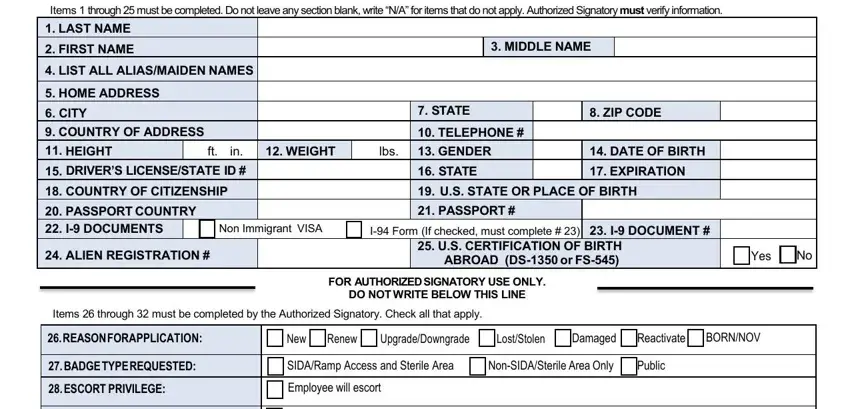 2. The third step is usually to fill in these blanks: DRIVER PRIVILEGE, US CUSTOMS SEAL, Employee will drive on the airfield, Red Seal, Black Seal, AUTHORIZED SIGNATORY, PrimarySecondary Authorized, EMERGENCY RESPONSE, ER Designation, FINGERPRINT CERTIFICATION, This employee has satisfactorily, Case Number, Staff, AUTHORIZED SIGNATORY A specific, and Telephone.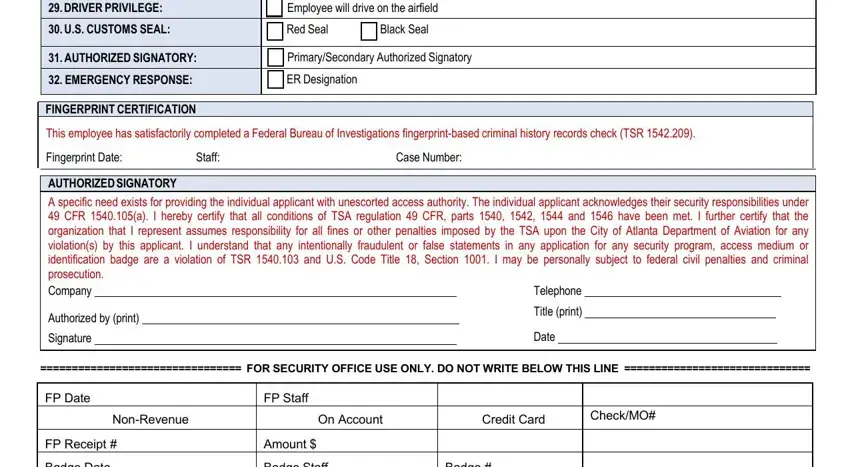 3. In this step, look at This employee has satisfactorily, Date Completed, Staff, Company, AIRPORT DRIVER SAFETY TRAINING, Contact Airport Operations for, Any employee required to operate a, SAFETY MANAGEMENT SYSTEM SMS, This employee has successfully, Date Completed, Staff, Company, NONSIDA EMPLOYEECUSTOMER SERVICE, This employee has successfully, and Date Completed. All of these need to be taken care of with greatest awareness of detail.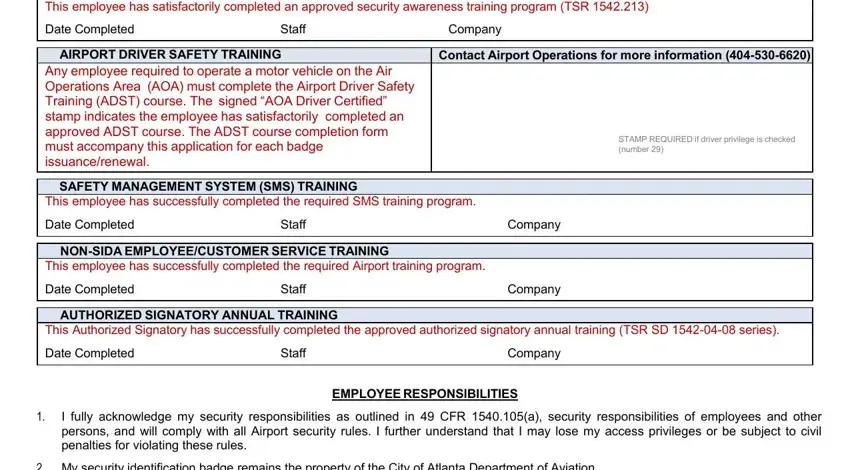 4. The form's fourth part arrives with these particular form blanks to focus on: All employees traveling as, Employee Signature, SD Form ID, and Page of.

5. The very last notch to conclude this document is critical. Ensure you fill out the displayed blanks, including Employee Signature, Employee Full Name print, SD Form ID, Date of Birth, SSN, and Page of, prior to submitting. Neglecting to do so can generate an unfinished and possibly unacceptable document!

People who use this PDF generally make errors while completing Employee Full Name print in this section. Remember to revise whatever you type in right here.
Step 3: Once you have looked over the information you given, simply click "Done" to conclude your FormsPal process. Find your atlanta airport badge renewal after you register online for a 7-day free trial. Easily gain access to the pdf document from your personal account page, together with any modifications and adjustments automatically kept! Here at FormsPal, we do our utmost to make certain that your details are maintained secure.