You could fill out Form Dcf F Cfs0061 E instantly using our PDFinity® PDF editor. To make our editor better and simpler to work with, we consistently work on new features, with our users' feedback in mind. For anyone who is seeking to begin, this is what it takes:
Step 1: First, open the pdf editor by clicking the "Get Form Button" above on this page.
Step 2: With our state-of-the-art PDF editing tool, you'll be able to accomplish more than merely complete blank form fields. Try each of the functions and make your forms appear professional with custom textual content added in, or modify the file's original content to excellence - all comes along with the capability to add almost any graphics and sign the file off.
It will be easy to complete the document using this helpful guide! This is what you want to do:
1. The Form Dcf F Cfs0061 E necessitates particular information to be typed in. Make certain the subsequent fields are filled out: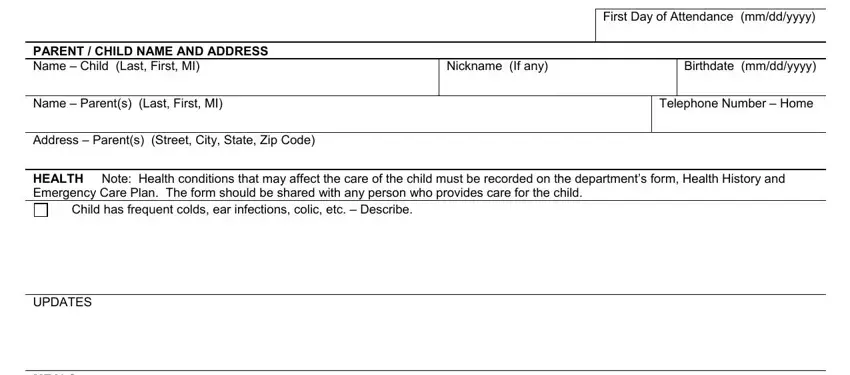 2. The third part would be to fill in these blank fields: Length of time on current schedule, MEALS Current feeding schedule, Food type, Formula, Strained, Junior, Table, Milk type Specify, New food timetable When eating, Held in lap, In highchair, Other Specify, Feeds self, Yes, and If Yes uses.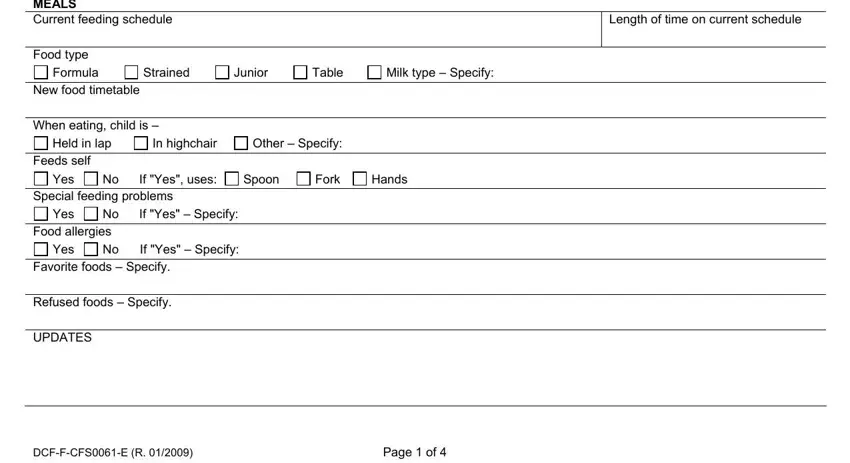 3. In this particular stage, have a look at SLEEP Current sleep schedule, Falls asleep easily, Mood upon awakening Describe, Yes, Takes favorite toys to bed child, Yes, If Yes list toys, Length of time on current schedule, Sleep position child under age, Back for children under age year, Back, Side or stomach, UPDATES, DIAPERING TOILETING Diaper type, and Cloth. All of these are required to be taken care of with highest focus on detail.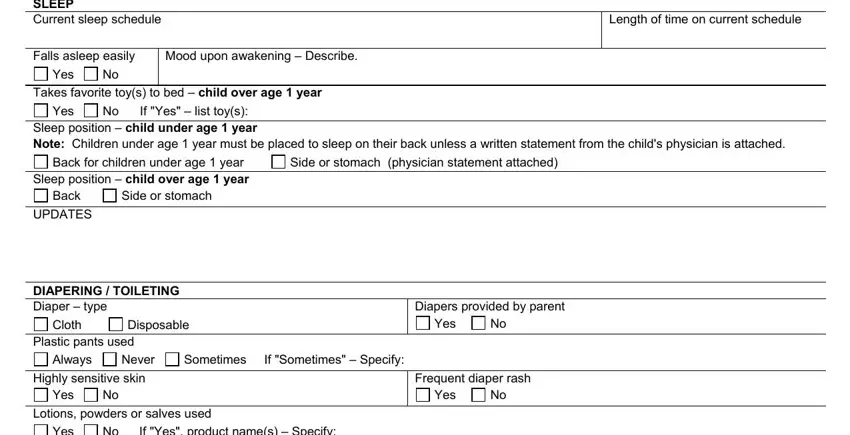 4. To move onward, this fourth part involves completing a couple of form blanks. Included in these are Yes, If Yes product names Specify, Toilet training attempted, Yes, If Yes describe routine, Type of toilet seat used at home, Potty chair, Special toilet seat, Regular toilet seat, Regular bowel movements, Yes, No How often, Toileting problems, Yes, and If Yes Describe, which you'll find key to moving forward with this document.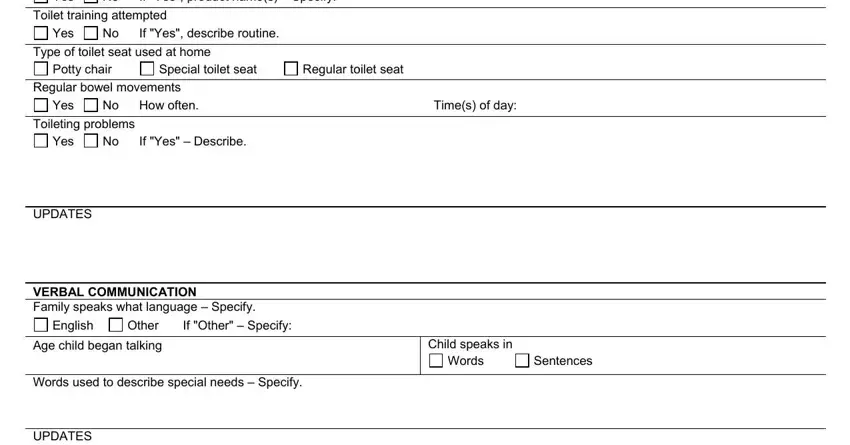 5. Now, the following final part is precisely what you will need to finish before finalizing the PDF. The blanks at issue include the next: COMFORTING Does child have a fussy, Yes, If Yes Specify time, How is fussy time handled, Child likes to be, Held, Sung to, Rocked, Read to, Other Specify, Special things you say or do to, UPDATES, SELFEXPRESSION What causes your, and What frightens your child and how.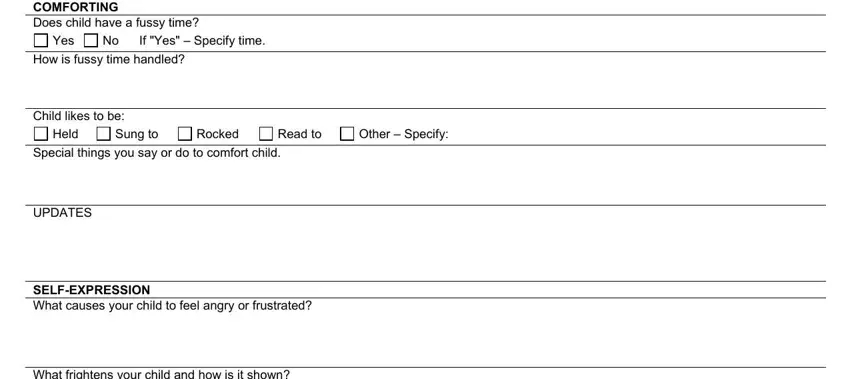 A lot of people generally make some mistakes when filling out Held in this section. Be certain to reread what you type in here.
Step 3: Make sure that the information is correct and then simply click "Done" to continue further. Find your Form Dcf F Cfs0061 E as soon as you join for a 7-day free trial. Readily get access to the pdf form in your personal cabinet, with any edits and adjustments automatically kept! FormsPal guarantees safe document tools without data recording or distributing. Feel at ease knowing that your information is in good hands with us!