Filling in pennsylvania permit application is straightforward. Our experts created our software to really make it convenient to use and enable you to fill out any form online. Below are a few steps that you need to stick to:
Step 1: Choose the orange "Get Form Now" button on this webpage.
Step 2: Now you are on the file editing page. You can modify and add text to the form, highlight specified content, cross or check certain words, include images, insert a signature on it, erase unwanted fields, or remove them altogether.
For every single area, prepare the information asked by the platform.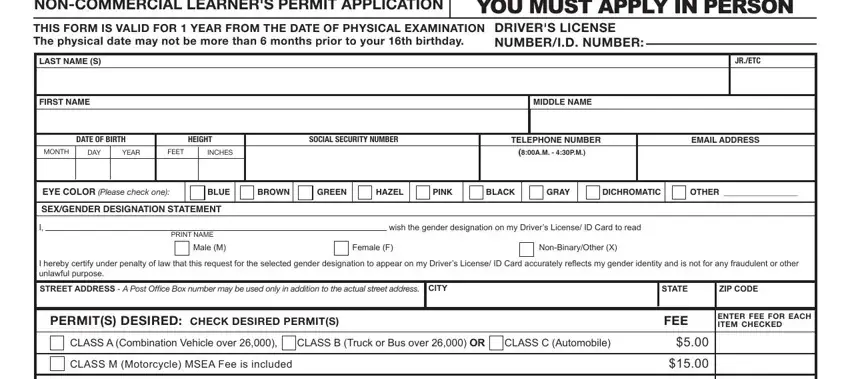 Provide the appropriate information in the space YearDriversLicense, YearDriversLicenseAgeOver, FEE, totheOrganDonationTrustFundODTF, totheVeteransTrustFundVTF, enterfeeforlicensechecked, enterfeeforcontributionshere, TOTAL, CheckApplicableBlockYESNO, Ifyesgivestate, date, andreason, andreason, date, and AUTHORIZATIONSANDCERTIFICATIONS.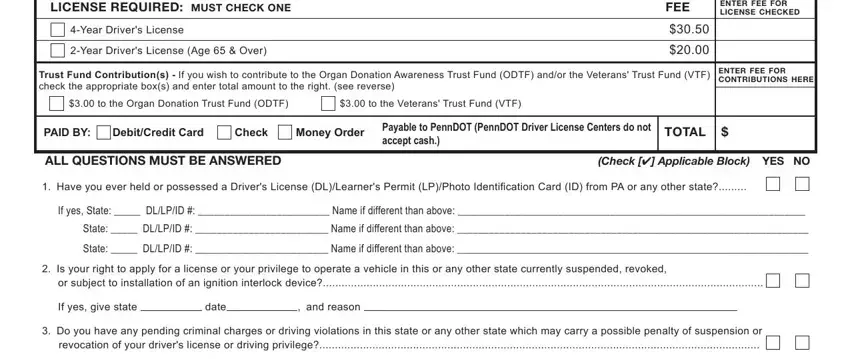 Put down the vital particulars once you are within the APPLICANTSSIGNATUREININK, DATE, XSIGN, and HERE section.

The Cardiacdisorder, Hypertension, Alcoholabuse, Drugabuse, VISIONSCREENING, YESNO, UncorrectedR, RightEyeLeftEyeBothEyes, Fields, CorrectedR, SPECIALTY, STATELICENSE, STREETADDRESS, TELEPHONE, and CITY segment can be used to specify the rights and obligations of each party.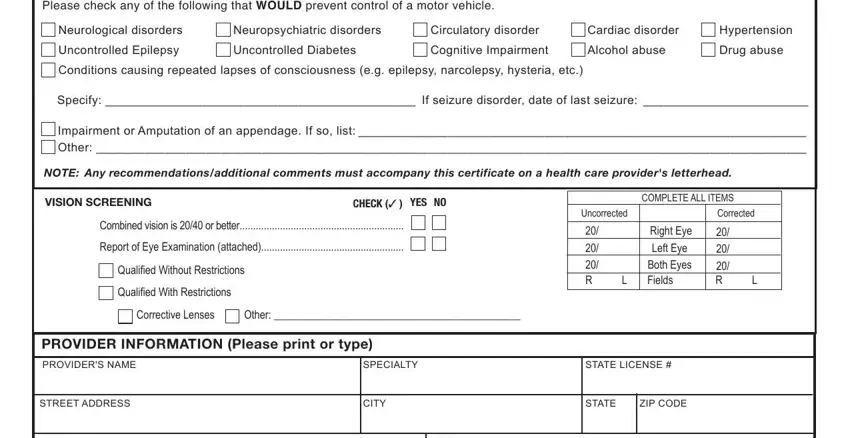 Look at the sections ProvidersSignature, PhysicalDate, EXAMCENTER, EXAMINERSDRIVERCERTIFICATION, MONTH, DAY, YEAR, SIGNATUREOFEXAMINER, DLENO, and immigrationstatus and then complete them.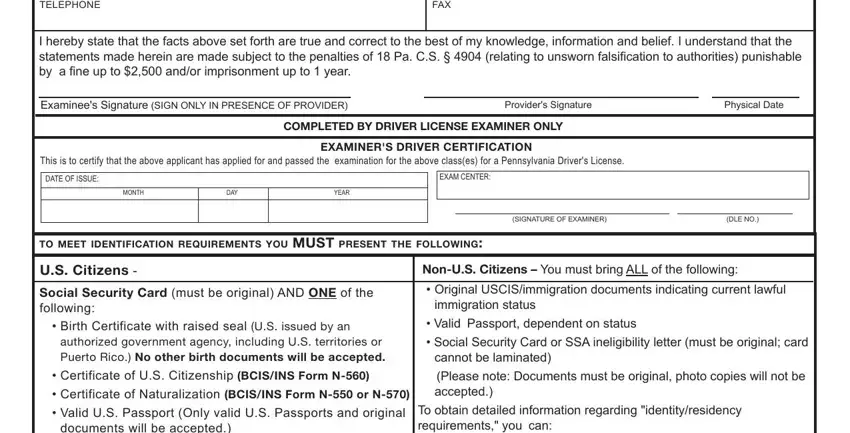 Step 3: When you are done, press the "Done" button to transfer your PDF document.
Step 4: Create copies of your form. This would protect you from possible future troubles. We don't see or disclose your information, hence you can be confident it is protected.