Using the online PDF editor by FormsPal, you'll be able to complete or modify wi building permit right here and now. To retain our editor on the cutting edge of practicality, we strive to put into practice user-driven capabilities and improvements regularly. We are always thankful for any suggestions - help us with reshaping the way you work with PDF documents. For anyone who is seeking to start, this is what it requires:
Step 1: Open the PDF doc in our editor by hitting the "Get Form Button" in the top area of this webpage.
Step 2: With the help of our handy PDF editor, you could do more than merely fill out blank form fields. Edit away and make your docs appear great with custom textual content added in, or optimize the original content to perfection - all backed up by the capability to add any type of pictures and sign it off.
It is actually easy to fill out the form using this detailed tutorial! This is what you have to do:
1. While submitting the wi building permit, be sure to include all needed fields in their corresponding form section. This will help speed up the process, which allows your details to be handled swiftly and accurately.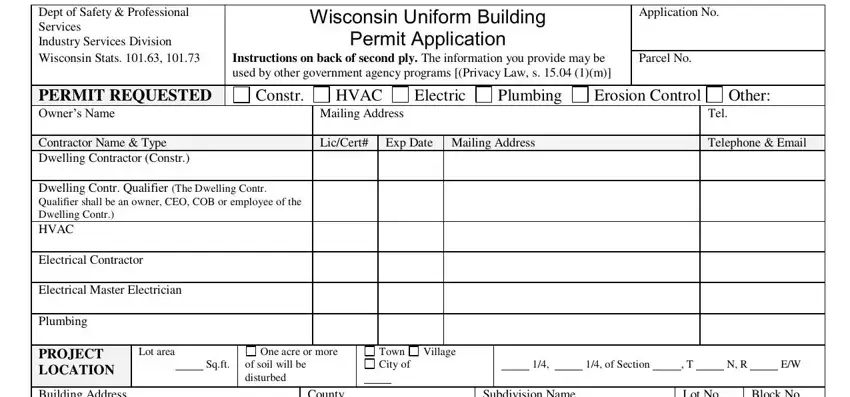 2. Once your current task is complete, take the next step – fill out all of these fields - County, Zoning Permit No OCCUPANCY Single, CONST TYPE, Subdivision Name Front, Lot No, Rear, Left, Block No Right, Setbacks, ELECTRIC Entrance Panel Amps, Underground Overhead, WALLS, Wood Frame, Steel, and ICF with their corresponding information. Make sure to double check that everything has been entered correctly before continuing!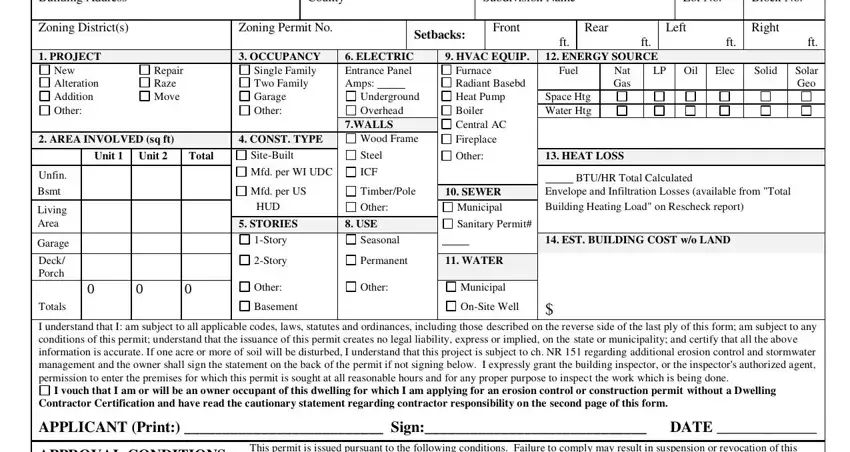 A lot of people often get some things wrong while filling in ELECTRIC Entrance Panel Amps in this area. Be sure you go over everything you type in here.
3. This step is normally hassle-free - fill in all of the form fields in APPROVAL CONDITIONS, ISSUING JURISDICTION, Town of, Village of, City of, This permit is issued pursuant to, See attached for conditions of, County of, State, StateContracted Inspection Agency, Municipality Number of Dwelling, PERMITS ISSUED WIS PERMIT SEAL, PERMIT ISSUED BY, FEES Plan Review Inspection Wis, and SBDR Distribute to finish this part.

4. This next section requires some additional information. Ensure you complete all the necessary fields - I understand that this project is - to proceed further in your process!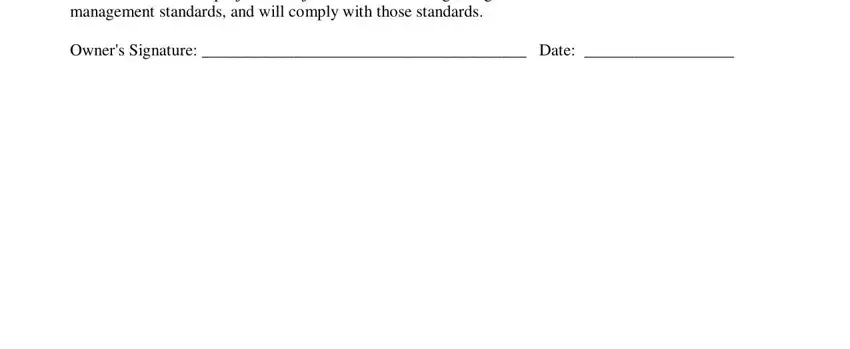 Step 3: After rereading your form fields, press "Done" and you are good to go! Sign up with us now and immediately get access to wi building permit, set for downloading. All alterations made by you are preserved , making it possible to edit the document at a later time anytime. Here at FormsPal, we endeavor to guarantee that your details are kept secure.