By using the online PDF editor by FormsPal, you're able to fill in or modify Physical Form For Pa Drivers Permit right here and now. To make our tool better and easier to utilize, we consistently design new features, taking into account feedback from our users. Here's what you will have to do to start:
Step 1: Just press the "Get Form Button" above on this site to launch our pdf editing tool. This way, you will find everything that is needed to fill out your document.
Step 2: The editor will let you work with your PDF form in a range of ways. Modify it by writing personalized text, correct what's originally in the document, and add a signature - all within a couple of clicks!
This PDF doc will involve specific details; in order to guarantee consistency, remember to consider the tips further on:
1. Firstly, once filling out the Physical Form For Pa Drivers Permit, start with the part that features the next fields: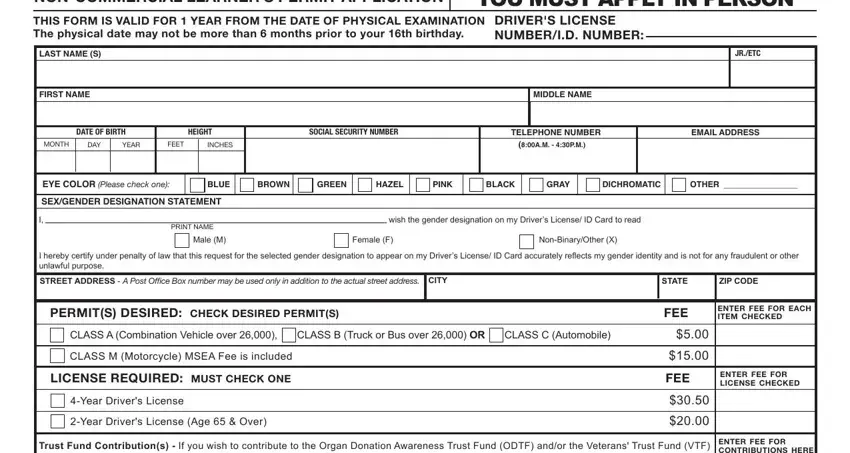 2. Once your current task is complete, take the next step – fill out all of these fields - Trust Fund Contributions If you, enter fee for contributions here, to the Organ Donation Trust Fund, to the Veterans Trust Fund VTF, PAID BY DebitCredit Card Check, Payable to PennDOT PennDOT Driver, TOTAL, ALL QUESTIONS MUST BE ANSWERED, Check Applicable Block YES NO, Have you ever held or possessed a, If yes State DLLPID Name if, State DLLPID Name if different, State DLLPID Name if different, Is your right to apply for a, and or subject to installation of an with their corresponding information. Make sure to double check that everything has been entered correctly before continuing!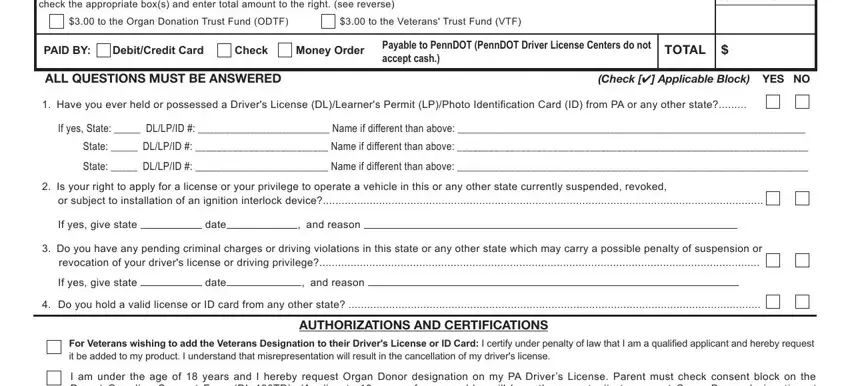 3. This next part is about I acknowledge that receiving a, XSIGN, HERE, APPLICANTS SIGNATURE IN INK, and DATE - fill in each one of these fields.

4. All set to fill in this fourth segment! In this case you will have all these Please check any of the following, Neurological disorders, Neuropsychiatric disorders, Circulatory disorder Cognitive, Cardiac disorder, Hypertension, Alcohol abuse, Drug abuse, Specify If seizure disorder date, Impairment or Amputation of an, NOTE Any recommendationsadditional, VISION SCREENING, CHECK, YES NO, and Combined vision is or better form blanks to complete.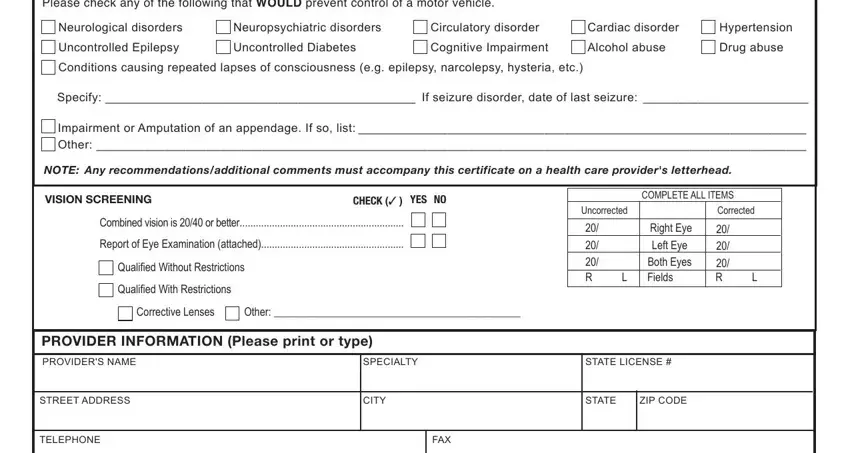 5. As you come near to the completion of your document, there are actually just a few extra things to complete. Mainly, I hereby state that the facts, Examinees Signature SIGN ONLY IN, Providers Signature, Physical Date, This is to certify that the above, DATE OF ISSUE, EXAM CENTER, MONTH, DAY, YEAR, COMPLETED BY DRIVER LICENSE, EXAMINERS DRIVER CERTIFICATION, SIGNATURE OF EXAMINER, DLE NO, and to meet identification must be filled out.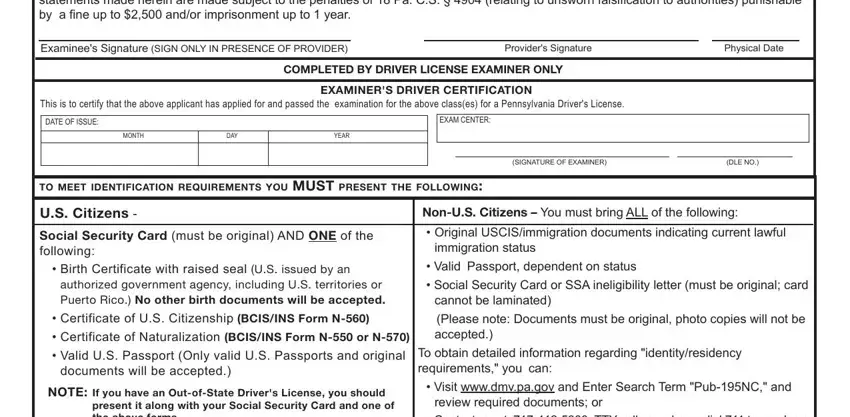 Be extremely attentive while filling out YEAR and COMPLETED BY DRIVER LICENSE, because this is where most people make errors.
Step 3: Right after double-checking the fields and details, press "Done" and you are done and dusted! Get the Physical Form For Pa Drivers Permit the instant you subscribe to a 7-day free trial. Instantly access the pdf form within your FormsPal account page, together with any edits and changes all saved! FormsPal provides risk-free document completion devoid of personal data record-keeping or sharing. Rest assured that your details are in good hands with us!