The purpose around our PDF editor was to ensure it is as easy to use as possible. You will find the complete procedure of filling in application missouri rather simple in the event you adhere to all of these steps.
Step 1: Choose the button "Get Form Here".
Step 2: Now, you're on the document editing page. You can add content, edit existing information, highlight certain words or phrases, insert crosses or checks, add images, sign the template, erase needless fields, etc.
All of the following parts will make up your PDF form: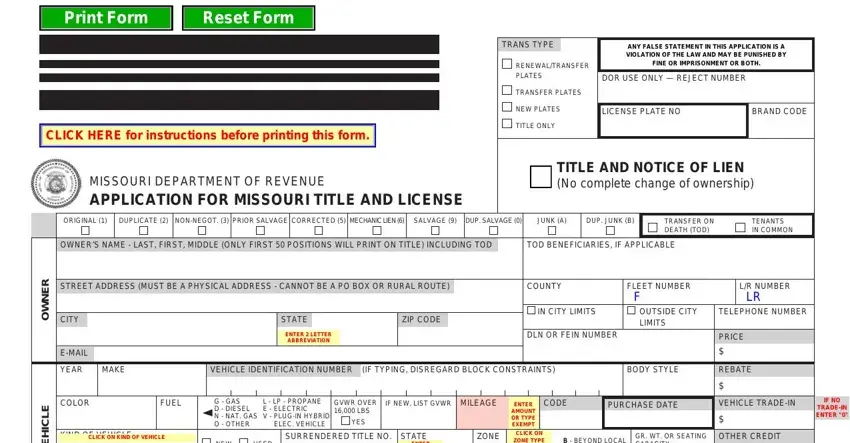 You have to type in the required details in the P PASSENGER N AUTOCYCLE T TRUCK, M MOTORCYCLE C TRICYCLE R REC, NEW, USED, MSO, TITLE, B BEYOND LOCAL, L LOCAL S SHUTTLE F FARM T, GR WT OR SEATING CAPACITY, KOV CYL, TAB NUMBER, EXP MO, EXP YR, FIRST LIEN FIRST LIEN, and SECURITY AGREEMENT DATE area.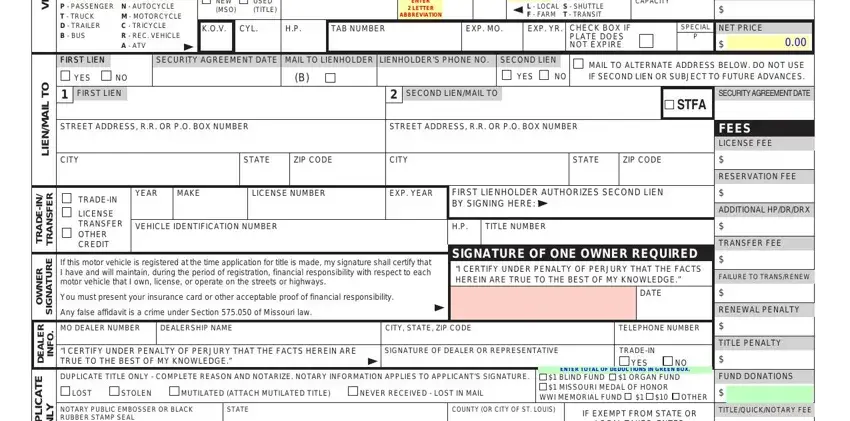 Make sure you emphasize the vital data within the NOTARY PUBLIC EMBOSSER OR BLACK, SUBSCRIBED AND SWORN BEFORE ME THIS, DAY OF, IF EXEMPT FROM STATE OR LOCAL, OFFICE VALIDATION, NOTARY PUBLIC SIGNATURE, MY COMMISSION EXPIRES, NOTARY PUBLIC NAME TYPED OR PRINTED, APPROVE REJECT, PROCESSED BY, FOR OFFICE USE ONLY WGT OF PLATES, FHVUT, INS, FEIN, and Y E box.

The REQUIRED DOCUMENTS, Application for Title completed, Vehicle emissions inspection if, Vehicle safety inspection if, Paid personal property tax receipt, Not required for title only or for, NOTE See, PAYMENT METHODS, Check or money order may be, Date of birth and Daytime phone, DO NOT SEND CASH WHEN APPLYING BY, COMPLETING THIS TITLE APPLICATION, Please follow the order of the, LIEN block must be checked and the, and SECOND LIEN If adding a second box is the place to include the rights and obligations of each party.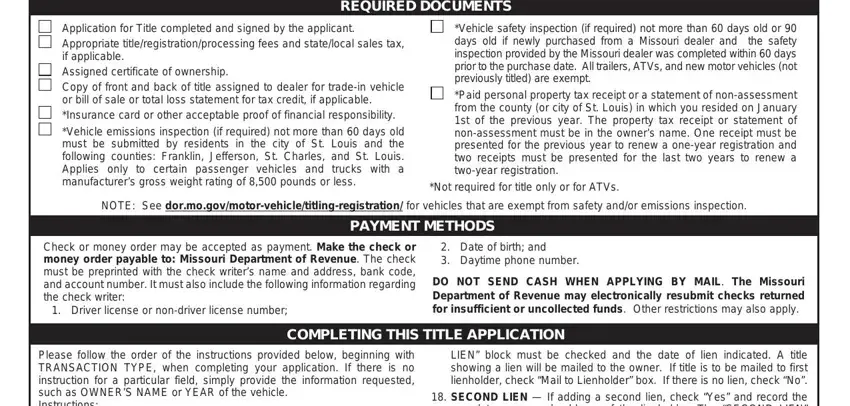 Look at the fields ZONE GROSS WEIGHT OR SEATING, EXPIRATION MONTH AND YEAR Record, the current license plates expire, FIRST LIEN If the vehicle has an, DIRECT INQUIRIES TO OR VISIT OUR, REMEMBER TO SIGN THE APPLICATION, NOTE License Office notary service, TITLE PENALTY A TITLE PENALTY FEE, Ever served on active duty in the, and Form Revised and then fill them in.

Step 3: Once you've clicked the Done button, your form will be available for transfer to each gadget or email you identify.
Step 4: Just be sure to make as many copies of the document as you can to avoid potential troubles.