The purpose around our PDF editor was to ensure it is as easy to use as possible. You will find the complete procedure of filling in missouri form dor rather simple in the event you adhere to all of these steps.
Step 1: Choose the button "Get Form Here".
Step 2: Now, you're on the document editing page. You can add content, edit existing information, highlight certain words or phrases, insert crosses or checks, add images, sign the template, erase needless fields, etc.
All of the following parts will make up your PDF form: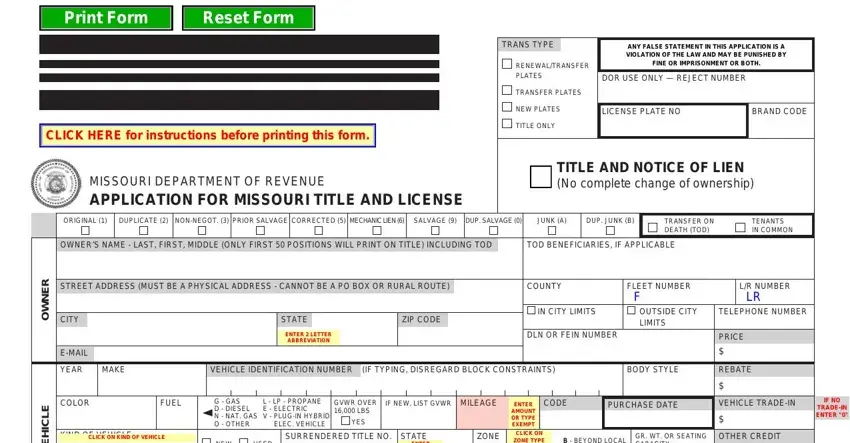 You have to type in the required details in the KOVCYL, TABNUMBER, EXPMO, EXPYR, MMOTORCYCLECTRICYCLERRECVEHICLEAATV, FIRSTLIENFIRSTLIEN, SECURITYAGREEMENTDATE, MAILTOLIENHOLDER, LIENHOLDERSPHONENOSECONDLIEN, YES, FIRSTLIEN, YES, SECONDLIENMAILTO, STREETADDRESSRRORPOBOXNUMBER, and STREETADDRESSRRORPOBOXNUMBER area.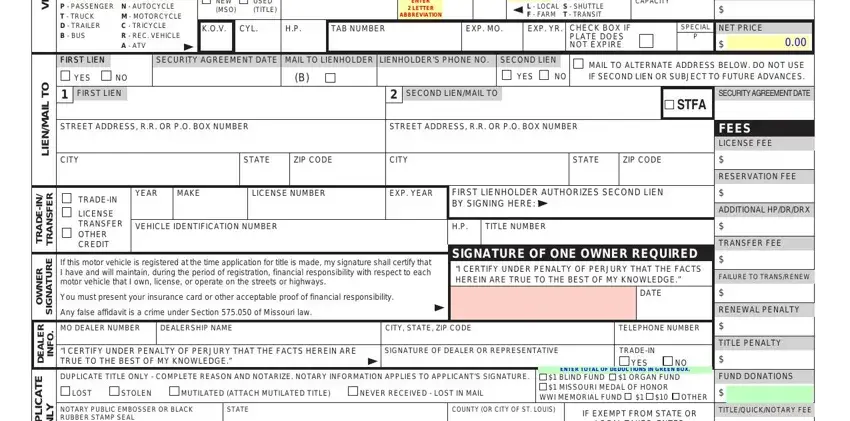 Make sure you emphasize the vital data within the ETACLPUD, YRATON, YLNOELTT, SUBSCRIBEDANDSWORNBEFOREMETHIS, DAYOF, NOTARYPUBLICSIGNATURE, MYCOMMISSIONEXPIRES, NOTARYPUBLICNAMETYPEDORPRINTED, IFEXEMPTFROMSTATEOR, LOCALTAXESENTEREXEMPTIONCODEHERE, OFFICEVALIDATION, APPROVEREJECT, PROCESSEDBY, INS, and PPFEIN box.

The REQUIREDDOCUMENTS, NotrequiredfortitleonlyorforATVs, PAYMENTMETHODS, DateofbirthandDaytimephonenumber, and COMPLETINGTHISTITLEAPPLICATION box is the place to include the rights and obligations of each party.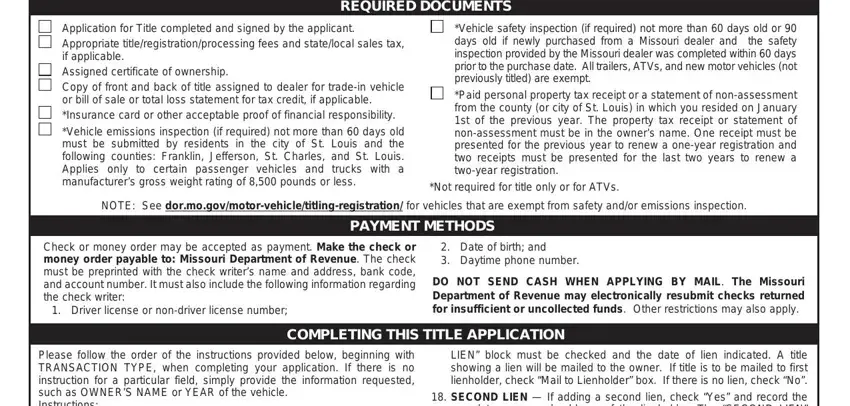 Look at the fields thecurrentlicenseplatesexpire, and FormRevised and then fill them in.

Step 3: Once you've clicked the Done button, your form will be available for transfer to each gadget or email you identify.
Step 4: Just be sure to make as many copies of the document as you can to avoid potential troubles.