Any time you desire to fill out Crohns, you won't have to download and install any kind of software - simply use our online tool. To make our editor better and easier to utilize, we consistently implement new features, with our users' feedback in mind. With some simple steps, it is possible to start your PDF journey:
Step 1: Firstly, access the pdf editor by pressing the "Get Form Button" above on this webpage.
Step 2: This editor allows you to modify nearly all PDF files in many different ways. Transform it by adding any text, adjust what is originally in the PDF, and include a signature - all when it's needed!
To be able to finalize this PDF document, make certain you enter the required details in every single blank:
1. Complete the Crohns with a group of essential fields. Collect all the necessary information and be sure absolutely nothing is overlooked!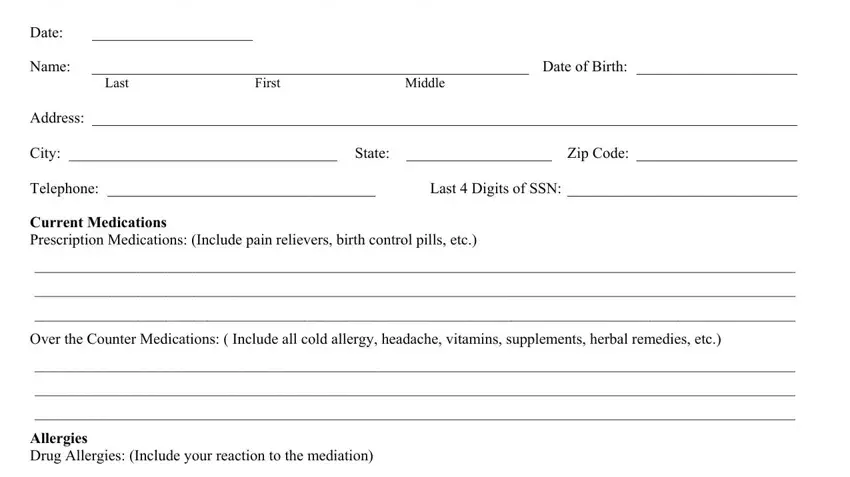 2. Once your current task is complete, take the next step – fill out all of these fields - All Other Allergies food insects, and Page FLE Rev with their corresponding information. Make sure to double check that everything has been entered correctly before continuing!

3. This 3rd segment is considered quite simple, Past Medical History List ALL, CANCER any type of cancer, PSYCHOLOGICAL PROBLEMS such as, stress disorder and others, EYE PROBLEMS such as eye injury, blindness in one or both eyes very, EAR PROBLEMS such as ear injury, Menieres disease moderate to, NOSE PROBLEMS such as nose injury, lasting infections and others, and MOUTH OR THROAT PROBLEMS such as - all of these form fields must be filled out here.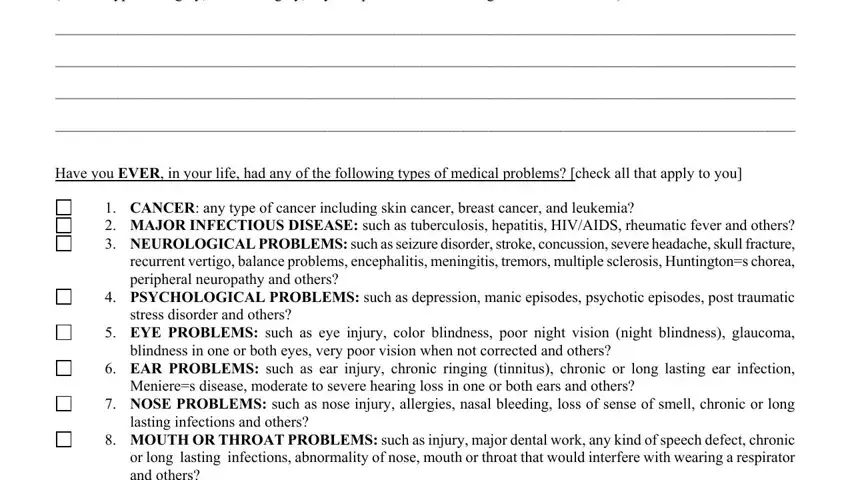 4. Completing MOUTH OR THROAT PROBLEMS such as, LUNG PROBLEMS such as asthma, lung abscess and others, HEART AND CIRCULATION PROBLEMS, DIGESTIVE SYSTEM PROBLEMS such as, HORMONE OR ENDOCRINE PROBLEMS, problems and others, URINARY TRACT PROBLEMS such as, functioning kidney polycystic, HERNIA such as inguinal umbilical, BLOOD SYSTEM PROBLEMS such as, abnormality and others, and Continued on next page is vital in this fourth section - make sure to devote some time and fill in each field!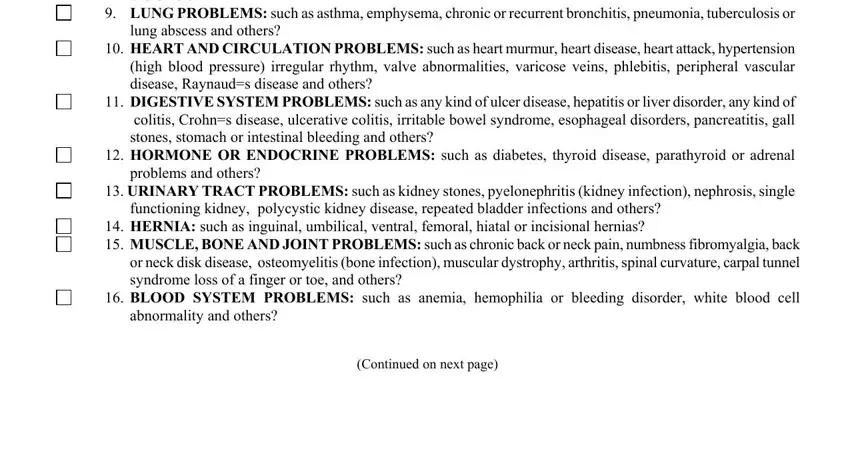 People generally make errors while filling out HERNIA such as inguinal umbilical in this section. Make sure you reread what you type in here.
5. To wrap up your form, the particular subsection includes a few extra blanks. Completing Males Only, Prostate problems such as, Females Only, Currently pregnant History of, menstrual cycle, Immunizations, Have you ever had a positive TB, Occupational History Have you ever, Repetitive Loud Noises Including, and Check all YES answers should finalize everything and you can be done in an instant!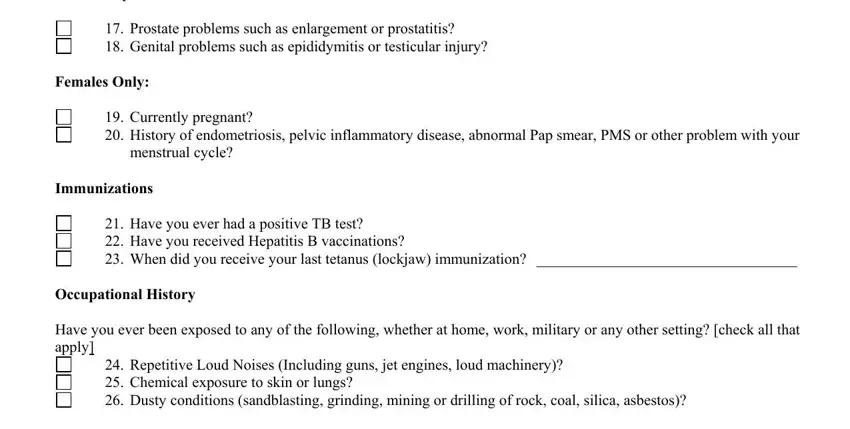 Step 3: As soon as you've reviewed the details in the fields, simply click "Done" to complete your form. Sign up with us today and immediately use Crohns, all set for downloading. All adjustments you make are saved , letting you customize the pdf at a later stage when necessary. We do not share any details that you provide when working with documents at FormsPal.