In case you wish to fill out brewers report of operations, it's not necessary to download and install any sort of applications - just try our online tool. In order to make our tool better and easier to utilize, we continuously implement new features, with our users' feedback in mind. Here's what you would have to do to get going:
Step 1: Press the "Get Form" button at the top of this page to access our editor.
Step 2: This tool gives you the ability to modify your PDF document in various ways. Enhance it by adding customized text, correct original content, and include a signature - all at your disposal!
Be mindful when filling out this document. Make sure all necessary blanks are filled in accurately.
1. Whenever filling out the brewers report of operations, ensure to complete all essential blank fields in its corresponding area. This will help to speed up the process, allowing for your details to be handled promptly and appropriately.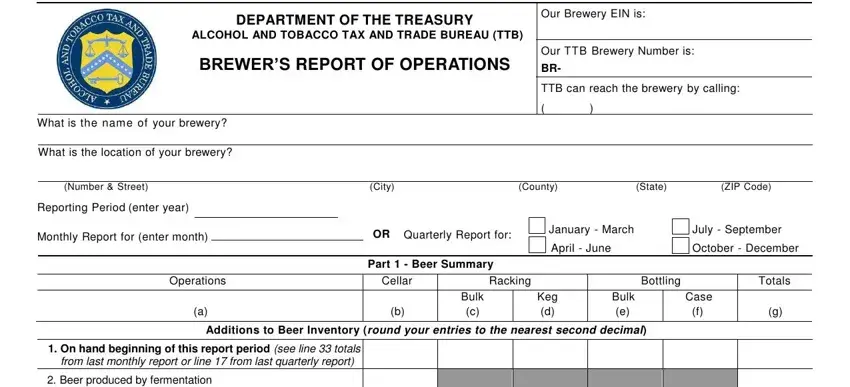 2. The next stage is usually to fill out all of the following fields: Addition of water and other, Beer received from racking and, Beer received in bond see, Beer received from cellars, Beer returned to this brewery, brewery see Instruction, Beer returned to the brewery, brewery of same ownership see, Racked, Bottled, Physical inventory disclosed an, Total additions to inventory plus, add all columns in lines through, Removals from Beer Inventory round, and Removed for consumption or sale.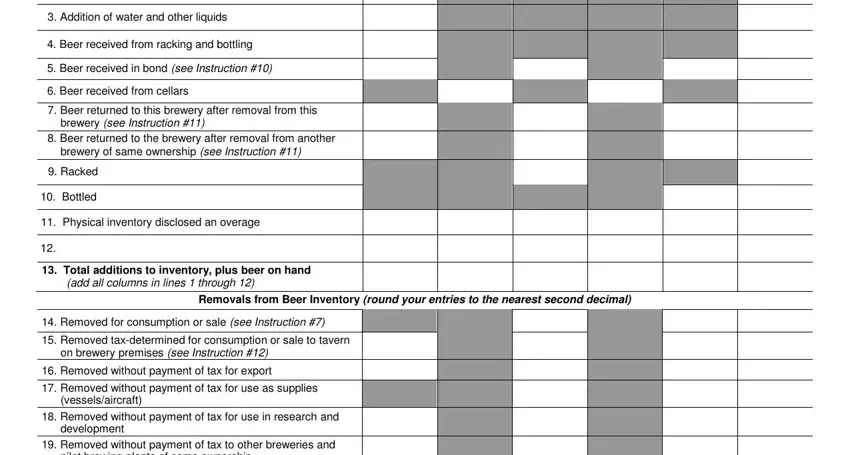 3. The third part is normally hassle-free - fill out all of the form fields in pilot brewing plants of same, Removed without payment of tax as, removed for use in manufacturing, Beer consumed on premises see, Beer transferred for racking, Beer transferred for bottling, Beer returned to cellars, Beer racked, Beer bottled, Laboratory samples, Beer destroyed at brewery see, Beer transferred to a distilled, Losses including theft see, Physical inventory disclosed a, and Total amount of beer on hand at to finish this process.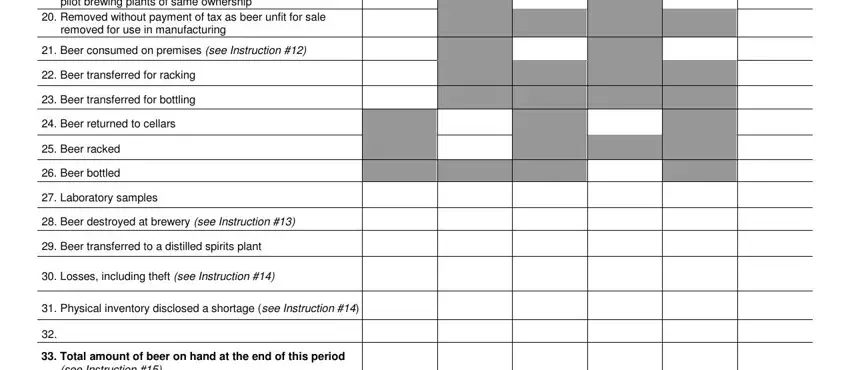 Be very mindful when filling in Beer transferred to a distilled and Laboratory samples, as this is the part where a lot of people make mistakes.
4. This next section requires some additional information. Ensure you complete all the necessary fields - see Instruction, Total beer see Instruction, TTB F See instructions and, and Page of - to proceed further in your process!

5. As you come close to the end of the form, there are actually a couple extra points to complete. Particularly, Additions to beer inventory, Removals from beer inventory, Under penalties of perjury I, Signature, Title, Date, Produced, Removed, Received, Part Cereal Beverage Summary, products that are less than, Bbls, Loss and wastage, Bbls, and Bbls should all be done.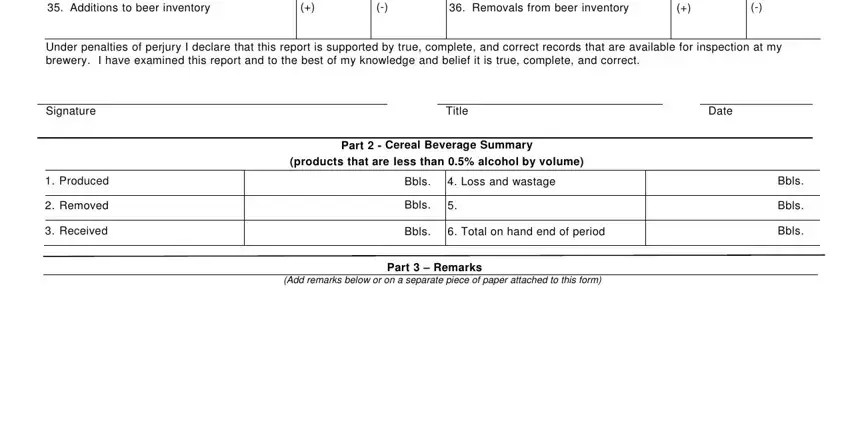 Step 3: Soon after taking one more look at the fields, click "Done" and you're all set! Obtain your brewers report of operations when you register online for a free trial. Easily use the pdf file from your FormsPal cabinet, along with any modifications and changes all synced! FormsPal guarantees safe form editor without personal data recording or sharing. Rest assured that your data is in good hands here!