You can complete Specify effectively with the help of our online editor for PDFs. Our development team is continuously endeavoring to expand the editor and help it become even faster for people with its cutting-edge features. Uncover an endlessly progressive experience now - explore and uncover new possibilities as you go! If you are seeking to get started, this is what it takes:
Step 1: Simply click on the "Get Form Button" at the top of this site to get into our pdf editor. Here you will find all that is needed to fill out your file.
Step 2: As you open the tool, you will find the form ready to be filled in. Besides filling out different blanks, you might also do other things with the PDF, specifically adding any words, editing the original textual content, inserting images, placing your signature to the document, and more.
Pay close attention when completing this form. Ensure all required blanks are done accurately.
1. While completing the Specify, make certain to complete all of the necessary blank fields in its relevant section. This will help to speed up the work, making it possible for your details to be handled quickly and correctly.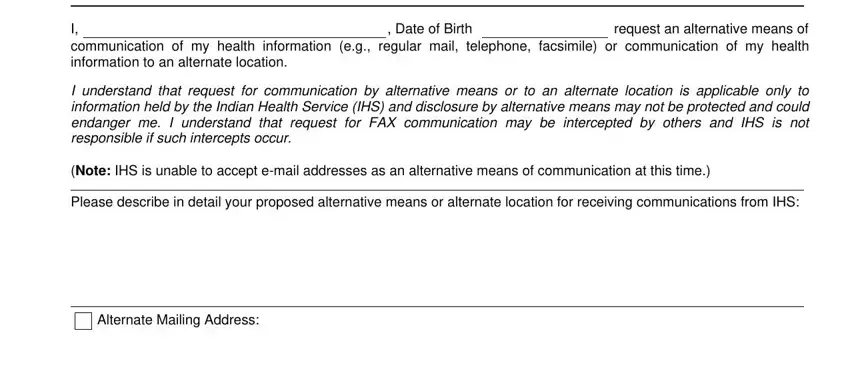 2. Once your current task is complete, take the next step – fill out all of these fields - Alternate Phone Number, Alternate Means of Contact Please, This request applies to the, Todays Date of Service only, From, From, Until Further Notice, SIGNATURE OF PATIENT OR PERSONAL, SIGNATURE OF WITNESS If signature, DATE, DATE, Request Approved, Denied, If denied reason check one, and FOR IHS USE ONLY with their corresponding information. Make sure to double check that everything has been entered correctly before continuing!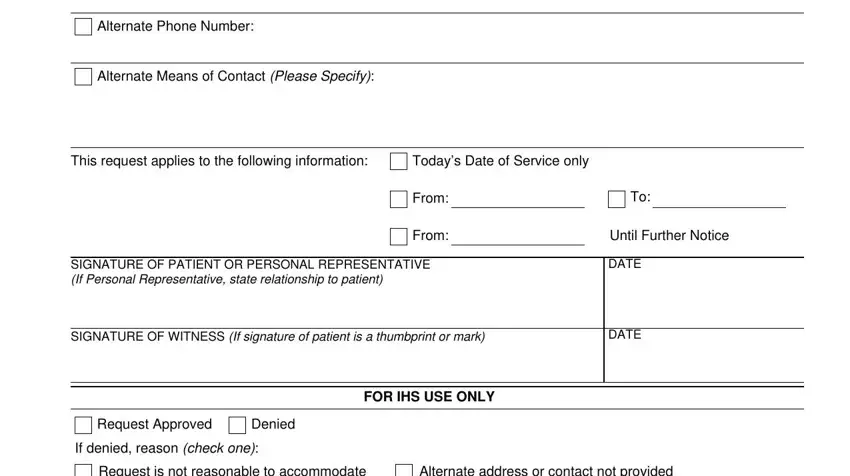 3. This next part is all about Request is not reasonable to, Alternate address or contact not, Failure to provide information on, Other please explain, and PSC Graphics EF - fill out all these empty form fields.

Lots of people frequently make mistakes when filling out Request is not reasonable to in this area. Be sure to read again everything you enter right here.
Step 3: Revise the details you've inserted in the form fields and click on the "Done" button. Make a 7-day free trial option with us and gain instant access to Specify - which you are able to then use as you wish inside your FormsPal account. FormsPal provides protected form editor devoid of data recording or sharing. Feel safe knowing that your information is in good hands with us!