Whenever you want to fill out Form It 272, you won't need to download any sort of programs - just give a try to our online tool. In order to make our editor better and easier to utilize, we constantly work on new features, taking into consideration feedback coming from our users. All it takes is just a few simple steps:
Step 1: Hit the "Get Form" button above on this webpage to access our tool.
Step 2: Once you access the file editor, there'll be the form prepared to be filled out. Apart from filling out different fields, you may also do many other actions with the Document, such as putting on custom text, modifying the initial textual content, inserting illustrations or photos, placing your signature to the form, and a lot more.
When it comes to blank fields of this precise form, this is what you need to know:
1. To start off, once filling out the Form It 272, beging with the section with the subsequent blanks: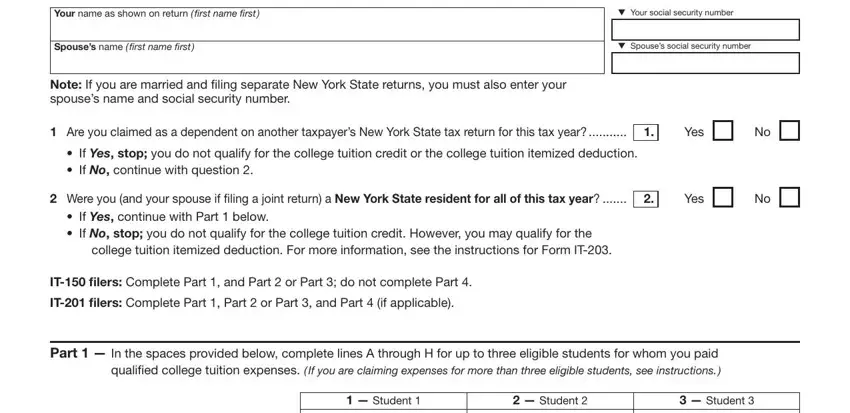 2. Once your current task is complete, take the next step – fill out all of these fields - Eligible students name, Eligible students social security, Is the student claimed as a, Yes, EIN of college or university see, Name of college or university see, Were expenses for undergraduate, Yes, Amount of qualiied college tuition, Enter the lesser of line G or, Yes, Yes, Yes, Yes, and Total qualiied college tuition with their corresponding information. Make sure to double check that everything has been entered correctly before continuing!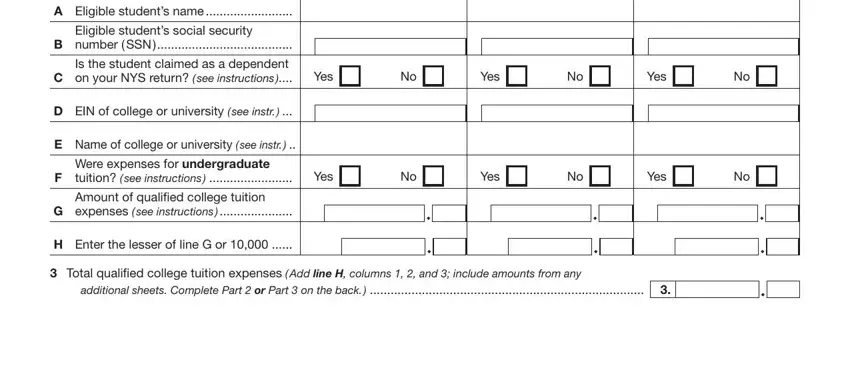 3. This next part is generally straightforward - fill in all the fields in Credit limitation, Enter the lesser of line or line, If you did not itemize your, Form IT line or Form IT line, Part Complete Part if your, Enter the amount from line, Multiply line by This is your, If you did not itemize your, Form IT line or Form IT line, Part College tuition itemized, and If you itemized your deductions on to finish this part.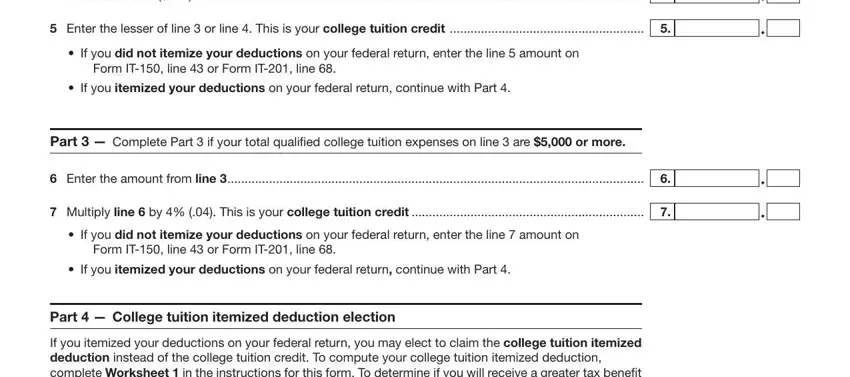 You can certainly make a mistake when filling in your Enter the lesser of line or line, and so ensure that you reread it before you'll finalize the form.
4. This next section requires some additional information. Ensure you complete all the necessary fields - If you itemized your deductions on, Mark an X in this box only if you, If you marked an X in the box at, form on Form IT New York State, If you did not mark an X in the, college tuition itemized deduction, and Important If you are claiming the - to proceed further in your process!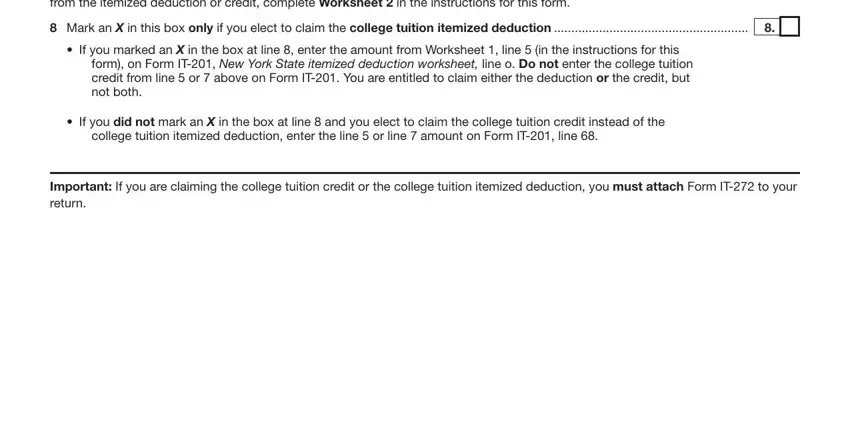 Step 3: Just after proofreading the fields and details, press "Done" and you're done and dusted! Download your Form It 272 the instant you sign up for a 7-day free trial. Instantly view the pdf file within your personal account page, together with any edits and adjustments being all saved! FormsPal guarantees your information confidentiality via a protected method that in no way saves or distributes any sort of personal information provided. Feel safe knowing your paperwork are kept safe whenever you use our service!