Any time you want to fill out lic 9163 live scan form, it's not necessary to download any programs - just give a try to our online PDF editor. Our editor is constantly developing to provide the best user experience attainable, and that's thanks to our resolve for continual improvement and listening closely to feedback from users. If you're looking to start, here is what it will require:
Step 1: Hit the "Get Form" button above on this webpage to open our editor.
Step 2: With the help of this handy PDF editor, you could accomplish more than simply complete blanks. Edit away and make your forms appear perfect with custom text added, or optimize the file's original content to perfection - all that supported by an ability to incorporate your personal photos and sign the document off.
This form needs specific information; to ensure consistency, please adhere to the tips further on:
1. The lic 9163 live scan form needs certain information to be typed in. Ensure that the next blank fields are completed: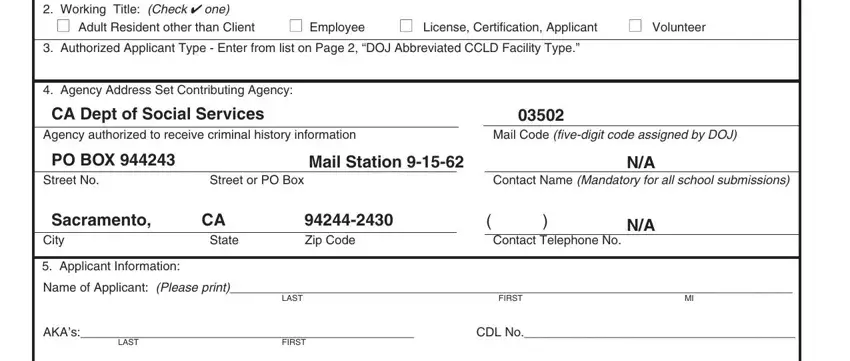 2. Once your current task is complete, take the next step – fill out all of these fields - DOB SEX Male Female, Misc No BIL, AGENCY BILLING NUMBER IF APPLICABLE, HT WT, Misc No ALIEN REGISTRATION OUT OF, EYE Color HAIR Color, Home Address All applicants must, POB, SOC, See Privacy Statement on Page, Facility Number, STREET OR PO BOX, CITY STATE AND ZIP CODE, Level of Service DOJ FBI, and If resubmission for fingerprint with their corresponding information. Make sure to double check that everything has been entered correctly before continuing!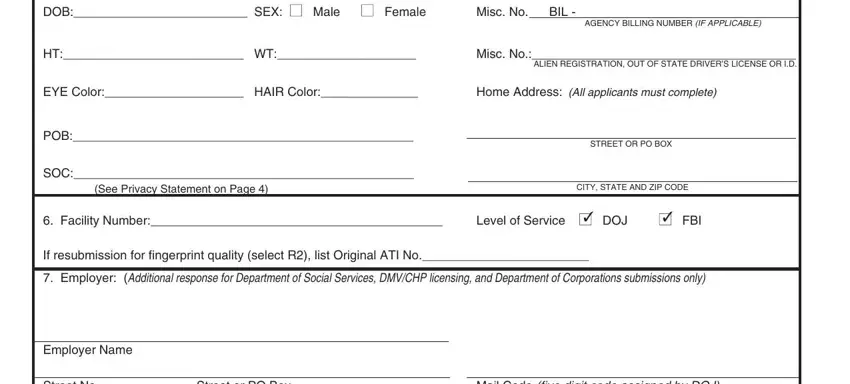 It's simple to make a mistake while filling in the See Privacy Statement on Page, thus you'll want to look again prior to when you send it in.
3. Completing Street No Street or PO Box, Mail Code five digit code assigned, City State Zip Code, Agency Telephone No Optional, Live Scan Transaction Completed By, Name of Operator, Transmitting Agency, LSID, ATI No, Amount CollectedBilled, LIC, and PAGE OF is essential for the next step, make sure to fill them out in their entirety. Don't miss any details!

Step 3: Reread what you have entered into the form fields and click on the "Done" button. Find the lic 9163 live scan form when you sign up at FormsPal for a 7-day free trial. Readily get access to the form in your personal account page, with any modifications and adjustments being conveniently synced! FormsPal guarantees your data privacy by using a secure system that in no way records or distributes any kind of private information involved. Be confident knowing your paperwork are kept confidential whenever you use our services!