tag form alabama online can be completed online very easily. Simply use FormsPal PDF tool to finish the job quickly. FormsPal development team is continuously endeavoring to improve the tool and insure that it is even easier for clients with its handy functions. Take advantage of the current progressive opportunities, and find a heap of emerging experiences! This is what you will want to do to get going:
Step 1: Click on the orange "Get Form" button above. It will open our tool so you can start filling out your form.
Step 2: Once you launch the file editor, you will get the form prepared to be filled out. Aside from filling out different blank fields, you can also perform some other things with the form, namely writing your own textual content, changing the original text, adding images, affixing your signature to the document, and more.
This PDF will require particular data to be filled in, therefore be certain to take some time to type in exactly what is requested:
1. The tag form alabama online needs particular details to be entered. Make certain the next blanks are filled out: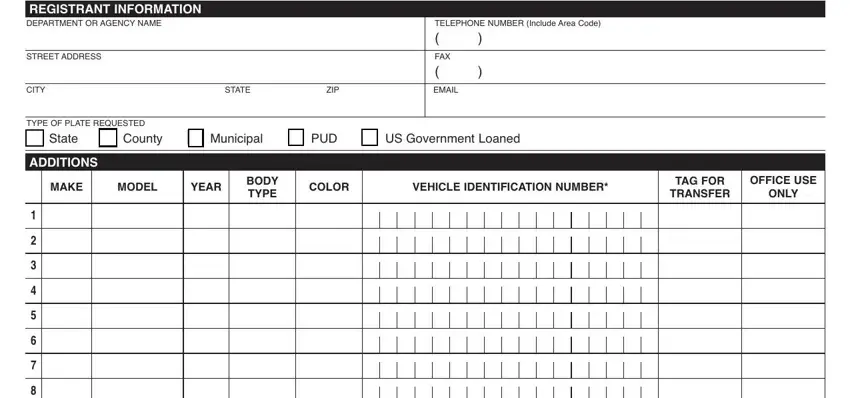 2. Once your current task is complete, take the next step – fill out all of these fields - DELETIONS, MAKE, MODEL, YEAR, BODY TYPE, COLOR, VEHICLE IDENTIFICATION NUMBER, CURRENT, TAG NUMBER, and Total new license plates requested with their corresponding information. Make sure to double check that everything has been entered correctly before continuing!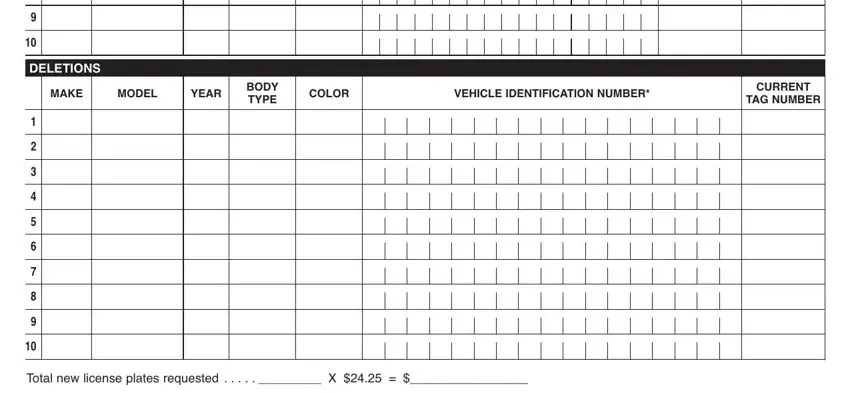 3. The third stage is normally straightforward - fill out all the empty fields in Total license plates to be, Total amount due, I understand that the government, and Signed by Title Date to finish this segment.

It's simple to make an error while filling out your I understand that the government, therefore ensure that you reread it before you decide to send it in.
Step 3: Glance through all the information you have entered into the blank fields and hit the "Done" button. Sign up with FormsPal right now and immediately get tag form alabama online, ready for downloading. Every single edit you make is conveniently saved , so that you can change the document further when necessary. We don't share any information you enter whenever completing documents at our site.