By using the online PDF tool by FormsPal, it is easy to complete or change WYOMING here and now. Our development team is ceaselessly working to improve the tool and make it much faster for clients with its many features. Uncover an ceaselessly progressive experience today - check out and uncover new possibilities as you go! Here's what you'll have to do to begin:
Step 1: Access the PDF file in our editor by hitting the "Get Form Button" at the top of this page.
Step 2: This editor lets you change PDF documents in a variety of ways. Transform it by writing personalized text, adjust what's already in the PDF, and include a signature - all manageable in minutes!
It really is simple to complete the pdf adhering to this practical guide! Here is what you need to do:
1. Complete the WYOMING with a group of necessary blank fields. Collect all of the important information and ensure nothing is overlooked!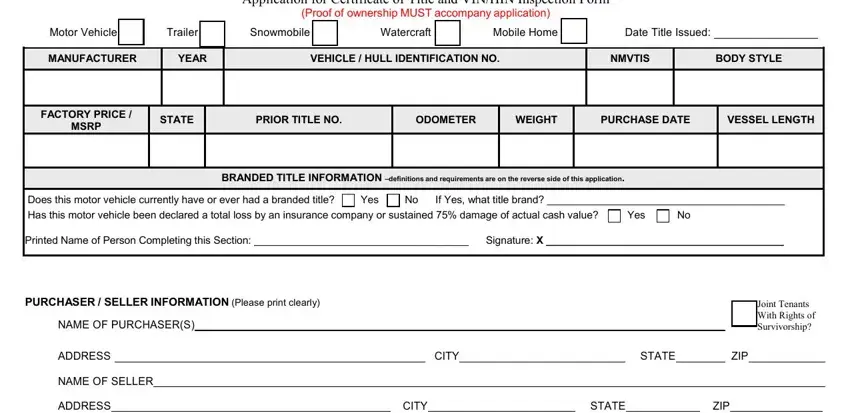 2. Once your current task is complete, take the next step – fill out all of these fields - NAME OF LIEN HOLDER, ADDRESS, LIEN FILING, CITY, STATE, ZIP, FILING DATE, LIEN AMOUNT, IWE HEREBY SWEAR OR AFFIRM under, REQUIRED WHEN THE PRIOR TITLE IS, AUTHORIZED AGENT, PRINT VIN OR HIN HERE, Hull ID Number HIN HINs are, Vehicle Identification Number VIN, and Year Make Model Trim VIN HIN with their corresponding information. Make sure to double check that everything has been entered correctly before continuing!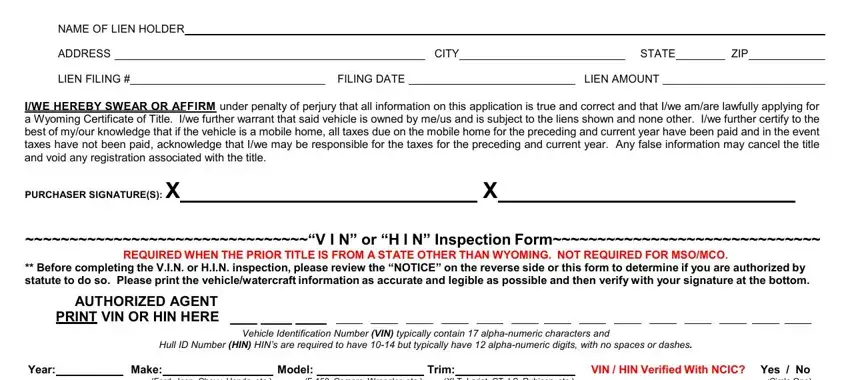 3. Completing Year Make Model Trim VIN HIN, Subject to the penalties of, an authorized member or employee, Please Circle One, Police Dept Sheriffs Office, depose and state that I personally, on the above described, me is true and correct The, Signature, Date, Phone, WS b provides a fee for each, and MVA is essential for the next step, make sure to fill them out in their entirety. Don't miss any details!

Be extremely attentive when completing Subject to the penalties of and depose and state that I personally, as this is the section in which most users make mistakes.
Step 3: Soon after looking through the fields, click "Done" and you're done and dusted! Try a free trial subscription at FormsPal and gain immediate access to WYOMING - accessible from your personal cabinet. Here at FormsPal.com, we do everything we can to ensure that all your details are maintained protected.