how to north carolina form 9 can be filled out online in no time. Simply try FormsPal PDF tool to finish the job quickly. Our team is constantly endeavoring to enhance the editor and enable it to be much better for users with its many features. Discover an constantly innovative experience now - explore and find new possibilities along the way! Starting is effortless! What you need to do is take the next easy steps below:
Step 1: Open the PDF doc in our editor by clicking on the "Get Form Button" above on this page.
Step 2: As soon as you access the online editor, you will notice the form made ready to be completed. In addition to filling out different blanks, you could also perform some other actions with the Document, such as putting on any text, changing the original text, inserting images, affixing your signature to the PDF, and more.
This form will need specific information to be filled out, hence you need to take the time to fill in what is required:
1. Complete your how to north carolina form 9 with a selection of major blanks. Gather all the information you need and ensure nothing is left out!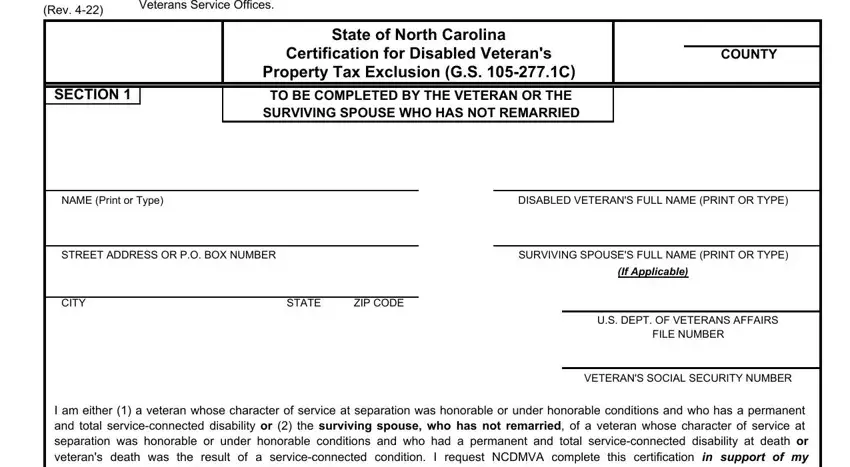 2. Your next part would be to fill in all of the following fields: SECTION I have provided the North, DISABLED VETERANS SIGNATURE, DATE, SECTION I have provided the North, Surviving Spouses who has not, SURVIVING SPOUSES SIGNATURE, DATE, SECTION, To be completed by Secretary of NC, Please, check all that apply, Veteran does not meet either B C D, Veteran has a serviceconnected, Veteran received benefits on from, and adapted housing under USC for.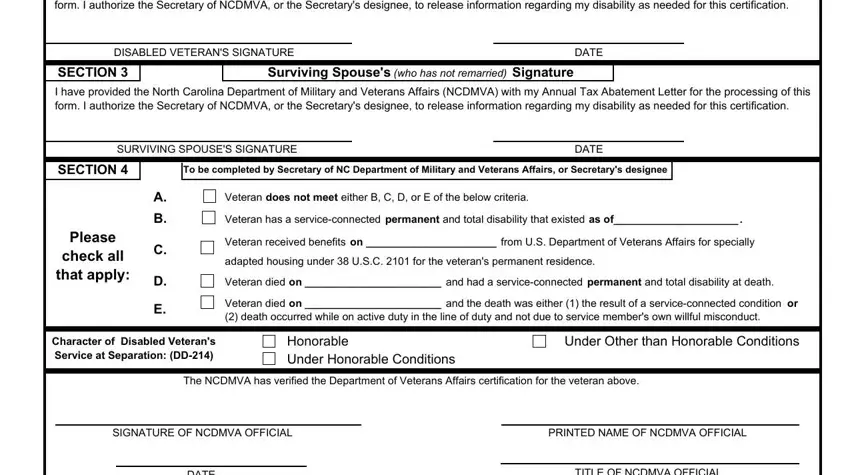 Always be extremely mindful while completing SECTION I have provided the North and SURVIVING SPOUSES SIGNATURE, as this is the section where many people make mistakes.
Step 3: Go through all the information you've inserted in the blank fields and then hit the "Done" button. Right after getting afree trial account at FormsPal, you will be able to download how to north carolina form 9 or send it through email immediately. The document will also be accessible through your personal account with your each and every modification. FormsPal guarantees your information confidentiality by using a secure system that in no way saves or shares any personal data used in the form. Feel safe knowing your documents are kept protected whenever you work with our editor!