By using the online PDF tool by FormsPal, it is possible to complete or change NYSHIP here. FormsPal expert team is ceaselessly working to develop the tool and ensure it is even easier for people with its cutting-edge functions. Bring your experience to a higher level with constantly growing and amazing options we provide! To get the process started, consider these simple steps:
Step 1: Access the PDF file inside our tool by hitting the "Get Form Button" in the top section of this page.
Step 2: With our advanced PDF editor, it is possible to do more than just complete blank fields. Try each of the functions and make your forms look perfect with customized text incorporated, or fine-tune the file's original input to perfection - all that accompanied by an ability to incorporate your own images and sign the PDF off.
It really is an easy task to complete the document adhering to this helpful guide! This is what you need to do:
1. You should fill out the NYSHIP properly, therefore take care when filling in the sections that contain all of these fields: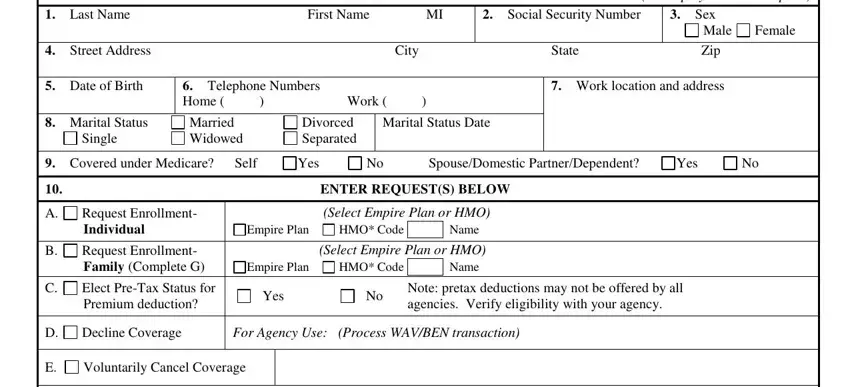 2. Given that the last segment is done, it's time to add the necessary particulars in Change Coverage, Date of Event Change to FAMILY, Change to INDIVIDUAL, Marriage Domestic Partner First, I voluntarily cancel coverage for, DEPENDENT INFORMATION use, Check One A Add D Delete or C, Date of Event, Last Name, First Name MI, Relationship Date of Birth, Sex, Address if different, Social Security, and Number so you're able to move forward further.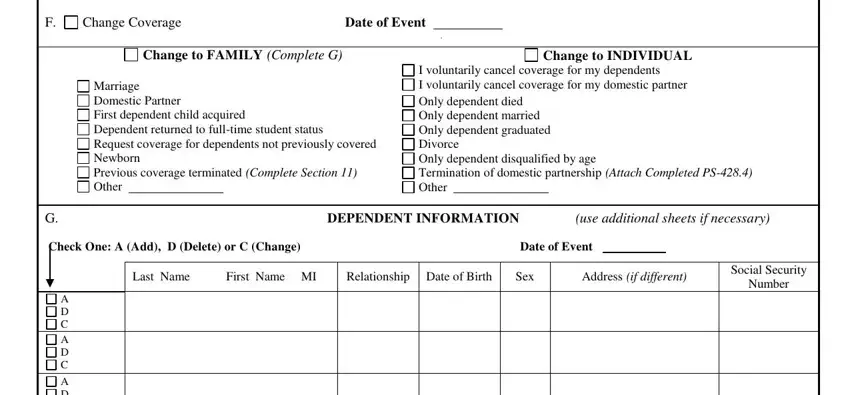 3. This third part is normally straightforward - fill out every one of the fields in A D C, A D C, A D C, and A completed HMO form must be in order to finish the current step.

4. Now complete this fourth part! In this case you have these Continued, ENTER REQUESTS BELOW, Change Medical Benefit Plan, Change to, Empire Plan, HMO Code HMO Name A completed, PREVIOUS COVERAGE INFORMATION, If you were previously covered, Previous ID Number Enrollees Name, Date Coverage Terminated, Last, First, Middle Initial, LEAVE WITHOUT PAY AND RETIREMENT, and LEAVE fields to fill out.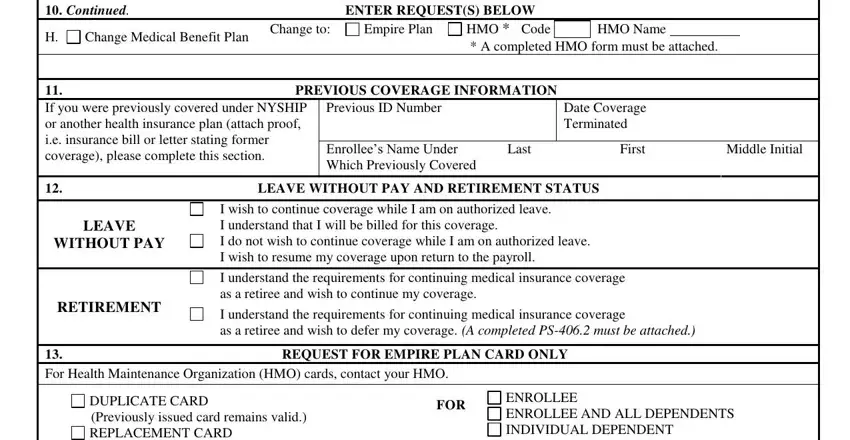 A lot of people frequently make mistakes while filling in Continued in this part. You should definitely read again what you enter right here.
5. As you reach the end of this document, you'll notice a couple more things to undertake. Mainly, I have read the PreTax, Employees Signature Required, ActionReason, Date of Event, Hire Date, AGENCYEBD USE ONLY, Date of st Eligibility, Percentage Working, Agency Code, Neg Unit, Ret System, Retirement Tier, Registration, Sick Leave Information, and Hours should all be filled out.

Step 3: When you've glanced through the information entered, simply click "Done" to finalize your form. Acquire your NYSHIP after you sign up for a free trial. Instantly use the document within your FormsPal account page, together with any edits and changes being conveniently synced! FormsPal is focused on the privacy of all our users; we make sure all information processed by our tool stays confidential.