form nys transaction can be completed easily. Simply try FormsPal PDF editing tool to complete the job promptly. We are focused on making sure you have the absolute best experience with our tool by regularly presenting new features and upgrades. Our tool is now a lot more intuitive thanks to the newest updates! Now, filling out PDF documents is easier and faster than ever before. It just takes just a few easy steps:
Step 1: Open the PDF doc inside our tool by clicking the "Get Form Button" in the top area of this webpage.
Step 2: When you access the PDF editor, there'll be the form prepared to be filled in. Aside from filling out various fields, you may also perform some other actions with the file, including adding any textual content, modifying the original textual content, adding illustrations or photos, putting your signature on the document, and a lot more.
This form requires particular data to be entered, so you need to take whatever time to provide precisely what is requested:
1. Complete your form nys transaction with a group of major blank fields. Gather all of the information you need and be sure absolutely nothing is forgotten!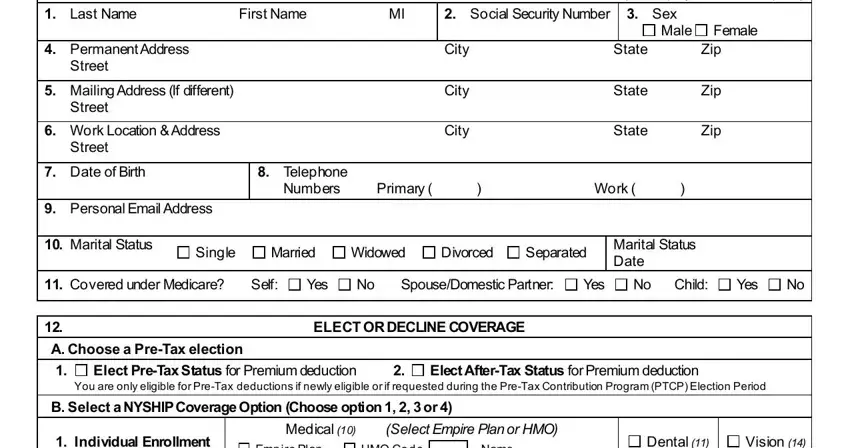 2. Right after completing this section, head on to the subsequent part and complete all required particulars in all these blanks - Family Enrollment, Complete box on page, Medical, Select Empire Plan or HMO, Empire Plan, HMO Code Name, Dental, Vision, Optout Program, NYS Medical only, Individual Optout, Family Optout Complete box, If choosing Optout you must also, Dental, and Vision.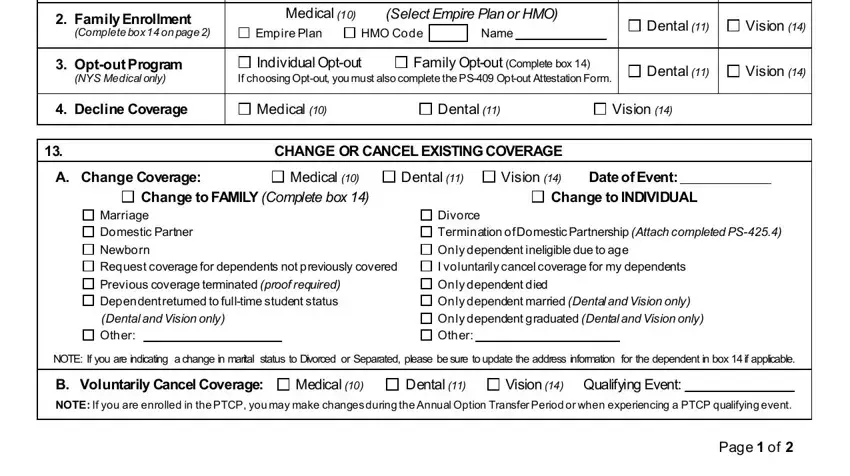 3. This third step is normally straightforward - complete all of the fields in Must be provided when choosing to, Date of Event, Last Name, First Name MI, Relationship Date of Birth, Sex, Address if different, Social Security, Number, A D C A D C A D C A D C, M D V M D V M D V M D V, ENTER ANNUAL OPTION TRANSFER, Change NYSHIP Option Change to, Empire Plan, and HMO Code to conclude this part.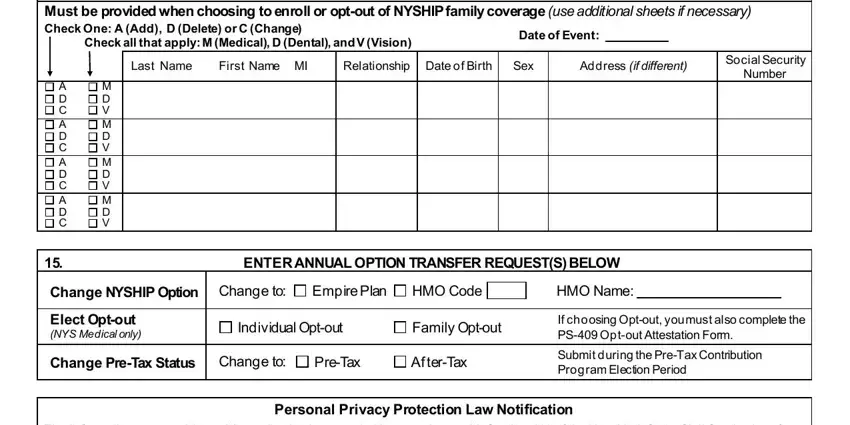 4. Filling in I have read the PreTax, Employee Signature Required, Date, Retirement Tier, Registration, AGENCY USE ONLY, Sick Leave Information, Hours, Hourly Rate of Pay, Date Entered on, NYBEAS, Effective Date, HBA Signature Required, Date, and Page of is vital in the next form section - be sure to take the time and fill out each and every blank!

When it comes to AGENCY USE ONLY and Date Entered on, be certain you review things in this current part. These two are certainly the most important fields in the document.
Step 3: Reread the details you have typed into the blanks and then click the "Done" button. Make a 7-day free trial option at FormsPal and obtain instant access to form nys transaction - with all adjustments kept and accessible in your personal account. We do not share or sell the information that you type in whenever dealing with forms at our site.