Handling PDF files online can be easy with our PDF tool. Anyone can fill in Form Ps31091 02 here painlessly. Our editor is constantly developing to give the best user experience attainable, and that's due to our dedication to constant enhancement and listening closely to testimonials. Should you be looking to get started, this is what it will require:
Step 1: Access the PDF doc in our editor by pressing the "Get Form Button" above on this webpage.
Step 2: The tool lets you modify almost all PDF files in many different ways. Transform it by including personalized text, adjust what's already in the file, and place in a signature - all when it's needed!
Completing this PDF calls for care for details. Make sure that every single blank is filled out properly.
1. It is critical to fill out the Form Ps31091 02 accurately, therefore be mindful when filling in the segments comprising all of these fields: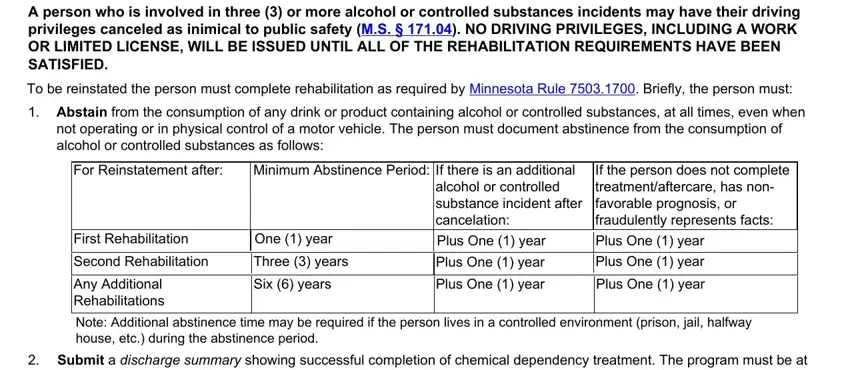 2. Once your current task is complete, take the next step – fill out all of these fields - been completed, A relapse treatment program of at, Provide evidence of weekly, Demonstrate abstinence The person, Interview The person must have an, For the Twin Cities Area, For an Interview in greater, If you have questions please call, These requirements are based on, and over with their corresponding information. Make sure to double check that everything has been entered correctly before continuing!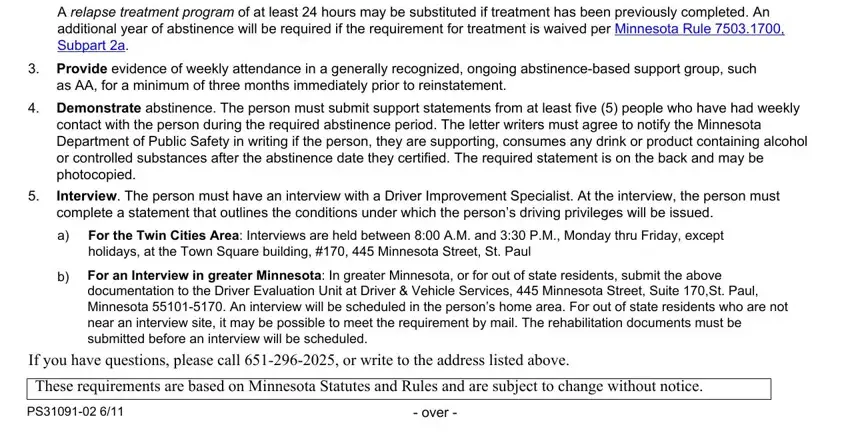 It is possible to make errors when filling in the For the Twin Cities Area, so be sure you look again prior to deciding to finalize the form.
3. The next step is considered quite uncomplicated, I am supporting driver license, First Name, Middle Name, Last name, Date of Birth, I certify that I have not, product containing alcohol or, I certify that I have been in, In further support of, and I certify that I will promptly - all these form fields must be filled out here.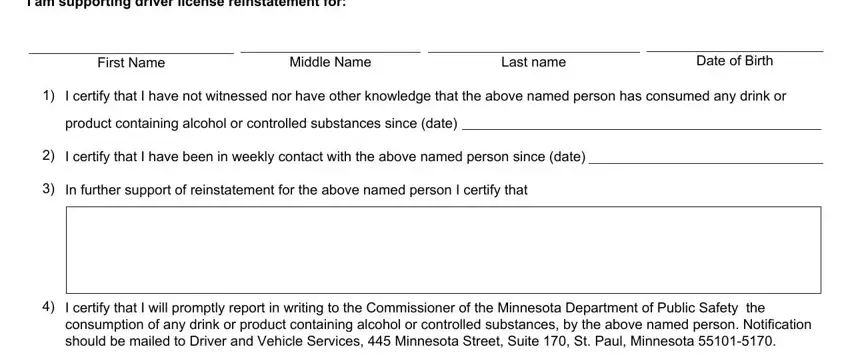 4. This next section requires some additional information. Ensure you complete all the necessary fields - I certify that I am not related to, Supporters Full Printed Name, Date of Birth, Address, City, Daytime Phone Number, I certify that all the information, State, Zip, Supporters Signature, and Date - to proceed further in your process!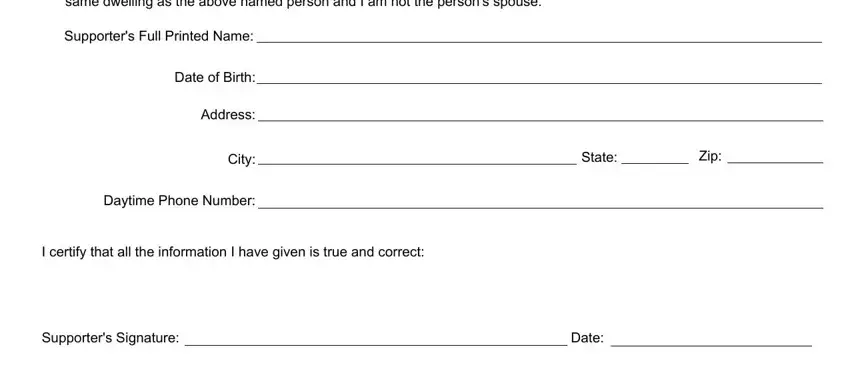 Step 3: Before addressing the next step, make sure that form fields have been filled in correctly. As soon as you think it is all fine, click on "Done." Sign up with FormsPal now and immediately access Form Ps31091 02, all set for download. All changes you make are preserved , letting you customize the form at a later point as needed. Whenever you work with FormsPal, you can complete forms without being concerned about data breaches or records getting distributed. Our secure platform makes sure that your personal data is kept safely.