Working with PDF documents online is actually easy using our PDF editor. You can fill in r 1 report here with no trouble. Our team is continuously working to develop the tool and insure that it is much faster for users with its cutting-edge features. Take advantage of today's modern prospects, and find a trove of new experiences! Here is what you'd need to do to start:
Step 1: Firstly, open the pdf tool by clicking the "Get Form Button" in the top section of this page.
Step 2: When you open the PDF editor, you will notice the form made ready to be completed. Apart from filling out different blank fields, you may as well do other actions with the PDF, namely adding custom words, changing the original text, adding illustrations or photos, affixing your signature to the PDF, and much more.
With regards to the blanks of this specific document, this is what you need to know:
1. First, when completing the r 1 report, start in the section that features the subsequent blanks: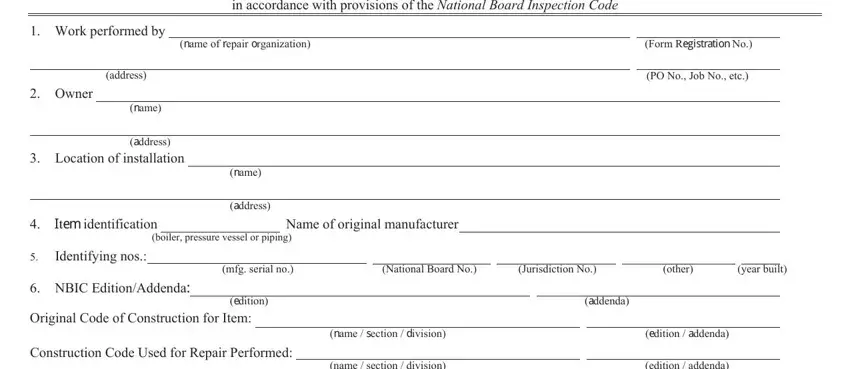 2. The next step is to fill in these blank fields: Construction Code Used for Repair, name section division, Welded, Graphite Pressure Equipment, edition addenda, FRP Pressure Equipment, Repair Type Description of work, Form R Report Supplementary Sheet, Replacement Parts Attached are, psi MAWP, Pressure Test if applied, psi, cidame of cidart cidtem cidumber, Remarks, and CERTIFICATE OF COMPLIANCE.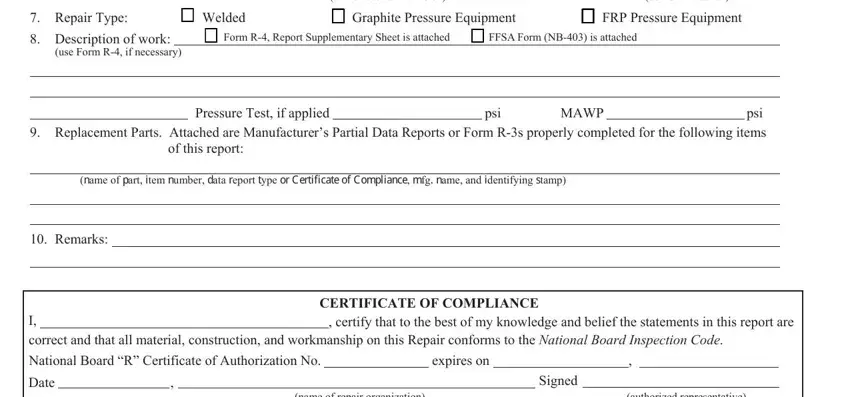 It's easy to make errors when completing your name section division, for that reason make sure you reread it prior to when you submit it.
3. Within this step, review holding a valid Commission issued, CERTIFICATE OF INSPECTION, Vessel Inspectors and certificate, and employed by, have inspected the work described, and state that to the best of my, By signing this certificate, described in this report, Date, Signed, inspector, Commissions, National Board and Jurisdiction No, This form may be obtained from The, and NB Rev. Every one of these should be completed with utmost precision.

Step 3: Prior to finalizing your form, check that all blanks have been filled out right. When you establish that it is fine, press "Done." Sign up with us today and instantly use r 1 report, all set for downloading. All changes made by you are preserved , enabling you to change the document at a later point anytime. We do not share or sell the information you use when completing forms at our website.