Through the online editor for PDFs by FormsPal, you'll be able to fill in or modify santa rosa permit application here. Our team is continuously working to develop the tool and make it even faster for users with its extensive functions. Bring your experience one stage further with constantly improving and amazing opportunities available today! It merely requires several basic steps:
Step 1: Click on the orange "Get Form" button above. It is going to open up our pdf tool so you could start filling out your form.
Step 2: Once you access the tool, you will notice the document made ready to be filled in. In addition to filling out various blank fields, you may also do many other things with the Document, including writing custom text, changing the original text, adding graphics, placing your signature to the form, and much more.
It really is simple to fill out the form with our helpful tutorial! Here is what you have to do:
1. To start off, when completing the santa rosa permit application, start out with the section that contains the next blank fields: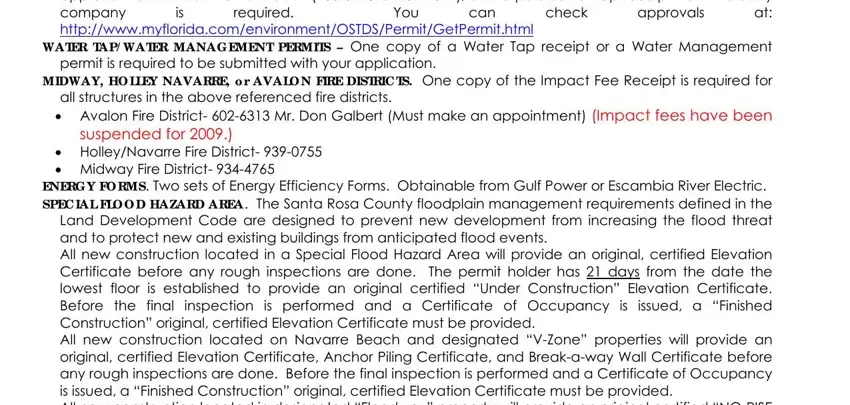 2. The next stage is usually to fill in the next few fields: C o ntra c to r Sta te Re g istra, cidNe w Sing le Fa m ily Re sid e, Build ing Insp e c tio n De p a, Re sid e ntia l Build ing Pe rm it, Pro p o se d Im pro ve m e nt Lo, Physic a l Ad d re ss, Pro p e rty O wne r Info rm a tio, C ity Zip, Na m e, Ad d re ss, Ad d re ss, C ity, Sta te Zip, Pho ne, and Fe e Sim p le Title Ho ld e r s Na.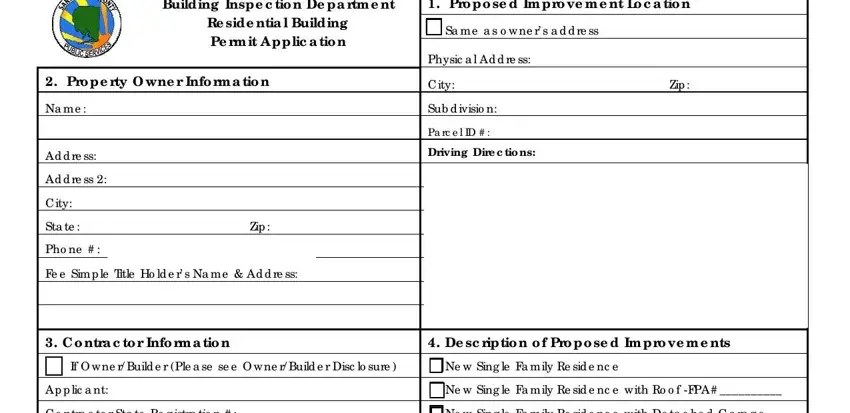 Be very mindful while filling out Physic a l Ad d re ss and C ity Zip, since this is the section where a lot of people make errors.
3. This third step is simple - complete all the blanks in C o ntra c to r Sta te Re g istra, C o m p a ny Na m e, Ma iling Ad d re ss, C ity, cidNe w Sing le Fa m ily Re sid e, cid Wind o ws Do o rs FL Pro d uc, Sta te Zip, FL Pro d uc t Ap p r, Pho ne, Fa x, O the r, Sing le Fa m ily Re sid e nc e, Num b e r o f Be d ro o m s, Num b e r o f Ba thro o m s, and Le ng th in order to finish this part.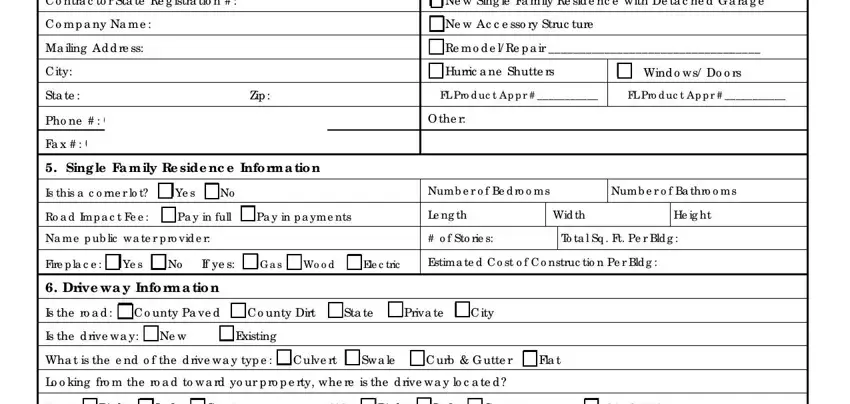 Step 3: When you have reviewed the information entered, just click "Done" to complete your document creation. Sign up with us right now and easily obtain santa rosa permit application, all set for downloading. All changes made by you are saved , which means you can edit the document later if needed. FormsPal guarantees your data privacy via a protected method that never saves or distributes any personal data typed in. Rest assured knowing your paperwork are kept protected every time you work with our service!