You could work with REG-3-D easily with our online PDF editor. To have our editor on the leading edge of practicality, we strive to integrate user-driven capabilities and improvements on a regular basis. We're routinely thankful for any suggestions - join us in reshaping how we work with PDF files. With a few simple steps, you'll be able to begin your PDF editing:
Step 1: Simply click on the "Get Form Button" at the top of this site to start up our form editor. Here you'll find all that is required to work with your document.
Step 2: As you open the file editor, you'll see the document all set to be filled in. Aside from filling in various fields, it's also possible to do many other things with the Document, namely writing your own words, editing the initial text, adding graphics, placing your signature to the document, and a lot more.
This PDF form will need some specific details; to ensure accuracy, take the time to take heed of the tips down below:
1. First, while filling out the REG-3-D, start out with the section that features the subsequent fields: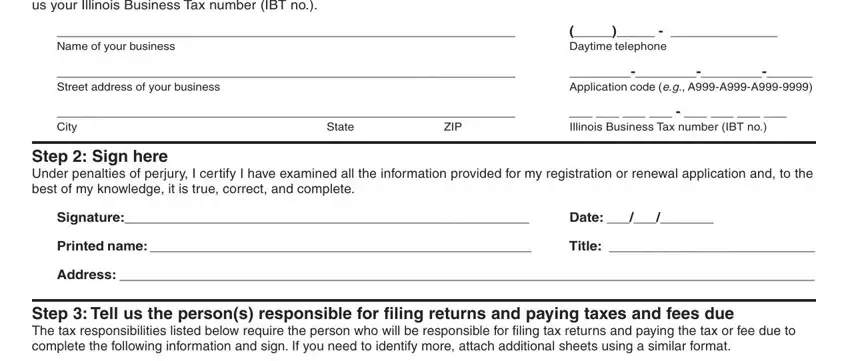 2. After finishing the previous step, go on to the next stage and enter all required particulars in these blanks - Name, Daytime telephone, Address, Social Security number SSN, Check all tax types for which you, Withholding Income Tax, Motor Vehicle Renting Tax, Motor Fuel Tax, Sales Service Use Taxes, Hotel Operators Tax, Environmental Impact Fee, Under penalties of perjury I state, Signature, Date, and Name.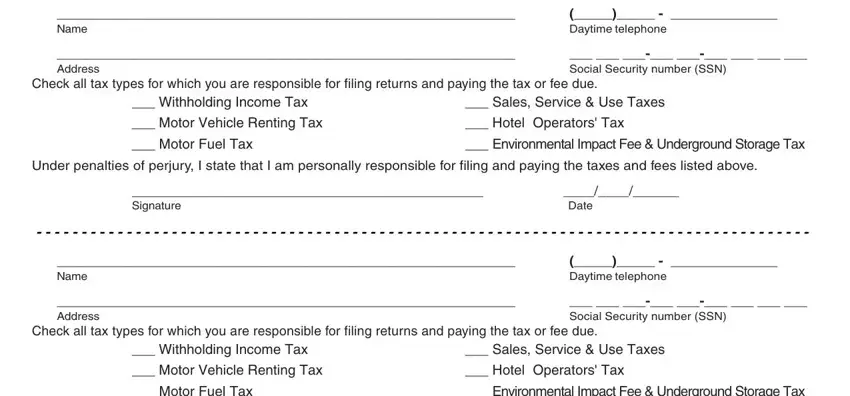 3. This third section is considered pretty simple, Under penalties of perjury I state, Signature, Date, This form is authorized by ILCS, and REGD R - each one of these empty fields must be filled in here.

People frequently make errors while filling out Signature in this part. Be sure you reread everything you type in here.
Step 3: Once you have reread the information provided, simply click "Done" to finalize your document generation. Go for a free trial account at FormsPal and gain immediate access to REG-3-D - which you may then make use of as you want inside your FormsPal cabinet. FormsPal is invested in the personal privacy of all our users; we make sure all personal information processed by our tool is confidential.