Whenever you would like to fill out Kenneth, you don't need to download any software - just make use of our PDF tool. The editor is continually upgraded by us, receiving useful features and turning out to be greater. It just takes a few basic steps:
Step 1: Simply press the "Get Form Button" above on this site to open our pdf form editor. There you'll find all that is needed to work with your file.
Step 2: The tool allows you to modify the majority of PDF documents in a variety of ways. Transform it by writing personalized text, correct what's already in the file, and put in a signature - all within the reach of several mouse clicks!
For you to complete this document, make sure that you provide the right information in each and every blank field:
1. First, when filling out the Kenneth, begin with the page with the next fields: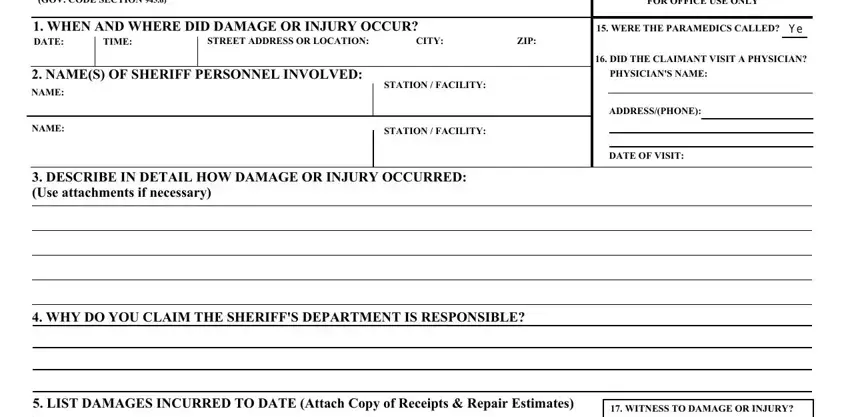 2. The subsequent part is to complete the next few fields: SHERIFFS DEPARTMENT FILE OR REPORT, NAME OF CLAIMANT Print Clearly, DRIVERS LICENSE OR ID, NAME, ADDRESS, CITYPHONE, NAME, ADDRESS, DATE OF BIRTH SOCIAL SECURITY, Booking Number if applicable, CITYPHONE, CORRESPONDENCE ADDRESS STREET, HOME PHONE or phone you can be, BUSINESS PHONE, and TOTAL DAMAGES TO DATE.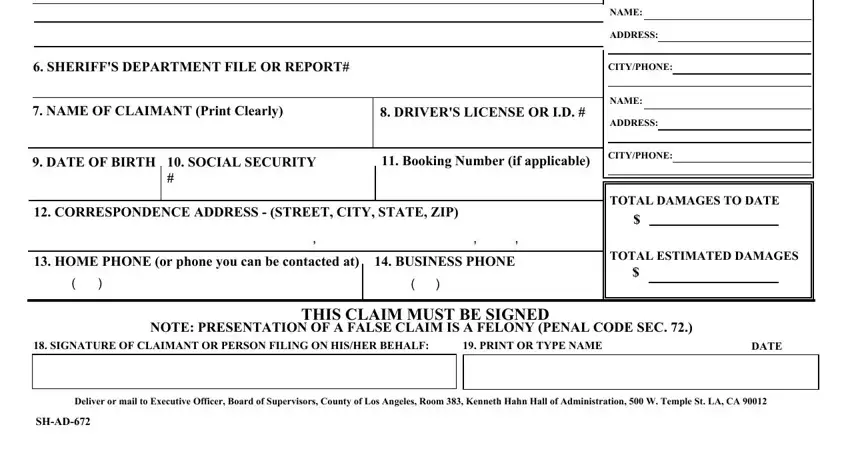 As for DATE OF BIRTH SOCIAL SECURITY and TOTAL DAMAGES TO DATE, be sure you don't make any mistakes in this current part. Those two could be the key ones in the form.
Step 3: After rereading your filled in blanks, press "Done" and you're all set! Create a 7-day free trial subscription with us and acquire direct access to Kenneth - available in your FormsPal cabinet. FormsPal is dedicated to the personal privacy of all our users; we ensure that all personal information processed by our editor is confidential.