Handling PDF files online can be surprisingly easy using our PDF tool. You can fill in virginia criminal history crime here painlessly. Our development team is relentlessly working to enhance the tool and insure that it is much faster for people with its cutting-edge functions. Uncover an endlessly progressive experience today - take a look at and discover new opportunities as you go! By taking several simple steps, it is possible to begin your PDF editing:
Step 1: Press the "Get Form" button above. It'll open up our pdf editor so that you could begin filling out your form.
Step 2: After you access the PDF editor, you'll notice the document made ready to be filled out. Apart from filling in various fields, you might also do various other things with the Document, such as putting on custom textual content, modifying the initial text, adding illustrations or photos, signing the document, and much more.
It is actually straightforward to complete the pdf following this detailed guide! This is what you want to do:
1. When filling out the virginia criminal history crime, be sure to complete all essential blanks in their relevant part. This will help to expedite the work, which allows your information to be processed promptly and accurately.
2. Immediately after this section is completed, go to type in the suitable information in these - NAME ATTENTION ADDRESS CITY, FEES FOR SERVICE, FEES, STATE, ZIP CODE, CRIMINAL HISTORY SEARCH, FEES For Volunteers with, CRIMINAL HISTORY SEARCH, COMBINATION CRIMINAL HISTORY SEX, To be entitled to reduced price, CHARGE CARD, MasterCard, Visa, Certified Check or Money Order, and Account Number.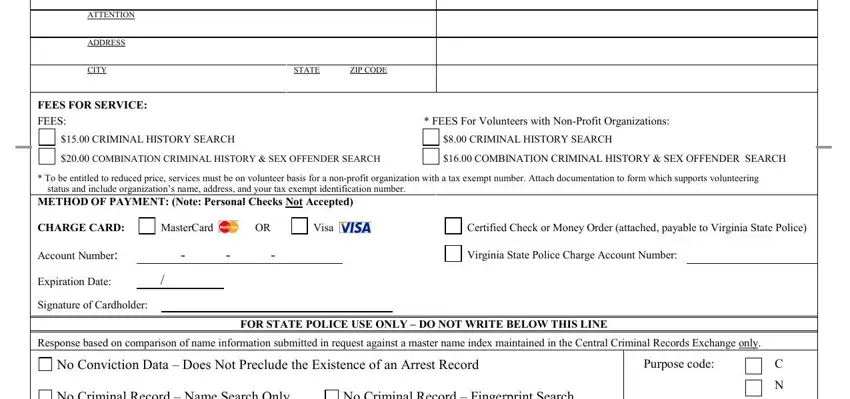 3. Completing No Criminal Record Name Search, No Criminal Record Fingerprint, No Sex Offender Registration Record, Criminal Record Attached, Date By CCRE, and C N O is essential for the next step, make sure to fill them out in their entirety. Don't miss any details!

Lots of people generally make some errors when completing Criminal Record Attached in this part. Ensure that you revise what you type in right here.
Step 3: Glance through the information you've typed into the form fields and then click the "Done" button. Obtain the virginia criminal history crime after you subscribe to a 7-day free trial. Quickly gain access to the form inside your personal cabinet, along with any modifications and changes being all saved! We do not sell or share the details you use when completing documents at FormsPal.