Handling PDF forms online is definitely very simple with our PDF editor. Anyone can fill in t20 form here with no trouble. The editor is consistently upgraded by our team, getting awesome functions and turning out to be better. Here's what you would have to do to get started:
Step 1: Just click on the "Get Form Button" at the top of this site to see our pdf file editor. There you will find all that is required to fill out your file.
Step 2: This tool lets you change nearly all PDF documents in many different ways. Improve it with customized text, adjust what is originally in the document, and put in a signature - all within several clicks!
In an effort to finalize this form, be certain to type in the necessary information in each area:
1. You will want to complete the t20 form correctly, thus be attentive when working with the sections comprising all of these blank fields: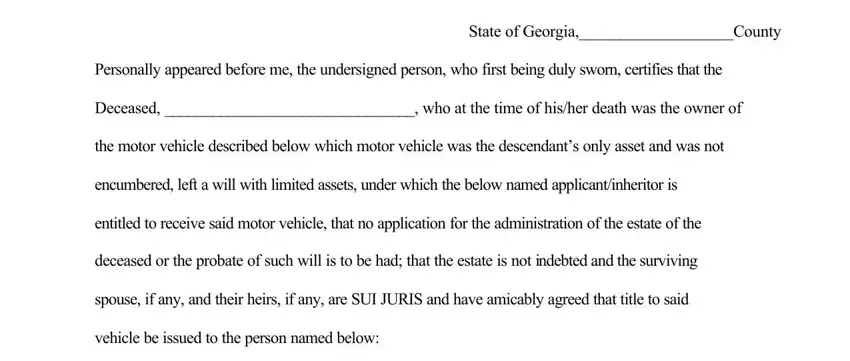 2. When this array of fields is complete, you have to include the essential specifics in Name of ApplicantInheritor, Street Address, State, Zip, Make, Year Model, Vehicle Identification Number, State of Issue, License Plate Number, City, Title Number, Sworn to and Subscribed Before Me, This, Day of, and Month so you can proceed to the third part.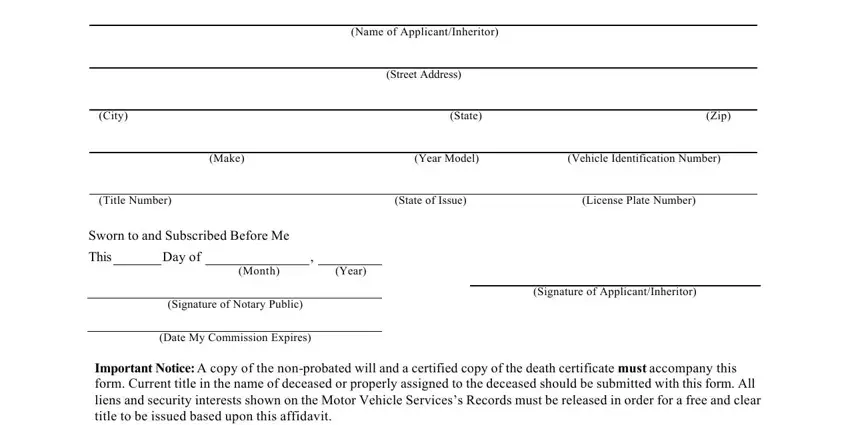 It's easy to make an error while filling in the Street Address, and so you'll want to take a second look prior to deciding to finalize the form.
Step 3: Spell-check the information you've entered into the form fields and then hit the "Done" button. Acquire the t20 form once you register online for a 7-day free trial. Easily use the form in your FormsPal account page, together with any edits and adjustments all saved! At FormsPal.com, we endeavor to make certain that your information is maintained private.