You may fill out wps form without difficulty with the help of our PDFinity® online PDF tool. FormsPal development team is continuously working to expand the editor and ensure it is even better for clients with its many functions. Benefit from present-day innovative prospects, and discover a myriad of new experiences! With a few simple steps, you may start your PDF journey:
Step 1: Firstly, open the tool by pressing the "Get Form Button" above on this webpage.
Step 2: With the help of this handy PDF file editor, you'll be able to do more than merely fill in blank form fields. Edit away and make your docs look sublime with custom text added, or optimize the original content to perfection - all that comes along with the capability to incorporate just about any photos and sign the PDF off.
It really is an easy task to fill out the document with this helpful tutorial! This is what you must do:
1. It is very important complete the wps form accurately, therefore pay close attention while filling out the areas containing these fields: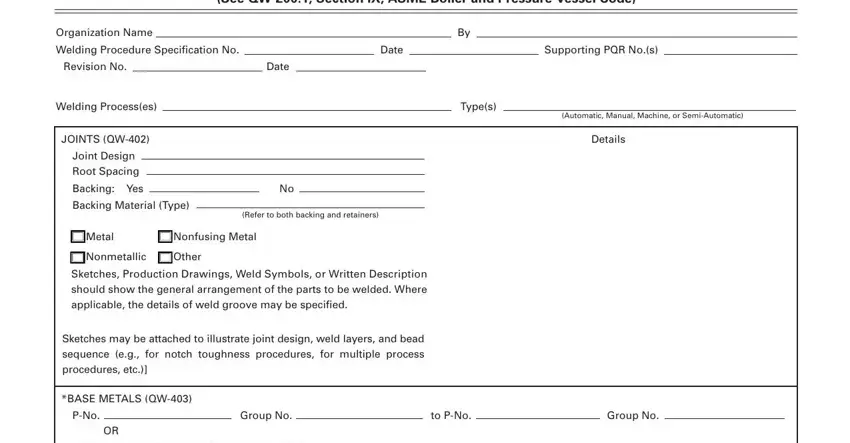 2. The subsequent step is to submit these particular blank fields: Specification and typegrade or UNS, to Specification and typegrade or, Chem Analysis and Mech Prop, to Chem Analysis and Mech Prop, Thickness Range, Base Metal Maximum Pass Thickness, Groove, Yes, Fillet, Other, FILLER METALS QW, Spec No SFA, AWS No Class, FNo, and ANo.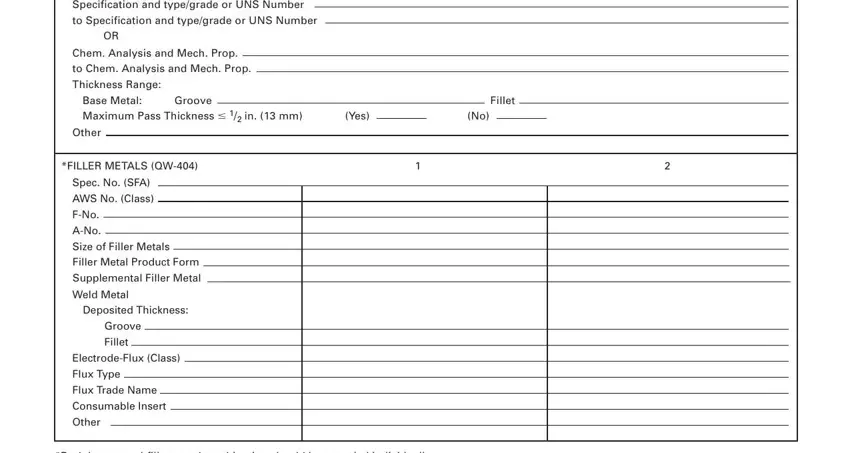 People who work with this PDF frequently make mistakes while filling out ANo in this section. Ensure you go over everything you enter right here.
3. Within this stage, examine POSITIONS QW, Positions of Groove, Welding Progression Up, Down, Positions of Fillet, Other, PREHEAT QW, Preheat Temperature Minimum, Interpass Temperature Maximim, Preheat Maintenance, Other, Continuous or special heating, ELECTRICAL CHARACTERISTICS QW, FORM QW Back, and WPS No. Every one of these should be filled out with utmost accuracy.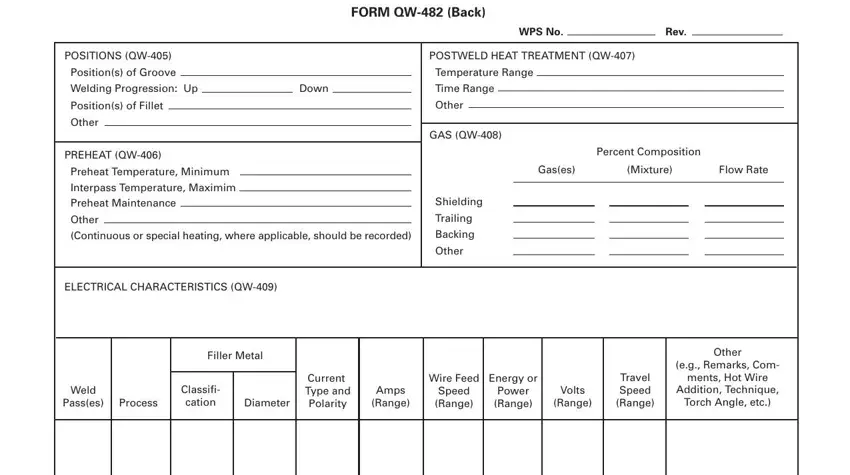 4. The subsequent section requires your involvement in the subsequent places: Pulsing Current, Heat Input max, Pure Tungsten Thoriated etc, Spray Arc Short Circuiting Arc etc, Tungsten Electrode Size and Type, Mode of Metal Transfer for GMAW, Other, TECHNIQUE QW, String or Weave Bead, Orifice Nozzle or Gas Cup Size, Initial and Interpass Cleaning, Method of Back Gouging, Oscillation, Contact Tube to Work Distance, and Multiple or Single Pass Per Side. Make certain to type in all of the needed information to go onward.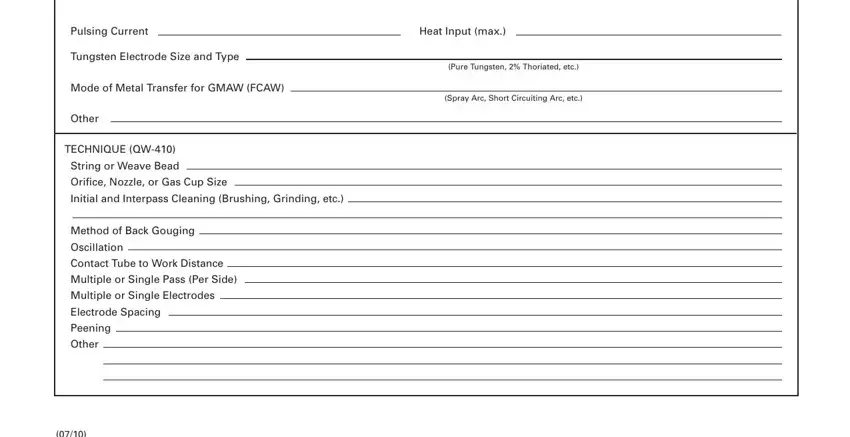 Step 3: Just after rereading the form fields, press "Done" and you are all set! Find the wps form once you register online for a 7-day free trial. Readily use the pdf document within your personal cabinet, together with any modifications and adjustments being all synced! FormsPal guarantees risk-free document completion devoid of personal data recording or distributing. Feel at ease knowing that your details are in good hands here!