subpoenaed can be completed very easily. Simply make use of FormsPal PDF editing tool to complete the job right away. Our editor is consistently developing to deliver the very best user experience possible, and that is because of our dedication to continual enhancement and listening closely to comments from users. To get the ball rolling, take these simple steps:
Step 1: First, access the pdf tool by pressing the "Get Form Button" at the top of this page.
Step 2: As soon as you open the file editor, there'll be the document ready to be filled in. Apart from filling in different blank fields, it's also possible to do some other actions with the Document, particularly adding custom words, editing the initial textual content, adding images, placing your signature to the form, and more.
This PDF doc will require you to enter specific information; in order to ensure accuracy and reliability, make sure you bear in mind the following suggestions:
1. You need to complete the subpoenaed properly, so pay close attention when working with the segments comprising these fields: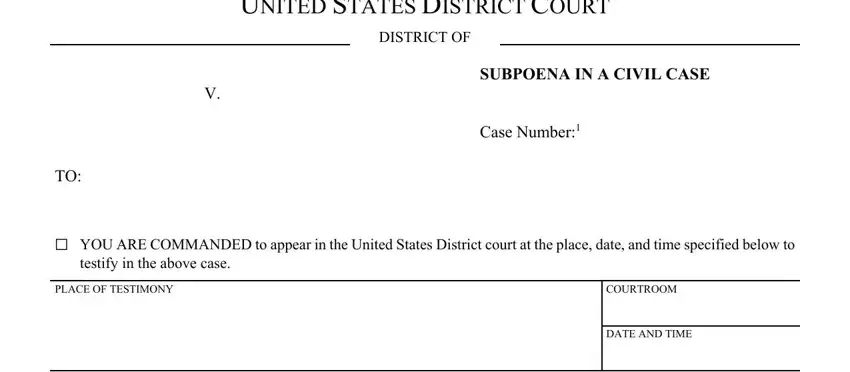 2. The next step is to complete all of the following blanks: G YOU ARE COMMANDED to appear at, in the above case, PLACE OF DEPOSITION, DATE AND TIME, G YOU ARE COMMANDED to produce and, place date and time specified, PLACE, DATE AND TIME, G YOU ARE COMMANDED to permit, PREMISES, DATE AND TIME, and Any organization not a party to.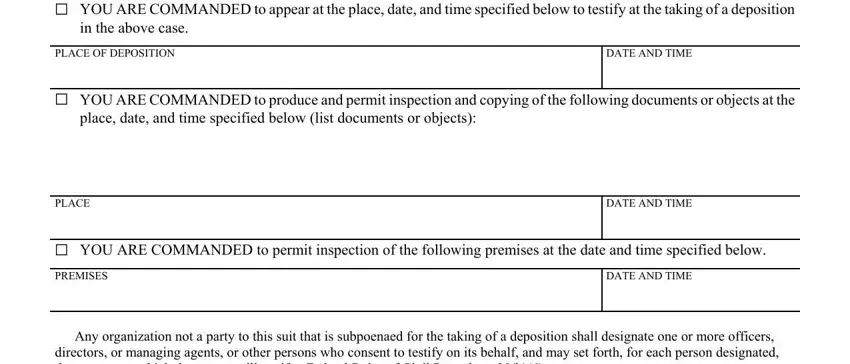 3. The next part is going to be hassle-free - fill in every one of the empty fields in ISSUING OFFICERS SIGNATURE AND, ISSUING OFFICERS NAME ADDRESS AND, If action is pending in district, and See Rule Federal Rules of Civil in order to complete the current step.

4. This subsection comes next with these particular form blanks to complete: SERVED, PROOF OF SERVICE, DATE, PLACE, SERVED ON PRINT NAME, MANNER OF SERVICE, SERVED BY PRINT NAME, TITLE, I declare under penalty of perjury, in the Proof of Service is true, DECLARATION OF SERVER, Executed on, DATE, SIGNATURE OF SERVER, and ADDRESS OF SERVER.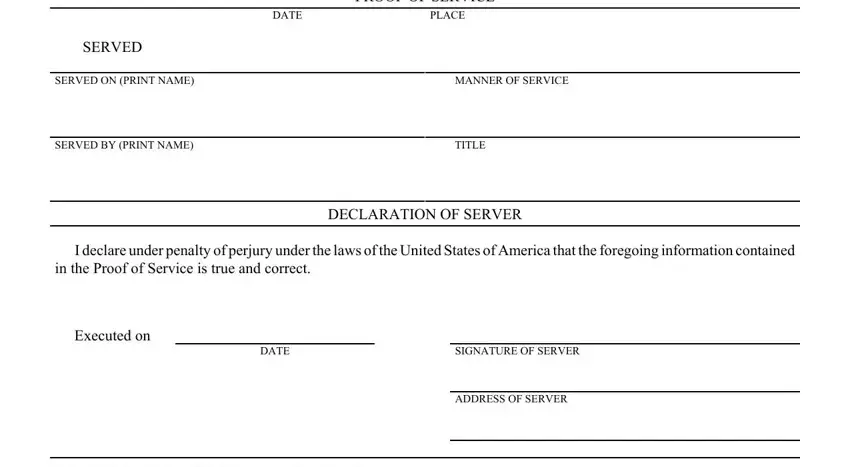 People frequently make some mistakes while completing in the Proof of Service is true in this section. Be sure you double-check everything you type in here.
Step 3: Proofread the details you have entered into the form fields and then hit the "Done" button. Create a 7-day free trial account with us and gain immediate access to subpoenaed - download, email, or edit in your FormsPal account page. FormsPal guarantees protected form editing devoid of personal data record-keeping or any type of sharing. Be assured that your details are in good hands here!