Making use of the online editor for PDFs by FormsPal, you'll be able to fill in or edit 2010 here and now. The tool is consistently updated by us, getting new awesome functions and growing to be greater. Getting underway is effortless! All you have to do is adhere to the following basic steps directly below:
Step 1: Click on the "Get Form" button at the top of this webpage to get into our PDF editor.
Step 2: The tool will allow you to customize most PDF forms in a variety of ways. Transform it by writing customized text, correct what is originally in the file, and add a signature - all at your disposal!
This form will need some specific details; to guarantee accuracy, you need to pay attention to the guidelines down below:
1. Start completing the 2010 with a group of necessary blank fields. Consider all of the information you need and ensure nothing is overlooked!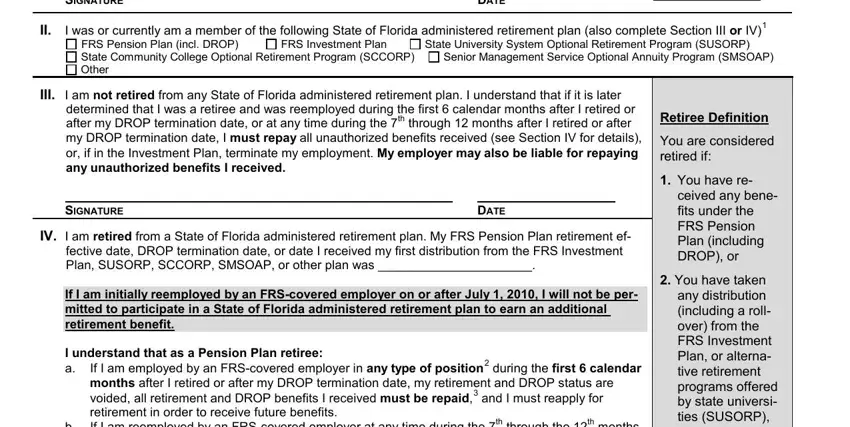 2. After this selection of blank fields is done, go on to enter the suitable information in all these - If I am employed by an FRScovered, and any unauthorized benefits, I understand that as an Investment, If I am employed by an FRScovered, You have taken any distribution, SIGNATURE, DATE, If you are not retired and earned, CERT, Revised, and EMPLOYERS RETAIN THIS FORM IN THE.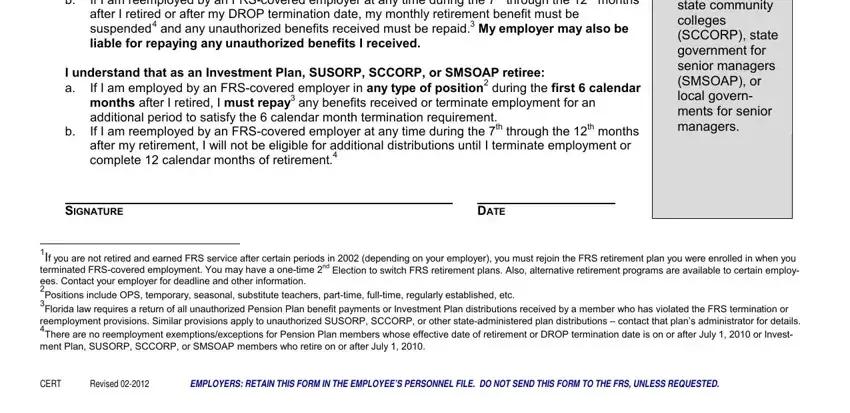 People frequently make mistakes when filling out If you are not retired and earned in this part. You need to read twice what you enter here.
Step 3: Make sure the information is accurate and click "Done" to proceed further. After starting a7-day free trial account at FormsPal, it will be possible to download 2010 or email it promptly. The PDF will also be easily accessible through your personal account page with all of your edits. FormsPal is invested in the privacy of our users; we always make sure that all information put into our tool remains protected.