Dealing with PDF files online can be very easy with our PDF tool. Anyone can fill in 2011 here effortlessly. Our editor is constantly evolving to give the very best user experience achievable, and that's due to our resolve for constant enhancement and listening closely to feedback from customers. Here is what you'd want to do to begin:
Step 1: Click on the orange "Get Form" button above. It will open our editor so that you could start filling in your form.
Step 2: As soon as you open the file editor, you will notice the document all set to be filled out. Besides filling out different fields, you may as well do other sorts of actions with the file, specifically writing any words, modifying the original text, inserting images, affixing your signature to the PDF, and more.
Be attentive while filling in this form. Ensure every single field is done accurately.
1. The 2011 will require particular information to be entered. Ensure that the following fields are complete: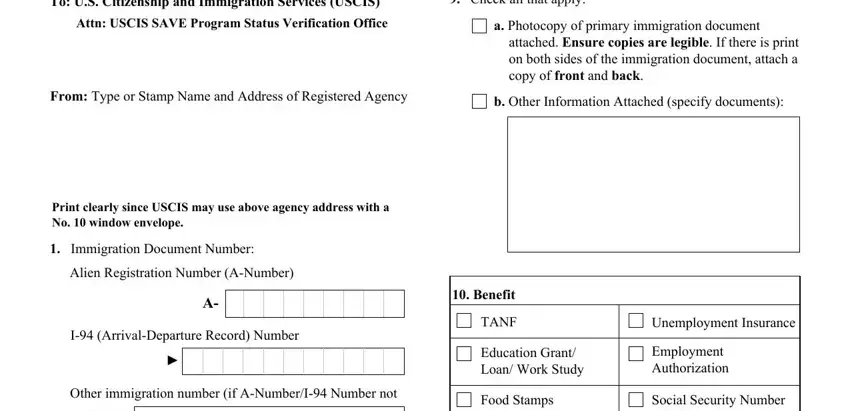 2. The next stage is usually to fill in all of the following fields: available, Identify document containing the, number, Housing Assistance, SSI or RSDI, MedicaidMedical Assistance, Drivers LicenseID, Applicants name as shown on the, Background Check, Last First Middle, Nationality, Other specify below, Date of Birth mmddyyyy, Name of Agency Official, and Social Security Number.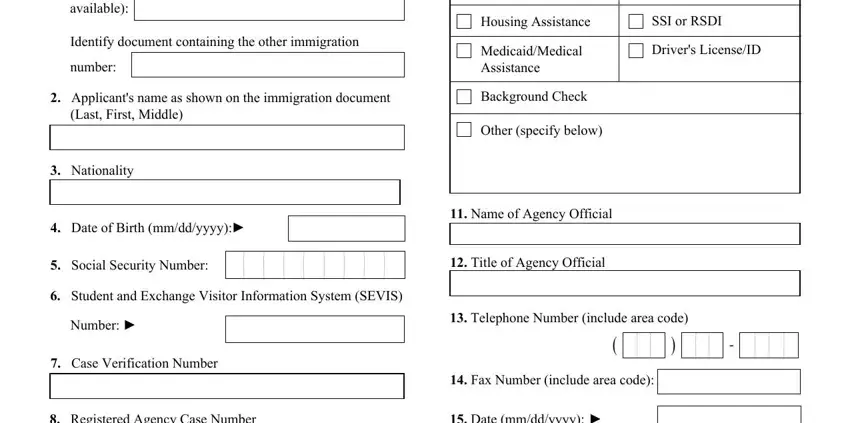 3. This next section is considered fairly straightforward, Registered Agency Case Number, Date mmddyyyy, and Form G N - every one of these form fields has to be completed here.

4. The fourth part arrives with the next few fields to consider: Registered Agency Comments, Section B To Be Completed by USCIS, USCIS RESPONSES After review of, Alien paroled into the United, and section of the Immigration and.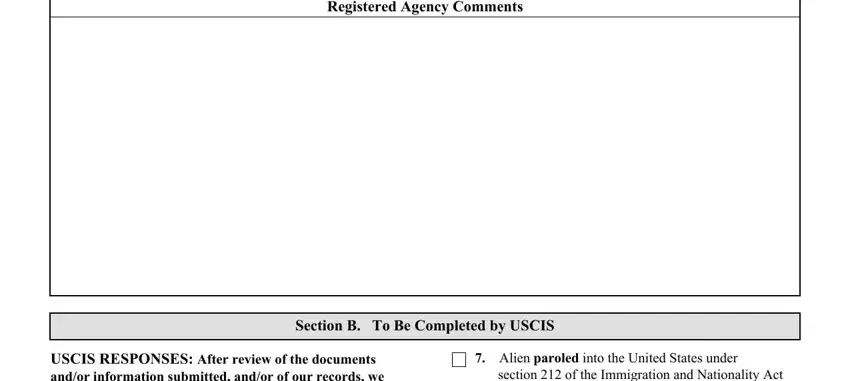 5. Last of all, the following final portion is what you will have to wrap up prior to finalizing the PDF. The blanks at issue are the following: USCIS RESPONSES After review of, section of the Immigration and, Lawful Permanent Resident alien, Conditional Resident alien of the, Alien employment authorized in, indicated, a No expiration indefinite, b Expires on mmddyyyy, c Prior employment authorization, a No expiration Indefinite, b Parole granted on mmddyyyy, c Parole expires on mmddyyyy, CubanHaitian entrant of the, Conditional entrant of the United, and Nonimmigrant alien.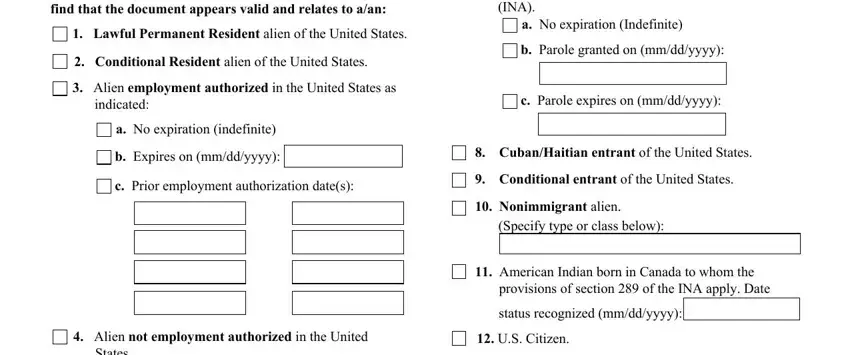 Be really mindful while filling in a No expiration indefinite and c Parole expires on mmddyyyy, as this is where most people make some mistakes.
Step 3: Make sure that your details are correct and then click "Done" to continue further. Join us right now and instantly gain access to 2011, ready for downloading. Every last edit you make is conveniently preserved , helping you to change the document later when required. FormsPal ensures your data confidentiality via a protected method that in no way records or distributes any private data provided. You can relax knowing your files are kept safe whenever you work with our editor!