We were developing the PDF editor having the prospect of making it as easy to use as it can be. Therefore the entire process of creating the gen215b form is going to be easy carry out all of these actions:
Step 1: Press the button "Get form here" to open it.
Step 2: After you have accessed your gen215b form edit page, you'll discover all functions you can use concerning your template in the top menu.
Type in the essential material in every single area to create the PDF gen215b form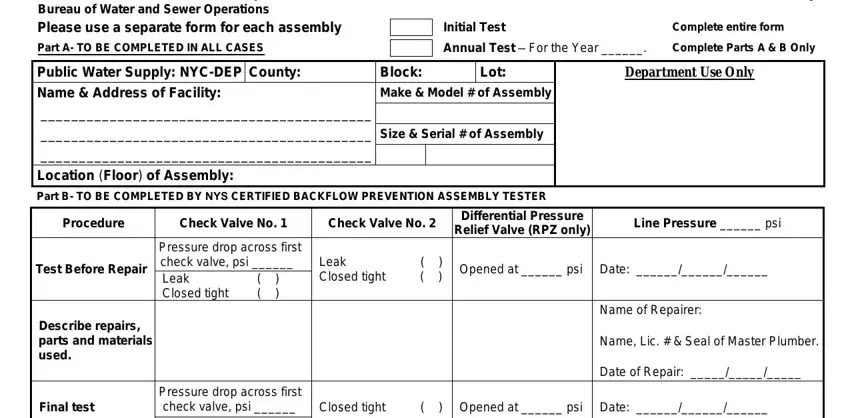 Enter the demanded details in the area Closed tight, Meter Reading, Water Meter Number, Type of Water ServiceSystem Please, Completion Time of Test eg pm, other deficiencies NO YES If, CERTIFICATION This assembly meets, CERTIFICATION This assembly does, acceptable containment assembly at, Signature, Date, Signature, Date, PRINT NAME, and Telephone No.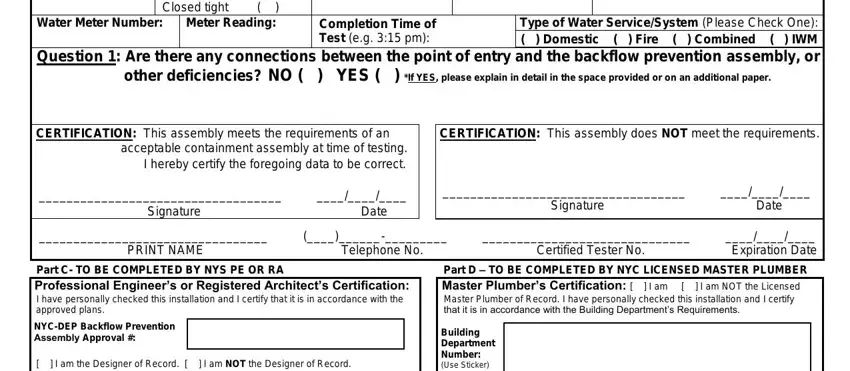 It's essential to put down certain information in the section PERA Printed Name, Company, Address, Plumbers Printed Name, Telephone, Plumbers License, Signature Seal Date, Telephone, Minor Installation Changes describe, Attach additional sheets if, Signature Seal and Date, NOTE Send one completed form, NYCDEPBWSO CrossConnection Control, and Rev.

Step 3: Once you hit the Done button, your finished file can be easily exported to all of your devices or to email specified by you.
Step 4: To protect yourself from potential upcoming concerns, be sure to get around a few copies of every single form.