Making use of the online tool for PDF editing by FormsPal, it is easy to fill out or edit gssc forms here and now. To make our tool better and easier to use, we continuously design new features, bearing in mind feedback from our users. Should you be looking to get going, this is what it will require:
Step 1: Access the PDF inside our editor by clicking on the "Get Form Button" at the top of this page.
Step 2: This editor provides you with the capability to change PDF forms in many different ways. Enhance it by writing any text, adjust original content, and add a signature - all within the reach of a couple of mouse clicks!
It is simple to complete the form following our detailed tutorial! This is what you need to do:
1. While filling in the gssc forms, make sure to include all of the important fields in its associated section. It will help expedite the process, which allows your information to be processed promptly and properly.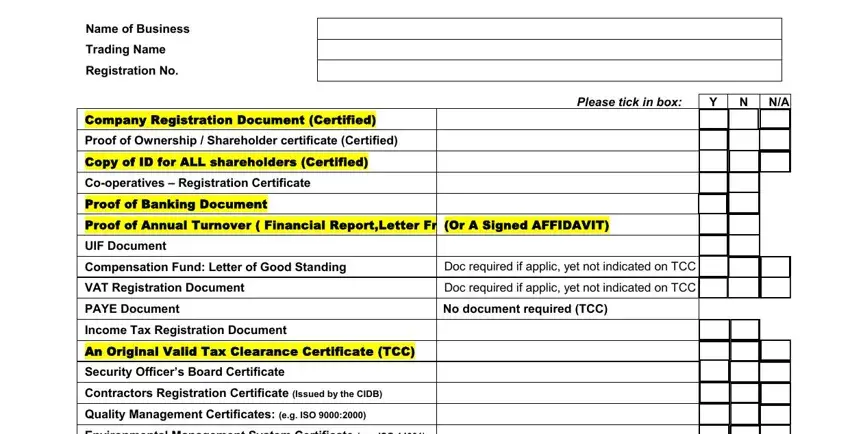 2. Soon after the first section is completed, go to enter the applicable details in all these: Environmental Management System, Safety Management System, Disability Documents, Conflict of Interest Relationship, Conflict of Interest Business, Vendor Form Word Document doc, RFP Rev, and Release Date.

3. This subsequent step should also be rather straightforward, NB DOCUMENTARY PROOF MUST BE, COMPANY TYPE NB Documentary Proof, PUBLIC COMPANY LTD, PRIVATE COMPANY PTY LTD, COOPERATIVE, CLOSE CORPORATION CC, SOLE PROPRIETOR, PARTNERSHIP, BUSINESS TRUST, OTHER, Company CK Number, CERTIFIED COPY OF CERTIFICATE OF, CERTIFIED COPY OF CERTIFICATE OF, CERTIFIED COPY OF PARTNERSHIP, and CERTIFIED COPY OF CK DOCUMENT OR - all of these form fields has to be filled out here.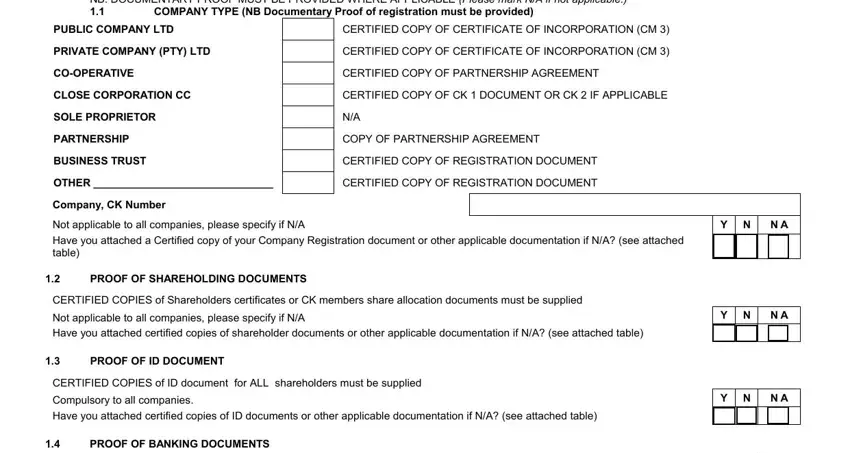 4. To move ahead, this part will require filling in several form blanks. Examples include Current bank statement or copy of, Have you attached proof of banking, PROOF OF ANNUAL TURNOVER, Annual Financial Report or, Have you attached Audited Annual, UNEMPLOYMENT INSURANCE FUND, Unemployment Insurance fund No, Have you attached your UIF, COMPENSATION FOR OCCUPATIONAL, Compensation Fund Registration No, Have you attached your Letter of, VAT REGISTRATION DOCUMENT, VAT Registration No, Have you attached proof of your, and Y N, which you'll find fundamental to continuing with this particular document.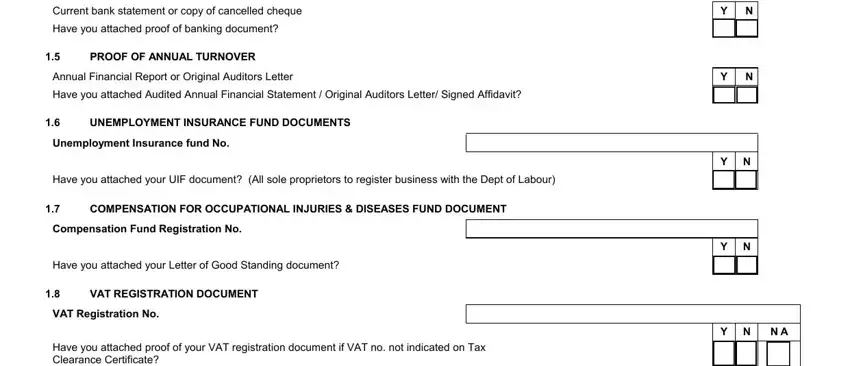 5. Now, the following final section is what you have to finish prior to closing the document. The fields under consideration are the following: PAYE DOCUMENT, PAYE No, Have you attached proof of your, INCOME TAX REGISTRATION NUMBER, Income Tax Registration number, TAX CLEARANCE CERTIFICATE, Y N, N A, An original valid Tax Clearance, Y N, Vendor Form Word Document doc, RFP Rev, and Release Date.

Concerning TAX CLEARANCE CERTIFICATE and Income Tax Registration number, make sure that you get them right in this section. These two are the key fields in this document.
Step 3: Before getting to the next stage, it's a good idea to ensure that blank fields are filled in the correct way. Once you think it is all good, click "Done." Try a 7-day free trial option with us and gain immediate access to gssc forms - with all transformations kept and available inside your personal account. FormsPal provides safe document completion devoid of personal information recording or any type of sharing. Rest assured that your information is secure here!