hbd 40 form can be filled out online with ease. Just try FormsPal PDF tool to accomplish the job without delay. The tool is continually improved by us, acquiring new awesome features and turning out to be greater. Starting is simple! Everything you should do is take the following basic steps down below:
Step 1: Access the form in our tool by hitting the "Get Form Button" in the top area of this webpage.
Step 2: This tool lets you customize almost all PDF forms in a range of ways. Modify it with your own text, correct existing content, and put in a signature - all within the reach of several mouse clicks!
Concentrate while filling in this pdf. Make sure that each and every blank is filled out accurately.
1. Begin filling out your hbd 40 form with a selection of essential blank fields. Collect all of the information you need and make certain there's nothing forgotten!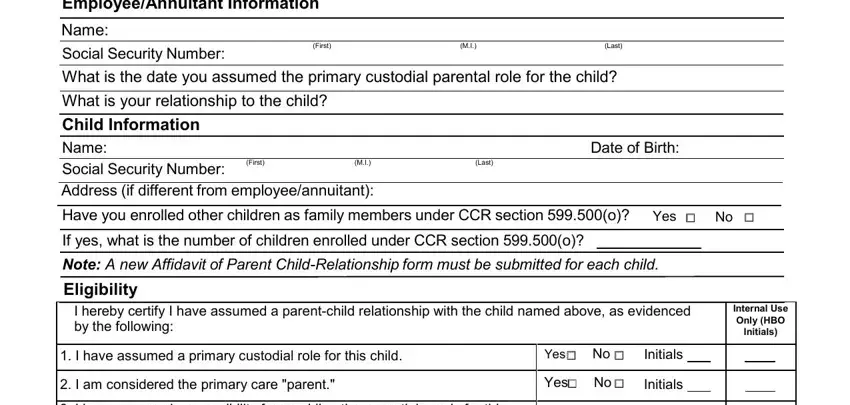 2. The subsequent part is usually to submit all of the following blank fields: I have assumed responsibility for, child such as food shelter, Has the child been placed in your, I am listed as the primary, emergency forms, I provide parental permission for, school extracurricular and other, Yes, Initials, Yes, Initials, Yes, Initials, Yes, and Initials.

3. This part is simple - fill out every one of the form fields in I hereby certify under penalty of, EmployeeAnnuitant Signature, Date, For Employer Use, I hereby certify under penalty of, That I am a duly appointed, I hereby certify I have reviewed, Based on the information provided, and Recommend not approving the to finish this process.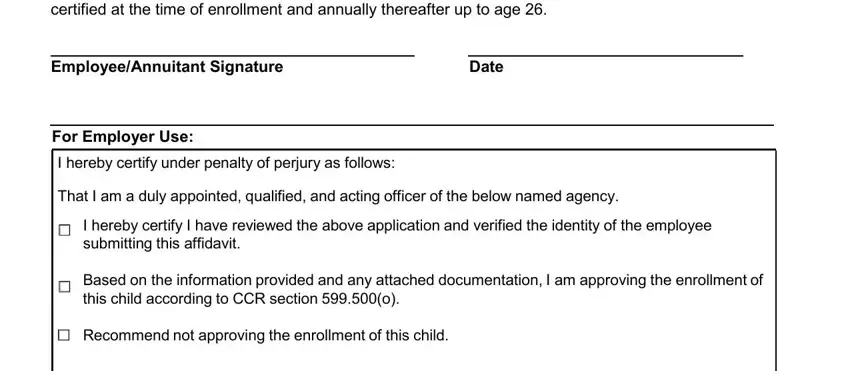 When it comes to EmployeeAnnuitant Signature and Based on the information provided, make sure you review things in this section. Both these are considered the key fields in the PDF.
4. Filling in Personnel OfficerHuman Resources, Approve, Disapprove Date, PO Box, Sacramento CA, TTY, Phone CalPERS or Fax, and HBD Rev is paramount in the next form section - always don't hurry and fill in every single empty field!
Step 3: You should make sure the information is accurate and just click "Done" to progress further. Obtain the hbd 40 form the instant you register online for a 7-day free trial. Conveniently gain access to the pdf file in your personal account page, with any modifications and changes all kept! We do not share the details you enter when working with documents at our website.